3X™ 34 MAX HYDRO
3X THREE-STAGE POWER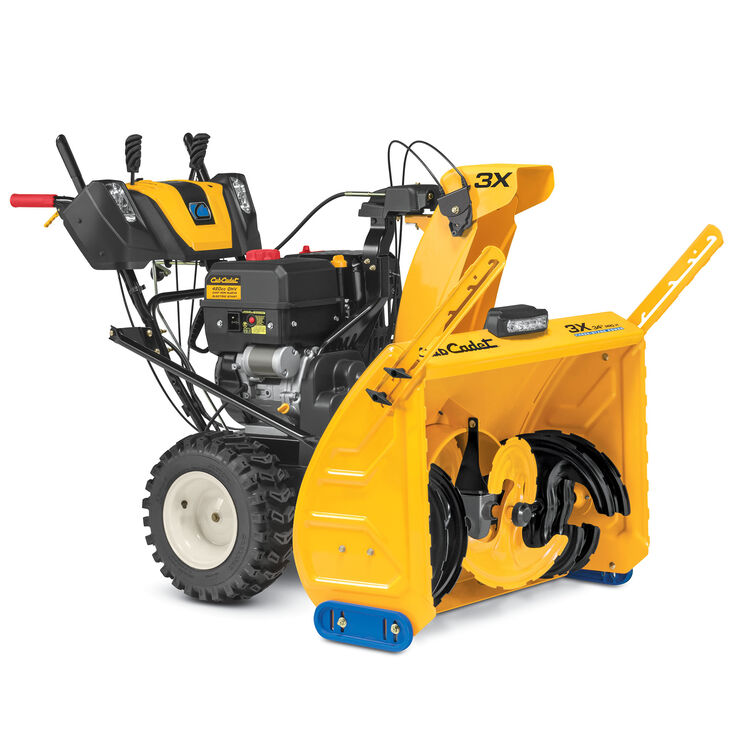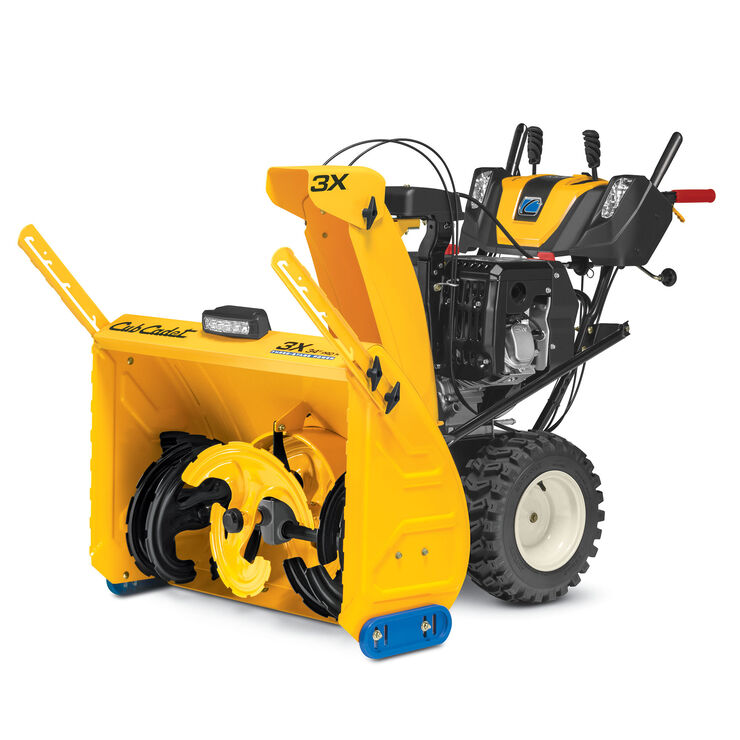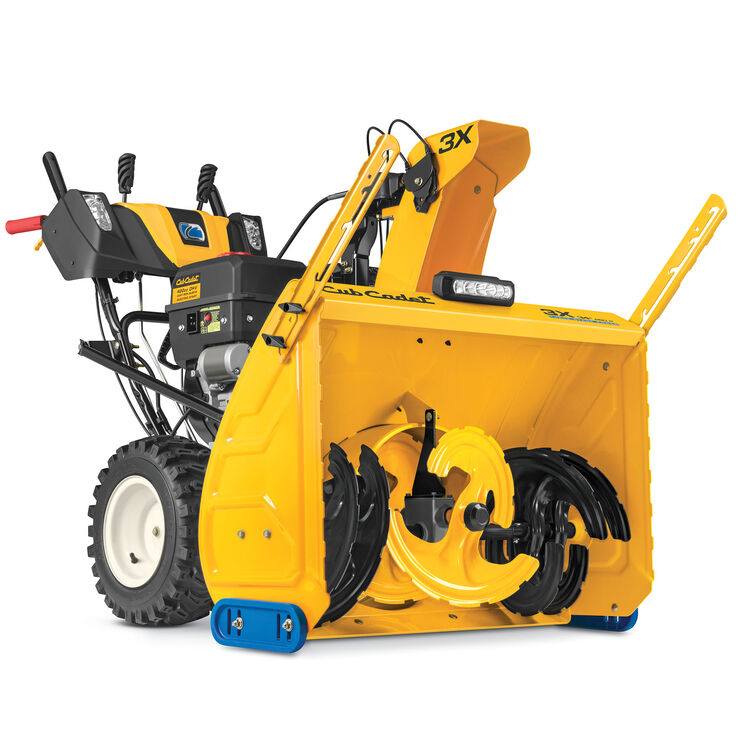 3X™ 34 MAX HYDRO
3X THREE-STAGE POWER
---
Superior Quality that Handles Winter's Worst
The award-winning 3X is the powerhouse of the X Series line. With a patented three-stage system, the 3X clears deep snowfall up to 50% faster than a traditional snow blower. That means you can easily and quickly remove 18 inches of snowfall at a comfortable pace. It will even bust through the wall of winter at the end of the driveway. When you have 3X strength, nothing is in your way.
Documents and Guides
420cc OHV Engine is powerful, dependable and equipped with push-button electric start
34 inch clearing width and 23 inch intake height
16" X-Trac™ tires provide strong traction in snowy conditions
LED lightbar with Dual LED headlights for greater visibility in low-light conditions
---
You're shopping available inventory from
---
Ship to home in 8-10 days
Ship to home in 8-10 days
---
Attachments & Accessories
3X™ 34 MAX HYDRO Features
Customize Your Speed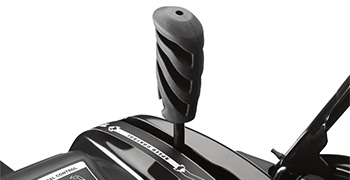 A hydrostatic drive allows you to tailor your speed and work at your own pace.
Unbeatable 3-Stage Power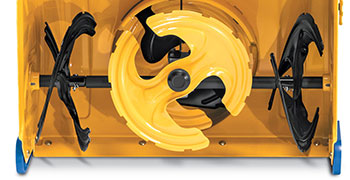 The induction accelerator pulls more snow, ice, and slush through the system like a turbocharger, which is ideal for busting through the wall of winter at the end of the driveway.
Heavy-duty Gearbox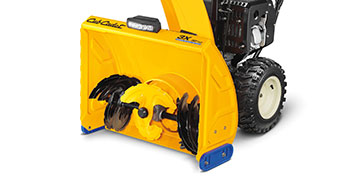 Cast aluminum auger gearbox protects auger gears for maximum durability and the increased intake height of 23'' allows you to take on the highest snow.
Built for the Long Haul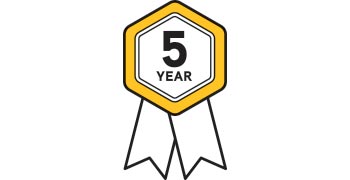 Get long-lasting durability with no maintenance requirements from the cast aluminum gearbox, backed by a 5-year limited gearbox warranty.
Power Steering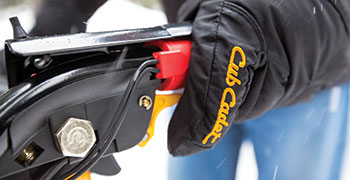 With just one finger, you can engage the power steering giving you unmatched control, effortless maneuverability and single-hand operation.
Push Button Electric Start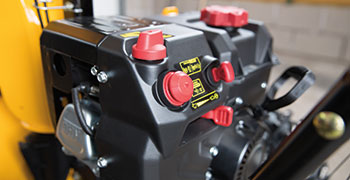 A large 4-cycle Cub Cadet engine gives you more power. And it all starts with the push of a button.
Cool Blue Skid Shoes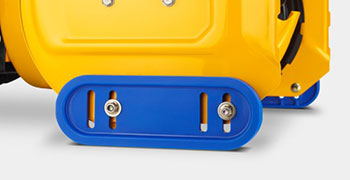 Make handling and maneuvering easy by gliding over surfaces. Won't rust or damage driveways, sidewalks, or garage floors.
Comfortable Handling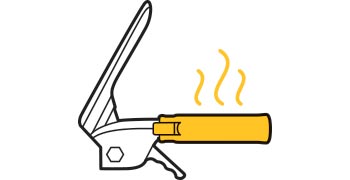 Heated hand grips ensure a comfortable command in even the coldest conditions.
Powerful Illumination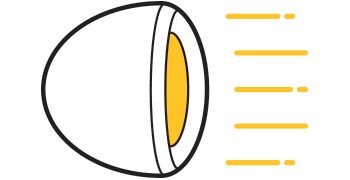 See clearly at dawn or dusk with dual LED headlights that shine brighter and farther than competitor models.
Work Longer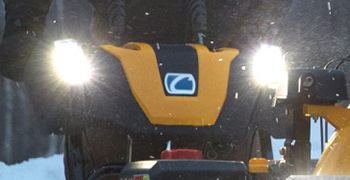 Work before dawn or after dark with dual LED headlights.
More Intake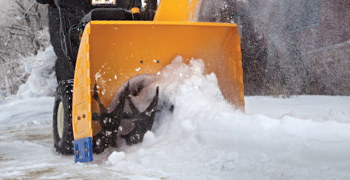 A 23-inch intake height allows you to clear snow more efficiently.
Break Through Snow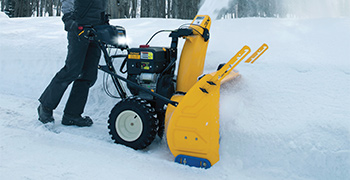 Drift cutters allow you to break through tightly packed snow.
Canadian Commitment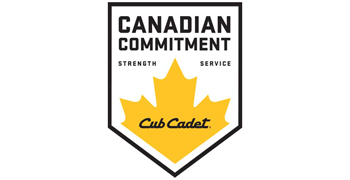 When you buy Cub Cadet you're backed by our Canadian Advantage, which includes outdoor power equipment that is engineered and tested in Canada, bilingual customer service support, and a nationwide network of 1,100 Service Dealers.
Engine
Engine Brand

Cub Cadet® OHV

Engine Model Number

690-WUC

Engine Displacement

420cc

Starter Type

Electric and Recoil

Fuel Tank Capacity

5 quarts US / 4.7 L

Engine Oil Capacity

37 oz
Drive System
Speed

Hydrostatic infinite speed control

Forward/Reverse Speeds

Hydrostatic infinite speed control

Drive System

Steerable drive system
Warranty
Auger Gearbox Warranty

5-year gearbox

Warranty

3-Year Limited Residential

Commercial Warranty

1-year commercial
Controls
Handle Grip(s)

Heated Hand Grips

Chute Rotation

200 degrees

Single-Hand Operation

Standard / clutch lock

Steering Control

Power Steering

Tread

X-TRAC™
Power and Performance
Starting System

Push Button Electric Start (110 volt)

Clearing Width

34"

Intake Height

23"

Auger Gear Box

Heavy-duty cast aluminum

Number of Stages

3X Three Stage
Dimensions
Auger Diameter

14"

Impeller Diameter

14"
Additional Specifications
Headlight(s)

Dual in-dash LED + Light Bar on Housing

Shave Plate

Heavy Duty Steel

Skid Shoes

Cool Blue™ rust resistant, non-marking, reversible

Drift Cutters

Heavy-duty slotted, tool-less

Oil Fill Tube

Extended

Auger Material

Heavy-duty serrated steel

Chute Material

5" heavy-duty steel

Recommended Oil Type

5W-30 (Included)

Model Number

31AH8E4V596
Shave Plate Specifications
Disclaimer
Specifications Disclaimer

Specifications subject to change without notice and without incurring obligation. Products depicted on website and other advertisements are for demonstration purposes only. Actual products offered for sale may vary in design, required attachments, safety features and non-functional appearance from. See other general disclaimers at the bottom of our website.
| Model | Manual | Form Number | |
| --- | --- | --- | --- |
| 31AH8E4V596 | MAN:OWNR:ENGINE_357_420 ENG_FR | | |
| | MAN:OWNR:ENGINE_357_420 ENG_FR | 769-15431 | Download |
| | MANL:OPER:BILING:31X:5X/6X/8X: | 769-26072 | Download |
| | MANL:OPER:BILING:MTD ENG:357/4 | 769-25490 | Download |
| | MANL:OPER:ENGL:5XX_6XX_8XX SNO | 769-11740B | Download |
| | MANL:OPER:ENGL:5XX_6XX_8XX SNO | 769-11740C | Download |
| | MANL:OPER:ENGL:5XX_6XX_8XX SNO | 769-22282 | Download |
| | SHEET:SUP:31X2X-3X:CUB:US_CA | 769-24534 | Download |
| | SHEET:SUP:BILING:EPA:CARB:EXH: | 769-15393 | Download |
| | SHEET:SUP:BILING:EPA:CARB:EXH: | 769-17172 | Download |
| | SHEET:SUP:BILING:EPA:CARB:EXH: | 769-25882 | Download |
| | SHEET:SUP:BILING:EPA:EVP:06301 | 769-15392 | Download |
| | SHEET:SUP:BILING:EPA:EVP:18-19 | 769-17171 | Download |
| | SHEET:SUP:BILING:EPA:EVP:20-21 | 769-25879 | Download |
| | SHEET:SUPP:WARR/PARTS:CUB 2X/3 | 769-15630 | Download |
| | SHEET:SUPP:WARR/PARTS:CUB 2X/3 | 769-22292 | Download |
Product Reviews
Rated

5

out of

5
by
GaryK
from
Industrial quality snow blower
Recommended. This 34" snow blower replaces a much smaller 24" Toro. Everything about it feels twice as big -- horsepower, clearing ability, throwing distance, and ease of getting thru the frozen crusty bits. This is a very expensive item, and -- compared to the almost identical "normal" pro 34" unit -- what you are really paying for is the hydrostatic transmission. I have roughly 2,500 sq ft of pavement to clear. The first test was about 8" of accumulation, and it cleared that amount with almost zero effort. The transmission is perfectly smooth, no lurching at all. There are two little levers at the bottom of the handles that disengages the drive from that wheel making powered turns really easy. Only nit pick is the headlight seems a bit too low and the controls obscure the beam a little.
Date published: 2018-12-02
Rated

5

out of

5
by
ANDY
from
SUPERIOR SNOW BLOWER ***(HIGHLY RECOMMENDED)****
I bought this snow blower 2 years ago run like it's brand new.
Date published: 2019-10-20
Rated

1

out of

5
by
70454ls6
from
Poor Quality belts
Right out of the box the auger belt broke. Took two weeks to get a belt from the dealer being the odd ball size of the belt. The snow storm 12/16/20 into 12/17/20 in the North East . I had two auger belts break. Seen many complaints about this belt and Cub Cadet still hasn't upgraded the 954-05144 belt . Cub Cadet knowing there's a problem and ignores the problem means they lost any future sales from me. It's ironic while I was out clearing my sidewalk ,my neighbor ran over and told me he seen mine and was interested in getting one . Both of us having large property. Needless to say after breaking two belts I gave him my true thoughts. Sorry Cub Cadet ,Your letting your customers down.
Date published: 2020-12-22
Rated

5

out of

5
by
LD100
from
So far, so good...
My old Cub Cadet snow blower (Model 1028) is 20 years old and starting to rust due to road salt...engine starts right up and runs fine, but I'm doing the snow blowing for four homes of elderly neighbors so I thought I needed a back up with so many people depending on me. Since I bought this new Cub Cadet (3 34 Pro H) it has only snowed twice, and that was more sleet than snow; however the new snowblower fired right up and did a good job with no problems. I didn't have the problems others have reported with slushy snow and broken shear pins. Everything has worked fine so far. Engine fired up on 1st pull and hydrostatic transmission is a dream, but speeds seem a little slow. Ask me again after 4 or 5 big snow storms. My only complaint is "What is up with no grease zerks fittings"? You have to take the wheels off the blower ever year to grease the axles instead of just using a grease gun on a grease fitting. Why? I can see on a cheaper model, but this is your top of the line. My old Cub Cadet has eight or ten grease fittings, and easy access to the gears, auger, chains and other parts that need maintenance. It just seems like unnecessary work for the consumer who wants to properly maintain his equipment. I'm not sure that in 20 years this snow blower will still have all it's original parts like my old Cub Cadet. Perhaps I'm overthinking this, but I would just feel better if the auger had grease fittings. But I suppose as long as they blow the snow and always start I shouldn't complain too much about unnecessarily complicated maintenance procedures.
Date published: 2019-12-19
Rated

4

out of

5
by
JamesNotJim
from
Very Pleased
I've only had the opportunity to use this beast a few times but not for any major storms yet. I use if for a small (approx. 25'x30'), residential driveway in the city. It has met my expectations so far, that's why I rated it as 'Good' and if I had more experience with it, I may have been able to rate it higher. I upgraded from a 10-12 year old Troy-Bilt, 24", 2-stage that I acquired when I purchased my home; it worked but was getting tired. So the new 3X 34" PRO H is a definite upgrade for me. The biggest challenge for me so far has been getting used to the controls. The new machine is definitely quieter that my old machine, which is a big plus. After using the new machine, I also don't smell like burnt oil and exhaust like I did with the old machine, which is another big plus. Though, I'm sure with any new machine it would have been quieter or smelled less. The Hydrostatic Transmission is much better than the old method of selecting a speed and I would never want to regress to the old method. The steering as also a great feature. The fastest forward speed is acceptable but in reverse, I can still pull it back faster that its top speed, which is annoying (my old machine was the same and I'm sure it's for safety reasons). I do miss the Snow Thrower Cab on my old machine though and you definitely notice the difference when that wind blown snow hits you in the face. Living in the city and with a wide driveway, I get plenty of plow deposits at the end of the driveway, which is where I can really test this machine. So far I almost clogged it once but that was moving at top speed with a large pile of plow-deposited snow. Slowing down and hitting the pile at less than full width of the machine helped keeping the machine unclogged. A warning; the center auger, Cub Cadet calls it an accelerator I think, made short work of my fiberglass driveway marker. Overall, I would definitely recommend this machine and with more experience, I would likely rate it higher that "Good". I would recommend that Cud Cadet offer better options for a Snow Thrower Cab, as the one they do offer has not had great reviews.
Date published: 2017-12-23
Rated

2

out of

5
by
Andrew103
from
Broken auger belt, very slow reverse
I bought this machine last year believing that the Cub Cadet was a better quality than Ariens. Since I purchased the snow blower, I've used it about a dozen times or so with no issues. On my first pass the last time I used it, the Auger belt broke. Looking at a driveway full of snow, and rembering how much I paid for the machine, needless to say I was not happy. Off to the nearest Cub Cadet dealer I go to get a belt. No problem, or so I thought. "We have thousands of auger belts, just not yours." Awesome. Ordered it 5 days ago. Still waiting for a call. Also for a machine that size, reverse should be faster. I had my friend with his Ariens bail me out. I spent a day searching for a belt when I should have been playing in the snow with my son. I knew I should have bought an Ariens.
Date published: 2021-02-06
Rated

5

out of

5
by
Eng Tech
from
3X 34 MAX H
[This review was collected as part of a promotion.] Received the machine 2-10-2021 Cleaned up 3 snow storms very well. Runs good, starts right up. I have NOT had any belt issues others talk about, broke an impeller shear pin and an auger shear pin when hit hard ice as they are suppose to. Read one machine was eating pins, if you hit hard debris they are suppose to shear. I like the tool less drift cutter feature, and 2-position work lights' The hydrostatic drive gives positive traction, and the metal chute was clog free. I bought extra the tire chains because I had thick ice to travel. I keep a 1/4 gap between the ground and the shave plate and was able to clear my deck with out any damage to deck, snow went into yard. Spring is here, if no more snow in two weeks will wash/wax, change the engine oil and prep for storage. This machine is garage kept when not in use.
Date published: 2021-03-21
Rated

1

out of

5
by
CNeill in Angel Fire
from
Frustrated with my 3 stage Pro blower
I have multiple issues with the blower. I've used less than 1 hour and have 3 broken shear pins and a broken auger belt. My drive is paved, so pretty bummed I had to spend an additional $150 for parts. I will chalk this up to beginner user error but that brings me to my second issue. The manual for this blower is poorly written and better guidance should be provided. The manual includes instructions for 5 or six blower models and it is cumbersome at best to navigate through the installation steps. If a multiple blower manual is a necessity it should be organized by model and not have each installation step interspersed within each step. My final point is related to the first two issues. If I had better understood the frequency of shear pin breakage on a 3 stage Pro blower I may have not purchased the blower or I may have been more aware that wet snow can be difficult for a 3 stage Pro blower. I was led to believe otherwise. There is nothing professional about this blower.
Date published: 2020-12-07
bvseo_sdk, dw_cartridge, 18.2.0, p_sdk_3.2.0
CLOUD, getReviews, 7ms
reviews, product