ZT1 42E
Tondeuse à rayon de braquage zéro électrique Ultima Series
ZT1 42E
Tondeuse à rayon de braquage zéro électrique Ultima Series
---
Sa batterie au lithium-ion de 56 V, 60 Ah, 3 000 watts-heures se branche sur une prise ordinaire de 110 V.
Tond deux acres sur une seule charge sans perte de puissance. Elle se recharge en près de 4 heures.
Plus besoin de changer l'huile, les filtres ou les bougies d'allumage ! Et dites adieu aux pleins d'essence !
À rayon de braquage zéro avec des vitesses allant jusqu'à 6 mi/h / 3 mi/h pour une manœuvrabilité et une efficacité maximales.
Châssis tubulaire de 2 x 2 po en acier pour offrir résistance et solidité
Quatre moteurs sans balais efficaces
---
Vous achetez un produit disponible chez
---
---
ZT1 42E caractéristiques
Aucune perte de puissance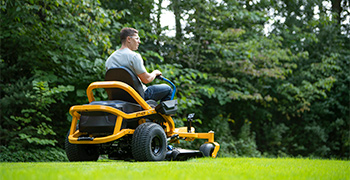 Cette technologie au lithium-ion permet d'atteindre une vitesse maximale et des performances constantes et puissantes jusqu'au moment où la batterie atteint 0 % de charge.
Symbole de puissance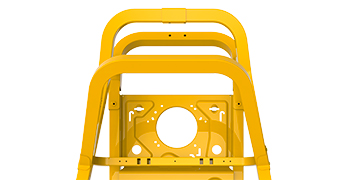 Son châssis monobloc carré est conçu pour augmenter sa puissance et sa résistance.
Coupe de première qualité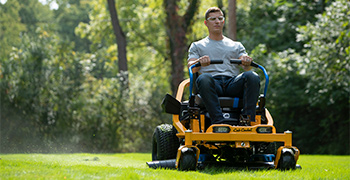 Les deux moteurs sans balais alimentent le plateau de coupe en acier de calibre 13, avec entraînement direct et doté de deux lames.
Moins d'entretien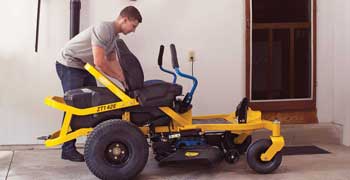 La batterie lithium-ion élimine le besoin d'essence, de changement d'huile, de bougies, de courroies ou même d'entretien des poulies.
Coupe nette et uniforme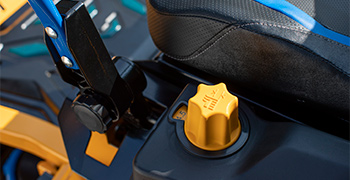 Réglage de la hauteur du plateau de coupe à 15 crans d'un quart de pouce actionnés par une pédale assistée par ressort à votre portée pour que vous puissiez facilement l'ajuster et avoir la coupe parfaite.
Confort optimal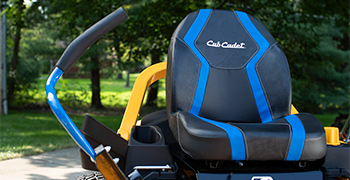 Siège haut de gamme à dossier haut de 20 pouces coupé-cousu, réglable, avec système de suspension amélioré en polymère et pouvant glisser de 4 pouces d'avant en arrière pour offrir beaucoup d'espace pour les jambes.​
Essieu avant déporté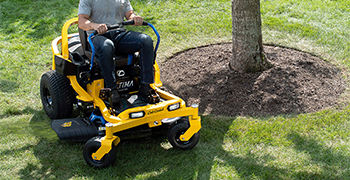 Améliore la qualité de la coupe et optimise la coupe des bordures​
Pneus de qualité supérieure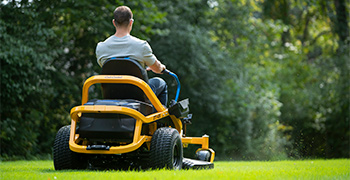 Les roues arrière de 20 x 8,8 pouces offrent une excellente traction, minimisent le dégazonnement et permettent une meilleure conduite sur les terrains accidentés à des vitesses allant jusqu'à 7 mi/h.
Deux ports USB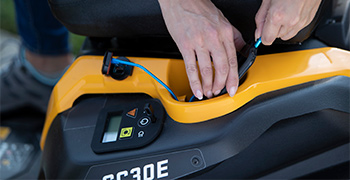 Facilement accessibles et disponibles pour charger de petits appareils mobiles pendant que l'appareil est en marche.
Zéro émission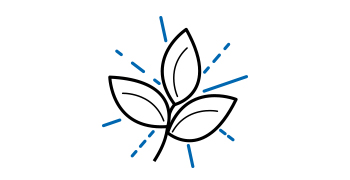 Pas de gaz d'échappement, de monoxyde de carbone ni d'hydrocarbures pour une utilisation écoresponsable.
Meilleure garantie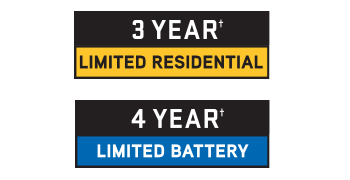 Fabrication nord-américaine avec une garantie limitée (pour usage non professionnel) de trois ans et d'une garantie limitée de quatre ans sur la batterie.
Soutien inégalé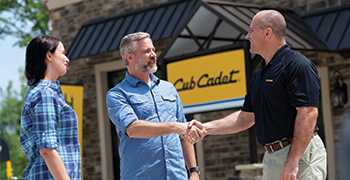 Un réseau national de concessionnaires expérimentés offre un soutien personnalisé sept jours sur sept.
Caractéristiques et entretien
Moteur
Engine Output

N/A

Démarrage

Électrique

Démarrage moteur

Clé de contact
Batterie
Autonomie

jusqu'à 2 acres

Durée de recharge

4 heures

Type de batterie

Au lithium-ion

Chargeur

Inclus

Indicateur de charge

Numérique

Tension de la batterie

56V MAX

Watts-heures

3000 Wh

Ampères-heures

60 Ah
Système d'entraînement
Transmission

Deux transmissions électriques, 56V Max

Vitesse avant

6 mph / 9.6 km/h

Vitesse arrière

3 mph / 4,8 km/h

Entraînement

Moteur électrique sans balais

Boitier de transmission

Aluminium moulé

Transmission Input

Moteur sans balais
Plateau de coupe
Largeur de coupe

42 po

Nettoyage

Non

Conception

acier de calibre 13

Embrayage de la prise de force

Électrique

Type de plateau

Moulé

Lame(s)

2

Hauteur de coupe

1 à 4,5 po

Rouleaux antidégazonnement

2 roues antidégazonnement

Relevage du plateau

15 hauteurs
Garantie
Garantie

3 ans / heures illimitées

Garantie du châssis

Garantie à vie limitée sur le châssis

Garantie pour coque du plateau

Garantie à vie limitée

Garantie commerciale

Non

Garantie de la batterie

4 ans
Châssis
Châssis

Châssis tubulaire de 2 x 2 po en acier

Essieu avant

Essieu entièrement soudé 2 x 2,5 po (peinture e-coat)

Rayon de braquage

Zéro°

Pare-chocs

Non

Attelage arrière

Oui

Protection contre la corrosion

Oui
Opération
Régulateur de vitesse

Non

Freins

Disque

Direction

Barre de conduite
Confort
Type de siège

Dossier haut de première qualité de 20 po

Appuie-bras

Non

Réglage du siège

levier de réglage du siège

Tapis

En caoutchouc
Roues
Roues avant

11" x 6" - 5"

Roues arrière

20" x 8" - 8"

Pneus arrière

20 x 8 - 8 po

Pneus avant

28 x 15 - 13 cm (11 x 6 - 5 po)

Bande de roulement

Turf Master / Multi Trac
Spécifications additionnelles
Ensemble de déchiquetage

En option

Phares

Deux phares à DEL

Porte-gobelet

Oui

Certifications

Conforme aux normes UL et homologuée ANSI

Système pour présence de l'opérateur

Oui

Frein de stationnement

Intégré aux barres de conduite

Numéro de modèle

34ABA2CS596
Spécifications
Moteur

moteur sans balais

Series

Ultima Series™ ZT
Disclaimer
Avis de non-responsabilité concernant les caractéristiques techniques

Nous nous réservons le droit de modifier les caractéristiques techniques du produit sans préavis ni obligation. Les produits représentés sur le site Web et les autres publicités servent uniquement à des fins de démonstration. Les produits effectivement proposés pour la vente peuvent varier en matière de conception, d'accessoires requis, de caractéristiques de sécurité et d'apparence non fonctionnelle. Voir les autres avis de non-responsabilité généraux au bas de notre site Web.
| Modèle | Manuel | Numéro de formulaire | |
| --- | --- | --- | --- |
| 34ABA2CS596 | MANL:OPER:TRILING:ELECTRIC_RZ1 | | |
| | MANL:OPER:TRILING:ELECTRIC_RZ1 | 769-25913E | Télécharger |
| | SHEET:SUPP:WARR/PARTS:CC ZT1_E | 769-25981B | Télécharger |
Commentaires d'utilisateurs
Rated

1

de

5
de
GeorgeB
par
2nd one breaks down within one month of purchase
This is the second one that breaks down within one month. The first one I was able to return to Homedepot after Cub Cadet couldn't help me. Now I have a wrench sign and machine wouldn't start. This is such a poor craftsmanship, period. Would never recommend a cub cadet product to any one. Very disappointed to say the least. Now I can't talk to service department because they are closed on the weekends when almost everyone cuts their grass!!!
Date de publication: 2021-06-19
Rated

5

de

5
de
J King
par
Happy so far.
[This review was collected as part of a promotion.] This is my first ZTR with the two control arms. My previous was a John Deere SST16 and it drove like a standard lawn tractor. I had it for 15years.The controls on this have been a true learning curve, with the constant adjustments to keep it straight and the trying to make close cuts to obstacles in the yard. I mow mine and three neighbors yards which is why I wanted the 42 inch cut. I have only used it 3 times so far and I have somewhere between 30 and 35% battery life left after. The recharge is surprisingly quick since it is just a 110 outlet. I'm giving it 5 star because it has met my expectations for noise level and quality of cut. I will update later if I run into issues. I'm pleased with the mower so far.
Date de publication: 2021-06-02
Rated

5

de

5
de
GM Ks
par
ZT1 42E
[This review was collected as part of a promotion.] Great performance. I mow a 1.25 acre yard and have barely been below 50% charge when finished every time. Super clean cut and awesome maneuverability. Love my zero turn. Not having to mess with gas/oil is just icing on the cake!
Date de publication: 2021-05-18
Rated

2

de

5
de
Unhappywife happy now
par
Follow up to Unhappywife!
[This review was collected as part of a promotion.] I wrote a review on Sunday. On Monday I went in and talked with several managers and their attitude was completely different than the conversation my wife had on Sunday. They accepted the return of the 42" electric 0-turn in exchange for a gas 50" 0-turn Cub Cadet plus credited us for the difference in the cost. I really liked the electric except for the handling problem. It seemed like the two electric powered gear motors were having a conflict and it kept jerking the mower left and right. this would occur going straight or while trying to maneuver around obstacles. It was very noticeable in turtle mode when trying to edge along the fence and walls.
Date de publication: 2021-11-16
Rated

2

de

5
de
Ironman71593
par
Not Ready For Sale
I'm afraid I agree with the negative reviews of this tractor. It looks like it's very well constructed which is why I gave it two stars but that's where the quality ends in my opinion. To start off with the controls are the worst I've ever seen in a zero turn tractor. As some others have said they are way too "twitchy". There needs to be a smoother transition from stop to start. The motors pop on too fast and you wind up over compensating to keep it moving in a straight line. After some time you are able to anticipate the problem so it gets a little better, but that's not acceptable. The worst thing about it is the fact that after only five uses it died in the middle of my yard! I received error codes 108 and 116 that could not be reset. That meant pushing my $5,000 mower 200 ft. back to my garage and calling my dealer for help. They had no idea what the problem was and would have to come pick it up to analyze the problem. So now they think the problem is with a motor controller which is not in stock nor available from the factory right now. They are going to send one from the west coast which will take at least a week or two. Since I traded in my old tractor for this one I'm left with nothing to cut my grass for who knows how long. No company should put a product like this out for sale until they have built up a good supply of parts, that's just common sense! I was so excited to purchase this tractor because I believe electric is the way to go when it comes to lawn care but I think I made a huge mistake with this purchase. Please learn from my experience... give this one another year to work out the bugs.
Date de publication: 2021-08-10
Rated

5

de

5
de
Kansas65
par
Disappointed
Just drove this home (1 mile from store). Before I left the store clerk said the noise (metal grinding sound) was the breaks and no big deal. Umm ok... OMG it was NOT a pleasant drive home. Bucks like a horse if you are not on flat terrain and trying to navigate sidewalks. Was in turtle mode the whole way as the steering levers are not balanced and it keeps pulling to one side and when you try to make corrections it jerks and over corrects. Did I mention the metal grinding sound? OMG I could barely stand to listen to it the whole way home. Drove by people out for a walk and I was so embarrassed. It is a beautiful machine but has some serious issues that need corrected. I own a 2005 cub cadet Z Wing that I love but was trying to go green to help our planet.
Date de publication: 2021-06-08
Rated

4

de

5
de
Amry
par
Good battery, good cut, controls are adequate
I bought this a few weeks ago, over all I am very satisfied with it however there are a few things that need to happen before you start. First take the included tool on the right hand side and make the handle bars completely even by adjusting the handles with the knob and finishing the fine tuning on the nuts ( this will really help any issues pushing too far one way or another.) Second go to YouTube and follow their calibration procedure for the arm sensors. This was absolutely critical in getting my experience from horrific to adequate it was a complete 180. Once they are fully calibrated they work alright, you can get yourself into a feed back loop when going top speed and making minor adjustments (causing more and more left and right motion) and you have to put it in turtle mode when mowing on uneven or bumpy terrain otherwise it's not gonna be easy to mow straight. Lastly when in turtle you can achieve decent precision but if you are used to a hydrostatic mower don't expect it to be the same. Being a computer engineer, I think cub cadet just needs to make some calibrations to the firm ware to dampen the arm inputs as speed ramps up and on initial arm input so beginning and top of movement range. Other than that I am completely satisfied with my mower, oh I almost forgot I mow about an acre and end with 45-50% battery without using the energy saver. Cub cadet feel free to reach out if you need someone to test new firmware updates. Also you should look into implementing mowing analysis based off required electric current going to the motors for the blades and overall statistics for each mow ( it would be a fun way for the public to compare each mow while you can get good diagnostic data for how the product is doing and make improvements via firmware updates)
Date de publication: 2021-06-12
Rated

5

de

5
de
Anonyme
par
There's a learning curve but it's well worth it!
[This review was collected as part of a promotion.] When I first used my ZT1-42E it seemed to come up short on drive ability. I assumed that having been using a gas powered zero turn for a decade would result in skills that would instantly transfer over to my new Cub Cadet. What I found was that there were differences in drive ability that required my brain to adapt just like the first time I drove my old zero turn. As I used my new Cub Cadet my brain adapted and the experience became better. I'm not yet at the same level of control I had with my old mower but when I attempted to use my previous zero turn it was actually more difficult to use. In general the ZT1-42E is a great mower, has awesome battery life and the mower deck removal for cleaning is much easier than my previous one. Overall I'm very happy with my purchase. Thank you.
Date de publication: 2021-05-09
Rated

5

de

5
de
Thingsawesome
par
Why is everyone complaining??
[This review was collected as part of a promotion.] This is hands down the best zero turn out there, don't read into the crap reviews. Its a shame that most of these reviews these people don't even own it like I do. Super easy to use ( first time ever using a zero turn in my life ) and have it down pat on my second try mowing my lawn.!! I've Never EVER have someone pull over (twice ) to ask me it that electronic? That thing looks awesome !! It's crazy good everyone.
Date de publication: 2021-09-07
Rated

4

de

5
de
Paul in Middleport
par
Works for me but the controls are sensitive.
I took delivery on 15-April-2021 from a local dealer. They did setup and delivery. I've charged it three times and have had no issues so far. I don't have interior storage so I'm using a UTV cover. I have the bagger and removing the tube to clear the opening is a pain but I don't think that's model specific. The controls are quite sensitive and the motors could spool up a bit more smoothly. The net experience is twitchy movement at very low speed.
Date de publication: 2021-05-08
Rated

2

de

5
de
Wallace
par
Not as good as I hoped
[This review was collected as part of a promotion.] My previous mower was a cub cadet commercial and most observations are in comparison to it. First I have no problem with the electric part of the mower. It is great not having gas, belts, oil and filters to fool with and way less parts to worry about. The mower does just barely cut my two acres. My main disappointment with it is the controls. They are way too sensitive even in turtle mode. Going around a bush or tree is very difficult and trying to go in a straight line on a slite hill is impossible. The mower is lighter and it slips down hill much easier. The frame is very stiff and that causes a lot of gouging in my rough yard. Many times I am mowing on two wheels. I have made all the deck adjustments and control calibrations and still not happy with the results. Please let me know if any fix for the jerky controls becomes available.
Date de publication: 2021-08-25
Rated

4

de

5
de
ScottS
par
Better than gas!
[This review was collected as part of a promotion.] No buying gas. No belts, oil changes or any major maintenance. Charging is quick and easy. The two major problems is that it has issues with getting wet and not working. For a machine that runs outside it should be more waterproof. If you let it dry out, it resets and is good to go. The second is that the drive control is unpredictable. When in full speed mode it is very jerky and sometimes feels like you don't have control compared to the same gas model. When in the slow (turtle) mode it is more steady, but the speed to each wheel seems inconsistent each time you start out. It is clear the slow mode was designed because of the jerky speeds in the full speed mode. It takes some getting used to with power going to each wheel independently rather than from one motor. But once you get past that, it makes it easier to get past the sensitive controls.
Date de publication: 2021-05-17
Rated

1

de

5
de
MgAnesthesia
par
Terrible mower
[This review was collected as part of a promotion.] I bought it in summer and it died with only a little mud kickex up under it. Error codes that i could not get it out of the field. Flimsy blades, i have only 18 hours on it and second set bent without even hitting a rock or object. Not well designed. Also very jerky and will not cut straight line. Very disappointing.
Date de publication: 2021-11-20
Rated

3

de

5
de
VNicolas
par
Great mower but twitchy
[This review was collected as part of a promotion.] I bought this mower about a month ago. I have mowed my lawn with it 5 times since. On the first few times me and my wife have run over several plants in the yard. This manly happens when the yard angels or slops. We both quickly lost control and were unable to stop it before causing damage. That said we are getting better. The biggest issue is the lag from user control to the mower moving. An example would be when trying to do fine movements like parking or driving close to an obstacle at low speed you cant really give it small adjustments. It lurches instead of smoothly speeding up or down. I love how quite it is. Its battery has lasted per expectation. I have about a 1/4 acer lawn and it drains to 75% by the time I'm done. I believe with more practice and use I will be able to over come the lurching and twitchy response of this unit. I will give another review after I've had this for a full year.
Date de publication: 2021-09-08
Rated

5

de

5
de
Waltjjr
par
Very Quiet, nice cut
[This review was collected as part of a promotion.] Bought the ZT1 42E about 6 weeks ago and it is a no compromise zero turn, I cut about an acre on 1/2 a charge. I chose to buy a battery powered system from a world class US lawn mower manufacturer. Love the system and the no fuss. Hop and go.
Date de publication: 2021-07-02
Rated

5

de

5
de
NJ Dave
par
Great Mower - Read the Instructions
[This review was collected as part of a promotion.] Received the ZT1 42E in spring. Cut looks better than the guy I paid last year to handle it so far. Read the instructions, spend some time getting to know it. Be gentle with the height knob. Treat the machine with respect and it works perfectly well within manufacturer specs for terrain, etc. I live on an acre with slopes, some short and steep. I have obstacles like large tree roots, a pond, and landscaping beds. Mower has no issues in dry conditions. The back end will slide on slopes if grass is damp. Battery life is excellent. I'm able to mow the entire property and still have 40% left, and I like to go slow. Mow faster like the pros and battery lasts longer (less blade motor time which is most of the battery draw). Cut is great. I am mulching with stock blades and a cover. No issues. Cuts well in eco, best at full speed. Controls: READ. THE. INSTRUCTIONS. before you get mad at it. It has safety features that can frustrate otherwise. I find it works best with the turtle speed off and fluid inputs.
Date de publication: 2021-06-24
Rated

1

de

5
de
Matt
par
Not recommended
The machine did not work after being delivered. The control panel would not connect to the battery. Had to push it off the trailer and spent days dealing with cub cadet on the return.
Date de publication: 2021-05-29
Rated

5

de

5
de
Anonyme
par
nice and quit. cuts beatifull.
[This review was collected as part of a promotion.] i am 79 years old. if i can operate this mower any one can. a great moner.
Date de publication: 2021-08-18
Rated

5

de

5
de
Anonyme
par
Nothing lost with going from gas to electric
[This review was collected as part of a promotion.] Performance is great after the first 10 hours of use.
Date de publication: 2021-05-09
Rated

5

de

5
de
Brian Ray
par
Wonderful experience!
[This review was collected as part of a promotion.] Perfect riding lawn mower. Two acres in one charge
Date de publication: 2021-05-17
Rated

3

de

5
de
chriskar
par
Awesome but a little jerky and not enough battery
[This review was collected as part of a promotion.] I have had this mower for 3 months and am extremely greatful for it. I believe it is the only residential electric zero turn on the market that uses lithium ion batteries. This was important to me lithium ion battery's life span and performance are much better than their lead acid competitors. For this reason too this machine is quite a feat of engineering. Not a tesla but functional and powerful nonetheless. The main thing I wanted to say is that people really are being dramatic about how jerky it is. My wife hates driving cars, boats etc... but her and I both have been able to adjust to its sensitivity. We dont try to go too fast around sensitive things and it works out and we only seem to get more skilled at it. To be honest though I have never driven a gas zero turn but I would probably have problems driving it just like you would going from a sports car to a compact economy car. Tesla is famous for its acceleration and this mowers electric engine also accelerates like a bat out of hell. I think people driving gas arent used to that and think it is a deficiency rather than a difference that I think is kind of fun and useful. I havent been able to cut as much as advertised on one battery but I do cut my grass when it is really high. This machine is very powerful though and has done outstanding with tall grass and tough jobs. I also really appreciate that it has a back hitch for light towing. It is extremely useful for market gardening. It also is saving us a lot of time over the electric walk behind mower we used to use. I cant wait to install our solar array so the sun can fuel this beast of a mowing machine. The ride is pretty bumpy even on our flat farmland so I wish they sold a more expensive option that had a suspension. This bumpiness though is pretty common across the board on mowers without suspensions. The last thing I will share is that I originally received this mower in the mail damaged and it took forever to return it. Home depot ultimately made up for it with a nice discount but only after A LOT of hair pulling and waiting on hold (12+ hours!). You can imagine why I then decided to rent a trailer to pick up the next mower in person at a home depot an hour and a half away only to find out that the grass chute was not assembled because of a small defect on it. It seemes lazy to me that they sold it to me but this is definitely on Home Depot for not sending it back to Cub Cadet or ordering a new chute. These logistical headaches brought this 4 star review down to 3. I think this was probably bad luck but ill let you be the judge. Overall though I appreciate the engineering that went into a zero turn mower that is first of its kind (for having lithium ion batteries and being in the residential price range). Its also been very functional and I am beyond exciting to not have to buy more gas guzzlers. P.S. I almost forgot to say its also really quiet compared to gas riding mowers and easy to maintain.
Date de publication: 2021-09-15
bvseo_sdk, dw_cartridge, 18.2.0, p_sdk_3.2.0
CLOUD, getReviews, 9ms
reviews, product