CC 600
TONDEUSE POUR TERRAIN VASTE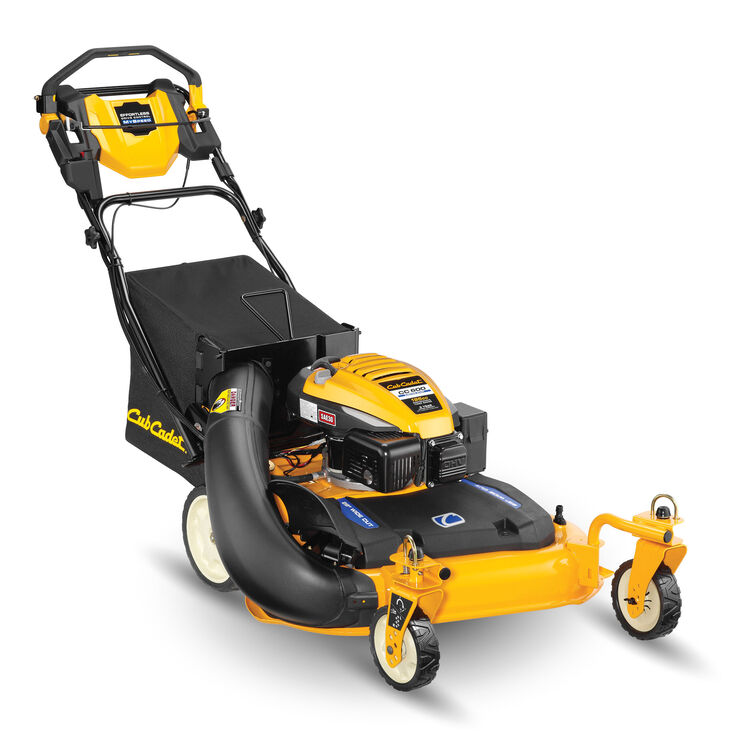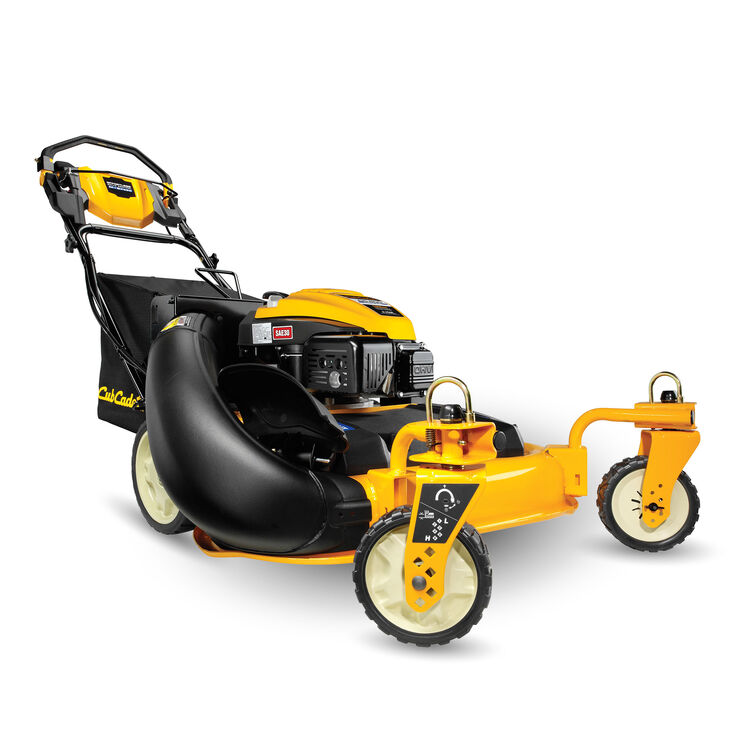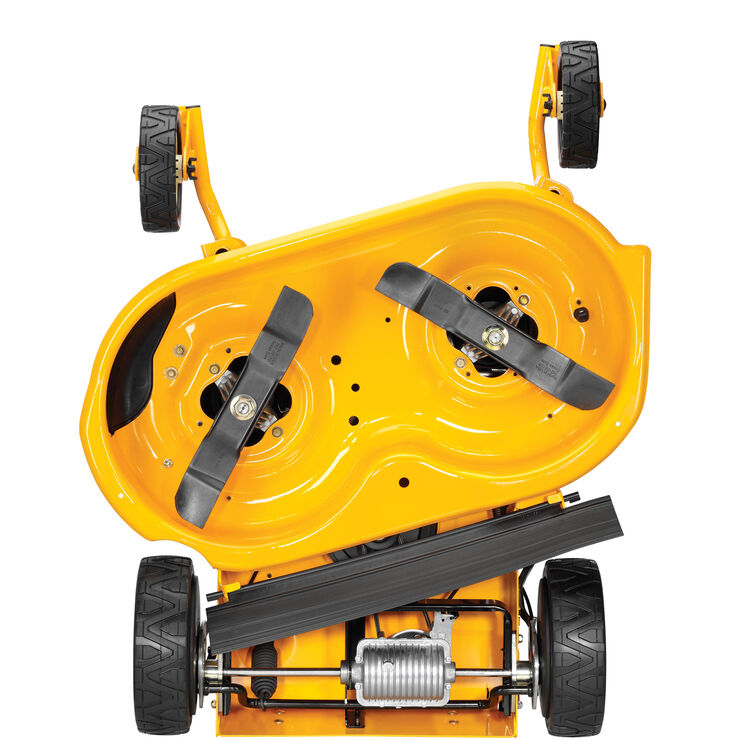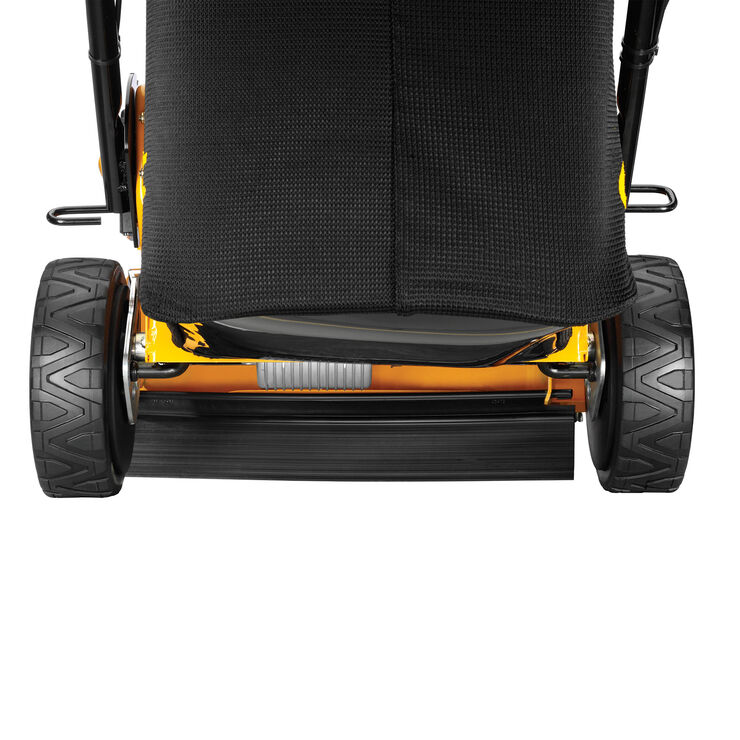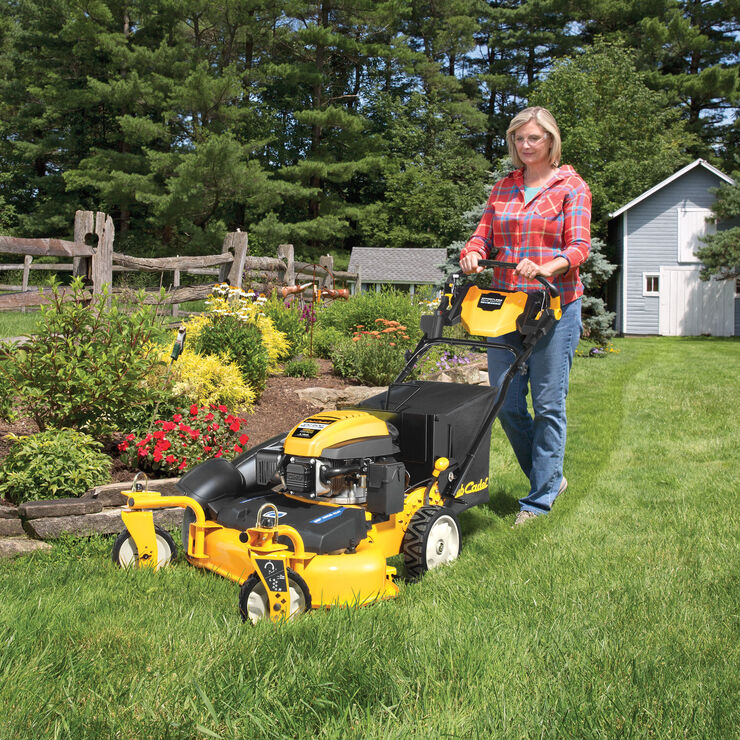 CC 600
TONDEUSE POUR TERRAIN VASTE
---
Moteur Cub Cadet® OHV 224 cc
Démarrage électrique avec système SureStart Guarantee® et à rappel
Plateau de coupe en acier de 28 po avec deux lames
Roues avant pivotantes pour plus de manœuvrabilité
---
Vous achetez un produit disponible chez
---
---
Caractéristiques et entretien
Moteur
Moteur

Cub Cadet®

Numéro de modèle de moteur

7X72RU

Cylindrée

224 cm3

Démarrage

Démarrage électrique à bouton-poussoir

Capacité réservoir de carburant

1,2 L

Huile pour moteur

20 oz

Étrangleur

étrangleur automatique
Système d'entraînement
Entraînement

À traction arrière
Plateau de coupe
Largeur de coupe

28 po

Nettoyage

Oui

Conception

Acier

Hauteur de coupe

1,25 à 3,75 po

Relevage du plateau

6

Réglage de la hauteur de coupe

À 3 points

Système de coupe

Tri-Action

Ensemble de déchiquetage

intégré

Discharge Location

Latérale
Garantie
Garantie

Résidentielle - limitée de 3 ans

Garantie commerciale

Non
Opération
Poignée

En boucle, réglable, repliable, légèrement surélevé et commande d'embrayage à revêtement confortable

Système d'entraînement

Système MySpeed Cub Cadet
Roues
Bande de roulement

En zig-zag

Roues avant

7 po

Roues arrière

10 po

Type de roulement

Roulement à billes
Spécifications additionnelles
Numéro de modèle

12ACW6M9710
Grass Collector
Ensachage

2 boisseaux

Type de sac

Anti-poussière
Disclaimer
Avis de non-responsabilité concernant les caractéristiques techniques

Nous nous réservons le droit de modifier les caractéristiques techniques du produit sans préavis ni obligation. Les produits représentés sur le site Web et les autres publicités servent uniquement à des fins de démonstration. Les produits effectivement proposés pour la vente peuvent varier en matière de conception, d'accessoires requis, de caractéristiques de sécurité et d'apparence non fonctionnelle. Voir les autres avis de non-responsabilité généraux au bas de notre site Web.
| Modèle | Manuel | Numéro de formulaire | |
| --- | --- | --- | --- |
| 12ACW6M9710 | MAN:OWN:COL3X_159CC_196CC_ENG | | |
| | MAN:OWN:COL3X_159CC_196CC_ENG | 769-15770C | Télécharger |
| | MAN:OWN:DIGEST_159_196_224CC_E | 769-25350 | Télécharger |
| | MAN:OWN:DIGEST_159_196_224CC_E | 769-26100 | Télécharger |
| | MANL:OPER:BILING:12X:WXX | 769-11201C | Télécharger |
| | SHEET:SUP:BILING:12X:WXX:CUB | 769-18631 | Télécharger |
| | SHEET:SUP:BILING:EPA:CARB:EVP: | 769-23591 | Télécharger |
| | SHEET:SUP:BILING:EPA:CARB:EVP: | 769-25880 | Télécharger |
| | SHEET:SUP:BILING:EPA:CARB:EXH: | 769-23593 | Télécharger |
| | SHEET:SUP:BILING:EPA:CARB:EXH: | 769-25882 | Télécharger |
Commentaires d'utilisateurs
Rated

5

de

5
de
samb61
par
big yards, lots of trees - year 3 strong as new
Up down, figure 8's, around and around, etcetera etcetera. Starts everytime. Not easy, not hard, sure beats a21" mower. I really like the ability to control the pace. Downside: not air conditioned cab ha ha.
Date de publication: 2020-05-26
Rated

4

de

5
de
Dirk
par
No problem for 3 years
[This review was collected as part of a promotion.] I really enjoyed using this mower. It is powerful and efficient. No problem since day 1. You just have to know how to take care of it.
Date de publication: 2021-08-08
Rated

5

de

5
de
Red987
par
Wife loves the CC 600
[This review was collected as part of a promotion.] GREAT mower! Starts every time. My wife loves mowing the grass. She has let me use it once. I think she has claimed it as hers.
Date de publication: 2021-05-13
Rated

1

de

5
de
jjonesjr94
par
Bad mower
[This review was collected as part of a promotion.] Very bad mower...seems to be under powered..grass gets clogged in chure while bagging and mulching looks like crap
Date de publication: 2021-05-11
Rated

4

de

5
de
JayMac
par
Great investment
[This review was collected as part of a promotion.] So far I love this mower. Service and convenience of the order process made this smooth. Can't wait to use it more
Date de publication: 2021-04-10
Rated

5

de

5
de
blades
par
No issues
I have had this unit for 2.5 seasons and i use it commercially and I have had to issues. I have not had to replace one thing. Easy to use ans easy to clean.
Date de publication: 2021-06-05
Rated

2

de

5
de
Mike59
par
Good cut
[This review was collected as part of a promotion.] If you just want to mulch good mower but if want to pick up cut grass horrible would not buy this mower
Date de publication: 2021-07-23
Rated

5

de

5
de
Jon in PA
par
CC600 wide cut saves time
[This review was collected as part of a promotion.] Powerful mower for large lawns. A little cumbersome in tight places but great on open straight ways.
Date de publication: 2021-05-13
Rated

3

de

5
de
Just Me
par
New Experience
The lawnmower is heavy. The self-propelled feature does not seem to work. I broke the handle pushing up an incline. $65 lesson.
Date de publication: 2021-06-08
Rated

1

de

5
de
Luky
par
Lemon product.
Most piece of junk lawn mower I have ever own. Please never buy cub cadet. It is a total rip off. Junk.
Date de publication: 2021-07-11
Rated

5

de

5
de
Stonetone
par
great mower!!!
Great mower. Beastly in a compact size. The grass collection works great with the high lift blades.
Date de publication: 2020-06-29
Rated

5

de

5
de
Grass pro
par
Impressed so far
Bought mower a couple weeks ago, starts right up and cuts as well as my old Honda.
Date de publication: 2020-06-14
Rated

5

de

5
de
Charles
par
CC 600 first few use
Quieter than a typical push mower. Cut down my lawn cuting time by a least 50%
Date de publication: 2021-05-30
Rated

4

de

5
de
storm24
par
Time Saver! Way better than a 21" Push Mower
Purchased this mower 2 months ago for my residential lawn mowing business. Hasn't skipped a beat after plowing through 8-10" grass, being used 8 hours a day, etc. Have had 0 problems cutting anything I've thrown at it thus far. Electric start works amazingly, self propelled is fantastic, and the caster wheels make turning a breeze. A couple minor flaws with the mower, however.. The electric start button was apparently not secured when sent from the factory, and popped off while mowing (I didn't notice this until later, so it's lost forever). In addition, the mower blade guard under the mower that prevents clippings from shooting back managed to get sucked into the blades while mowing, completely destroying it. Although these flaws didn't affect functionality, was very disappointing. Finally, I would really like to see a better height changing feature. It is quite a pain to have to individually adjust the 2 front wheels, although it has become less of a pain over time. All in all, it's a great little mower, definitely shaves significant time off of each lawn and the cut quality is fantastic. If you're looking to save some time mowing your own yard or even start up a small business, this mower is for you!
Date de publication: 2020-08-02
Rated

3

de

5
de
Unhappy Owner
par
Very Disappointed
I've had this mower for three years now, I really looked forward to using this mower as I have a yard that is just shy of a half-acre. The good it has cut my cutting time by almost an hour, and most of the time cuts the grass very well. The bad now and then it leaves a strip of uncut grass in the center. It's not as good as my old 22-inch single blade mower at cutting the edges of the yard and around objects in the yard which requires me to weed whack a bit wider than I did in the past with my old mower. So, my time saved above is lost weed whacking. Now the really bad, the grass catcher is a total failure I live in the PNW so cutting grass that is wet is pretty much the way life is here in the spring and fall. The grass catcher requires that the grass is short and very dry otherwise it clogs the catcher chute. The other option is to use the discharge chute and rake the grass after cutting. Every rake a half-acre yard after its grown two inches in a week because of the rain? Bottom line if you need a mower that cuts big areas and don't have to clean up the clippings this is the one for you. If you want to have a nice-looking yard without raking it up after cutting the grass get a mower that the grass catcher actually works.
Date de publication: 2021-05-15
Rated

1

de

5
de
Anonyme
par
Looks built for commercial use buuuttttt…
Drive system is garbage and doesn't appear to be designed for the weight of this unit. I have owned this unit for less than six months and the drive system on it is already out of commission. I own a few rental properties that I use this mower on along with my own home that has some hills. I am still trying to figure out what all has failed. The wheels on the drive system are meant to hold these little gears but the plastic on the wheels are not up to task on holding these steel gears in place so the gears have popped off when the driveshaft moves and tears up the inside of the wheels causing the drive gears to pop off more often. I saw the transmission to the frame came off today so the belt drive throws the belt every time you try to use the self propel. With this being a larger unit and weighing 2 to 3 times what a regular walk behind mower Weighs it renders it useless. I now spent $1300 on something that didn't last six months and when looking into fixing the issues I find out that the wheels are $50 apiece!! Are you guys serious? Plastic wheels and they come with almost 0 tread on them from the factory?! I have been very satisfied with cub cadet on many other purchases but this mower is an absolute joke. At first glance it seems like a great buy for someone looking to save time but this mower will spend 20% of its time being down in a repair shop. The engine has plenty of power and it works great powering through taller grass and other stuff but if you have any amount of hills or ditches definitely avoid this product! I already know that cup cadet is going to respond with some generic offer like I've seen on other reviews. Do not bother responding to me unless you replace the complete drive system on my brand new unit! My last walk behind mower was a Husqvarna which I typically am not a fan of but that thing lasted me seven years and still runs great to this day. It is sad that I had to go and use my back up mower when I just paid 3 to 4 times the amount of money on this thing that couldn't handle one season.
Date de publication: 2021-10-01
Rated

1

de

5
de
Another Victim
par
WARNING! DO NOT BUY THIS MOWER!
I purchased my CC 600 on 4/26/2019. I'm one of those consumers that will carefully study a product before I purchase. Look at the horrible reviews for this mower. They were not there when I purchased mine. I purchased my unit from a dealer rather than a mass chain retailer. I wanted the higher level of service and care that can be provided by a small local dealer. I took my mower home and began to mow my front yard. On my second pass across the yard I reached the end of a drainage ditch. I pulled the mower back 4-5' and the blades immediately ate the rubber skirt on the rear of the deck. Am I the only homeowner that ever pulled this mower back a couple of feet. It was a sign of the poor design issues ahead! The following week I mowed my lawn without an issue. Two weeks later, I tried to start the mower and the electric starter would not turn over the engine. It had a full charge from the day before, but the EZ Start Promise was broken! After about 6-8 pulls of the cord, the mower finally started. When I stopped to refill the shot glass they call a fuel tank, I could not pull start the mower again! A week later, the fully charged battery would not start the mower. After about 10 pulls on the cord, I was exhausted so I asked for help from my younger neighbor. He started my mower on the 29th pull!!! This level of performance is surely not what I paid for! On a Saturday afternoon at a big box store, I saw a Sales Rep. from Cub Cadet in front of the store by his mowers answering questions for customers. I explained my issues with starting my mower and he suggested that I probably got some bad fuel. Use a fuel stabilizer. He also recommended that I have it serviced at the dealer because my dealer was one of the very best servicing dealers in his region. My dealer is 30 miles away, but I took my mower in and explained my inability to start my mower. In his lot, he could not electric start or pull start my mower. I called my dealer in 2 weeks and he said he felt he had a solution to starting my mower. After 4-5 calls to Cub Cadet, he finally reached an engineer. He explained to him that when the starter was engaged, a spring would pull the choke to full choke and never release the full choke. The engine would flood and stop running or flood and never start! You could not restart the mower by electric start or the pull cord because the engine was flooded. He asked if they had developed a fix for this design issue? The engineer was clueless! My dealer informed me that he could remove the spring and I could simply use my finger to go to full choke and engage the starter button at the same time. After the mower starts, the engine pushes the choke off. At no charge to me, he replaced my 3 ah battery with a 4 ah battery. The factory 3 ah battery would not start the mower! I brought my mower home and his solution seemed successful until now. I cannot start this mower now even after a full charge! I am simply not strong enough to pull start this mower and unless you played college football, you couldn't either! Just like everyone else, the shoot constantly clogs and the blades leave a line of uncut grass between the two blades! What a gross design error only surpassed by the choke/starting issue! You should also understand, my lawn is in dense shade. I only mow my yard 6-7 months out of the year because my lawn is dormant several months of the year. This is the worse decision I have ever made as a consumer! I do want you to understand that the negative reviews that you see today were not there when I purchased my mower and I saw numerous reviews also on UTube that were favorable. Do Lemon Laws apply to mowers? I don't care, I'm done with this piece of trash!
Date de publication: 2021-06-13
bvseo_sdk, dw_cartridge, 18.2.0, p_sdk_3.2.0
CLOUD, getReviews, 11ms
reviews, product