CC 600
TONDEUSE POUR TERRAIN VASTE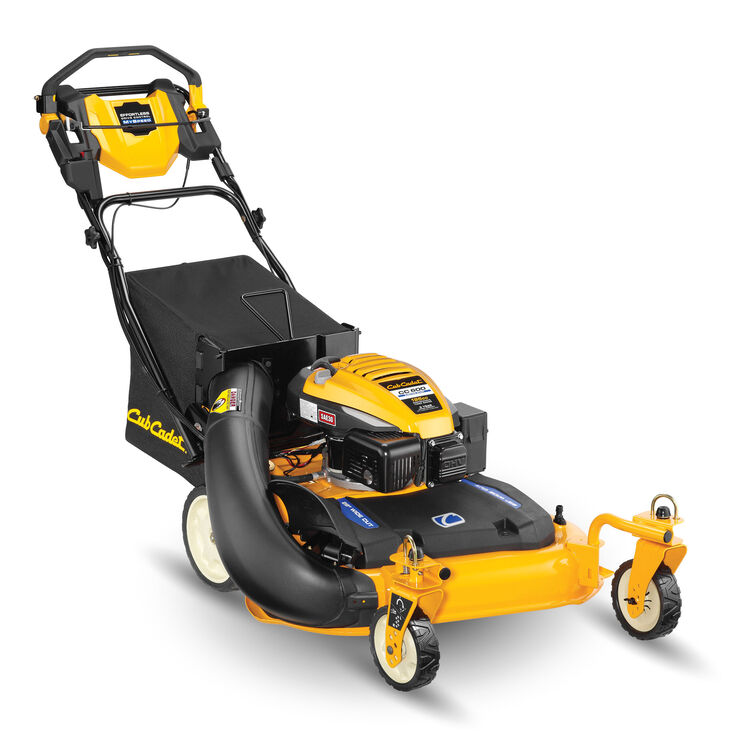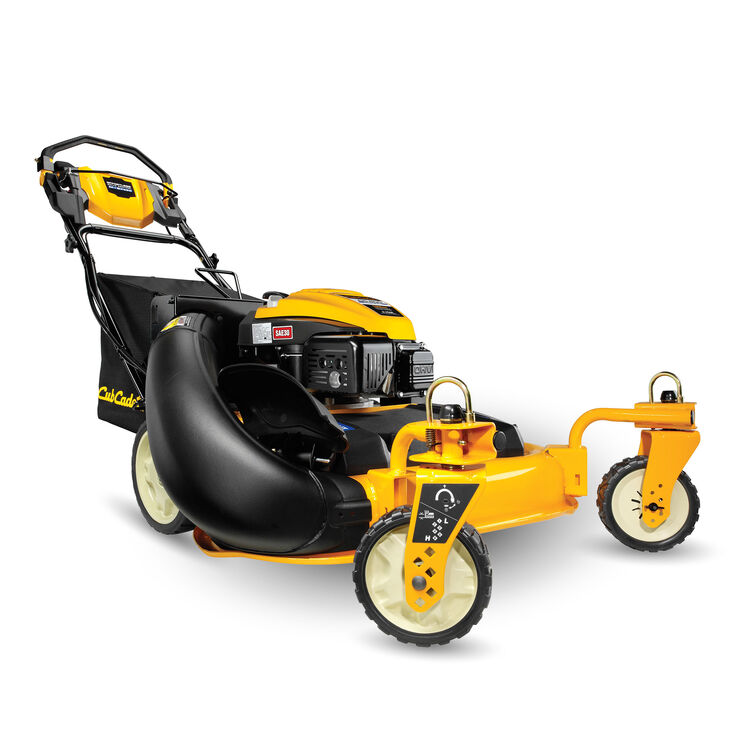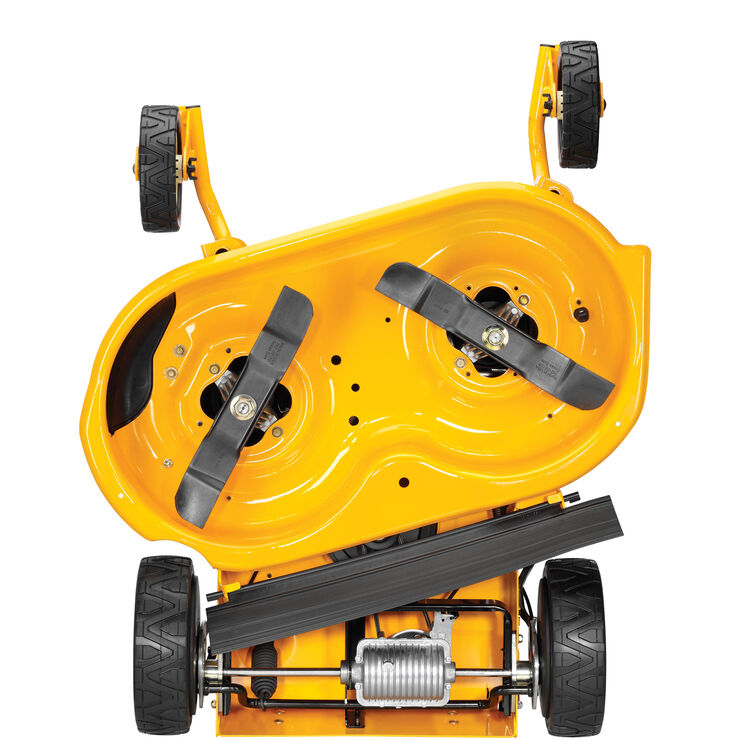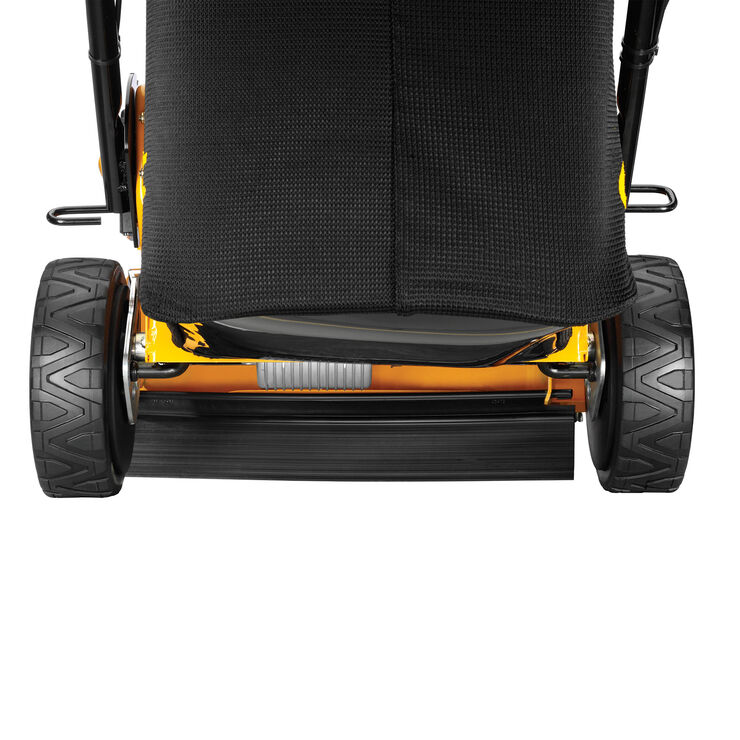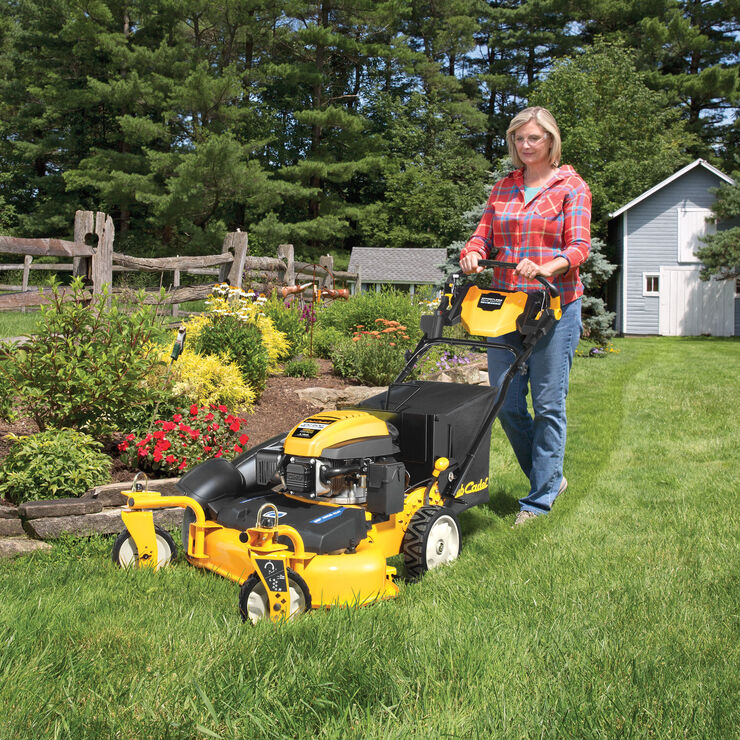 CC 600
TONDEUSE POUR TERRAIN VASTE
---
Moteur Cub Cadet® OHV 224 cc
Démarrage électrique avec système SureStart Guarantee® et à rappel
Plateau de coupe en acier de 28 po avec deux lames
Roues avant pivotantes pour plus de manœuvrabilité
---
Vous achetez un produit disponible chez
---
---
Caractéristiques et entretien
Moteur
Moteur

Cub Cadet®

Numéro de modèle de moteur

7X72RU

Cylindrée

224 cm3

Démarrage

Démarrage électrique à bouton-poussoir

Capacité réservoir de carburant

1,2 L

Huile pour moteur

20 oz

Étrangleur

étrangleur automatique
Système d'entraînement
Entraînement

À traction arrière
Plateau de coupe
Largeur de coupe

28 po

Nettoyage

Oui

Conception

Acier

Hauteur de coupe

1,25 à 3,75 po

Relevage du plateau

6

Deck Height Adjustment

À 3 points

Système de coupe

Tri-Action

Ensemble de déchiquetage

intégré

Discharge Location

Latérale
Garantie
Garantie

Résidentielle - limitée de 3 ans

Garantie commerciale

Non
Opération
Poignée

En boucle, réglable, repliable, légèrement surélevé et commande d'embrayage à revêtement confortable

Système d'entraînement

Système MySpeed Cub Cadet
Roues
Bande de roulement

En zig-zag

Roues avant

7 po

Roues arrière

10 po

Type de roulement

Roulement à billes
Spécifications additionnelles
Numéro de modèle

12ACW6M9710
Grass Collector
Ensachage

2 boisseaux

Type de sac

Anti-poussière
Disclaimer
Avis de non-responsabilité concernant les caractéristiques techniques

Nous nous réservons le droit de modifier les caractéristiques techniques du produit sans préavis ni obligation. Les produits représentés sur le site Web et les autres publicités servent uniquement à des fins de démonstration. Les produits effectivement proposés pour la vente peuvent varier en matière de conception, d'accessoires requis, de caractéristiques de sécurité et d'apparence non fonctionnelle. Voir les autres avis de non-responsabilité généraux au bas de notre site Web.
| Modèle | Manuel | Numéro de formulaire | |
| --- | --- | --- | --- |
| 12ACW6M9710 | MAN:OWN:COL3X_159CC_196CC_ENG | | |
| | MAN:OWN:COL3X_159CC_196CC_ENG | 769-15770C | Télécharger |
| | MAN:OWN:DIGEST_159_196_224CC_E | 769-25350 | Télécharger |
| | MAN:OWN:DIGEST_159_196_224CC_E | 769-26100 | Télécharger |
| | MANL:OPER:BILING:12X:WXX | 769-11201C | Télécharger |
| | SHEET:SUP:BILING:12X:WXX:CUB | 769-18631 | Télécharger |
| | SHEET:SUP:BILING:EPA:CARB:EVP: | 769-23591 | Télécharger |
| | SHEET:SUP:BILING:EPA:CARB:EVP: | 769-25880 | Télécharger |
| | SHEET:SUP:BILING:EPA:CARB:EXH: | 769-23593 | Télécharger |
| | SHEET:SUP:BILING:EPA:CARB:EXH: | 769-25882 | Télécharger |
Commentaires d'utilisateurs
Rated

1

de

5
de
JimmyB
par
Disappointed
I bought this mower last year (IE. have used it one season). I cleaned it after every use and kept it out of the weather. The biggest problem I have with the mower is that the clippings don't get pushed down into the lawn when mulching. They get stuck under the mowing deck and bind up the blades. The hose attachment does not work once the blades are bound up, so you need to tip the mower and manually spray out the clippings in order for the blades to turn again. When you lift the mower up to clean out the deck, the engine will not restart. It takes about 45 minutes to start up again b/c it floods. The other major problem I have is cut quality. This mower leaves a line of uncut grass in the center of your cut line. The blades apparently do not overlap sufficiently and there is a space between the two cutting blades. So, instead of reducing my cutting time with this 28 inch deck, I spend more time double mowing (because of the uncut grass line in the middle of every pass), cleaning under the deck, and waiting for the machine to decide and re-start. Mean-while, I finish mowing my lawn with my 20 year-old, 20 inch toro deck.
Date de publication: 2020-04-12
Rated

4

de

5
de
Lois20
par
Electric starter is disappointing.
We have had the mower for abt 6 years now and electric start has been a problem since year 1. At first, when it wouldn't start, we found sitting it in the hot sun for a while, it would start or sitting a small electric heater next to the machine for a few minutes would start ok. Now, year 6, battery dead. We are at a lake home and it only gets used 5-6 times a season. So disappointed. Taking it to a dealer for repair requires a trailer that has a ramp since it is too big and heavy for me to lift into a car, if it fits!
Date de publication: 2020-07-31
Rated

3

de

5
de
BW Snow and Mow
par
Great features, bad parts
As a commercial mower I have been very happy with the cutting power and the speed at which I can complete jobs. The 28" deck along with the castor wheels and larger bag make this a great mower for efficiency. However, I wish they built a commercial version of this mower. I have run it for one summer and the rear wheels are going, a cable snapped, the battery is basically dead, the recoil starter housing broke. I'm guessing lots of this would be fine with just a home owner using this mower. I would buy a different commercial mower but I have been unable to find any in my area with the same features as this one.
Date de publication: 2021-07-14
Rated

1

de

5
de
PMS1972
par
Do not buy!!
We have had this mower about 18 months and it is trash. Within the first couple of months of owning the carburetor had to be replaced. Now, it won't start. We haven't had a problem with the electric start engaging but it will not fire up. The pull start is absolutely ridiculous and is no good either. We have it serviced before the mowing season starts and store it inside. We had another brand electric start that lasted around 9 years that we never had a problem. We thought we were getting a better mower but in reality we got a piece of junk. I am so disappointed and will never buy another Cub Cadet product again.
Date de publication: 2020-10-21
Rated

1

de

5
de
Hills
par
Constant frustration
I've had nothing but trouble since purchasing this product. The electric start is a joke and it never works. I have to keep manually cranking the mower until it does start. While cutting the side discharge will get clogged and cause the mower to stop working. Once it does stop working it takes 30+ minutes before it can get started again. I don't even try to use the attached chute and bag because everything gets clogged in the chute. I specifically bought this mower because of the wider cut but it has ended up being a huge waste of money and a source of constant frustration every time I go to cut the grass.
Date de publication: 2021-05-06
Rated

1

de

5
de
CarlCee
par
Bad Product
I had nothing but problems since I purchase this item. When mowing and I turn it off to change the bag, its impossible to get it to start again. It doesn't cut the grass correctly and many times I had to go over the yard twice or thrice. It's an electric mower that didn't come with a charger and this summer the pull cord is struck and I'm unable to even mower. Today, I receive an electric starter that I purchase, no thanks to cub cadet, and after 2 hours of charging the mower didn't even turn over. So now I need to hire someone to come cut my grass for me. Next summer, this cub cadet is gone for good.
Date de publication: 2021-08-20
Rated

5

de

5
de
Wise Cut
par
28 inch Walk Behind
[This review was collected as part of a promotion.] Easy start, easy handling , cuts very nice and fast. No problems in the first month. Time will tell. So far - 5 stars ⭐️
Date de publication: 2021-04-19
Rated

1

de

5
de
CarlE
par
Bad Product
I brought this Cub Cadet mower because I had originally had another mower that was getting old. This cub CC600 I been anything but problems since I first purchase it. I purchase it new and it didn't come with a battery recharger. When I mow and turn it off than its almost impossible to get it running away. I had to set it sit for about an hour once. This summer, the pull cord stop working and I never had a charger, so now I have no working mower. I had to have someone come and cut my grass for me. Today, I received a electric starter I purchase since one didn't come with the mower and after charging it for about 2 hours, the electric starter doesn't work. I so done with this mower, too many issues from day one.
Date de publication: 2021-08-20
Rated

1

de

5
de
bluesyguy
par
chute clogs constantly...too narrow or too steep
My cc600 has been in use for a year and I haven't had any starting issues but I' really sick of having to unclog the chute depending on how early in the season and thick the grass is...found myself cutting 1/2 width cuts just to avoid clogging which defeats the whole purpose of a wide area motor. CCadet really should fire a few engineers for failing to test this before putting into production. I had an older CC800 33" cut that never clogged, but bag removal was tedious so I bought a 28" cut with rear bagger thinking it would be easier to empty, boy was I wrong. I'll probably just remove the bagger entirely and use as a mulching mower in late summer months, but I definitely would NOT recommend this mower to anyone.
Date de publication: 2021-06-29
Rated

5

de

5
de
mwright
par
Great mower, very happy with my purchase!
Bought this today and got to use it right away. Works perfect, a lot of features for the money.
Date de publication: 2020-05-07
Rated

3

de

5
de
RJ Davis
par
Alittle Oversized for me...
Purchased the mower a year/season ago. The machine is a decent mower, plenty of power, however, I have difficulty sometimes with monuverability because my yard is so hilly. Starts fairly easy. Have had none of problems that I have read in some of the other reviews. I am convinced that if you do not use premium gas in these yard machines your going to have problems. I do not use the bagger, always the side discharge with no clogging unless the grass is wet. Do not care for the design to well. Over all its a matter of preference and yard layout. I paid the money for the machine and so now it will have to produce. Let it also be known that I am partial towards CCs, I own three of the companys yard machines, so I was pretty critical with the CC600.
Date de publication: 2020-06-21
Rated

5

de

5
de
Grasslandlawnscom
par
Great!!
We use it in a lawn business. This mower is Commercial Grade. Only issue is rear wheels coming apart before tire wears. (I guess we over use the mower)
Date de publication: 2020-06-05
Rated

5

de

5
de
Bakken lawn
par
First use.
purchased this mower new today locally. I only was able to run if for an hour before it was trimmer time..First impressions so far..I love it..The bagging system works great as long as the grass isn't wet but doesn't preform any worse than any other bag system. The larg bag capacity is a huge plus compared to my old honda. Electric start is a spoiling touch even though its not needed as the mower starts on the first pull. The adaptive speed control to me is a major improvement over the old gear selectors and extremely easy to get used to. Combined with the caster front end turning is almost effortless. Only down fall is as others have said is the front wheel height adjustment. Not a deal breaker by any means especially if you don't let your lawn get crazy tall.
Date de publication: 2020-05-26
Rated

4

de

5
de
Mower dad
par
Best mower I have had
[This review was collected as part of a promotion.] This mower is awesome. My only complaint would be the bag. There is nothing holding the bottom of the bag to the mower. If you are cutting really dry grass the force of the air coming into the bag will make it separate and the clipping fall on the ground. They should have put a bracket or trough along the bottom edge so the bag sits in it. Other than that this mower is great. I love the wide cut and it comes with the high lift blades and mulching blades. They are very easy to swap out. Another feature is that the you can disengage the blade and keep the mower running while emptying the bag or moving something in the yard. The 28 in. Deck has cut my mow time down to half. Maintenance is a breeze. Love this mower
Date de publication: 2021-08-15
Rated

1

de

5
de
Pat17
par
Horrible design with the chute
Additionally, we mow our yard once a week, yet the poor design of the side discharge the constant clogging of the chute when cutting even the driest grass, causing the operator to the machine to stop constantly and manually unclog the chute. With the wide the deck I thought it probably would make things go much faster, but instead takes much longer due to how many times the chute clogs and what I have to go through to get it running again.
Date de publication: 2021-03-12
Rated

1

de

5
de
Benjamin B
par
Dissapointed
[This review was collected as part of a promotion.] I hate to write bad reviews. I really wanted to like this mower and was so excited to get it but unfortunately I've had issues with the throttle cable snapping over and over again. Each time I take it to repair I have to wait 3 weeks because the dealer is backed up. I could understand this happening in a $3-400 mower but a $1200 mower? This mower has been a real headache, I wish I could return it.
Date de publication: 2021-04-26
Rated

1

de

5
de
Swild
par
Rear axle has broke again
I bought a yr ago it has been to shop as soon as I bought it the axle bent when I took it in the replaced axle I used it to mulch some leaves and the axle snapped now it's sitting in garage saved all year to buy this mower only for it not to work the dealer I bought it from said I must of dropped it out of my truck it has never been in a truck but only on trailer. I need to find the axle part so I can fix it myself
Date de publication: 2021-07-20
Rated

1

de

5
de
Bigsky
par
Huge design flaw with bagging
When bagging, the bottom of the bag simply rests on the back plate of the mower. If you even a tiny bump the bag pivots away from the mower and dumps clippings all over the yard. It basically swings freely from the top bar. Unreal engineering oversight. Don't bother with help line as it's a 3rd party who's employees sound like they've never even used a lawn mower let alone understand the products sold by CC.
Date de publication: 2021-05-18
Rated

4

de

5
de
Jimmy Jim bo
par
Some improvement recommendations
Used this mower for the first time today. Overall I'm very pleased with. I have a few recommendations for next year's model. The bagger is way too small for a large area mower. I had to stop too often to empty the bag. The other thing I didn't like is you have to remove bolts to lower the wheels in the front of the mower. A better design is needed so you don't have to do this. Overall it works very well.
Date de publication: 2020-10-24
Rated

3

de

5
de
harleyrider17
par
Needs to be better engineered
I have a 22" self propelled mower that I use on a 1/3 acre lot, it takes me 40 minutes to mow, I was looking for a larger cut width to shorten my mow time. The main issue I see is with the personal pace bar, you have to push this forward, leaving you to control the whole mower by this plastic bar, instead of pulling the bar down and holding onto the metal handle bar that is attached to the lawn mower, giving you more control, I also see this part breaking off after many uses as well as I have to walk at a slower pace which increased the time it takes me to mow my yard and the mower does not cut the grass as well as my 22" single blade. Conclusion is I don't feel that I have true control over the mower when engaging the personal pace bar when cutting around objects. I have not had any issues with starting, I mulch all the time so I can't comment on clogging issues with the bagging system.
Date de publication: 2021-07-25
Rated

1

de

5
de
Anonyme
par
Clog Machine
I was excited for this mower. On the first few mows I found myself sticking my arm down the chute (mower off of course) to unclog the grass. Dry grass. I took the unit to get the blades sharpened and the person told me they were sharp and did not recommend. I hate this mower as it just leaves behind clumps when you're in bagging mode. The chute design is horrible! I do not recommend.
Date de publication: 2020-10-27
Rated

5

de

5
de
Bob R
par
Powerful, Reliable and Very Maneuverable
[This review was collected as part of a promotion.] My yard is a thick Fescue lawn in SE Virginia so it is between 3.75" and 4"long. The CC 600 does the trimming in the back and cuts all of the front. This machine glides around flower beds and has the power not to get choked out in the grass. When the grass is dry the collection system works great. If wet the chances of the grass catcher clogging increase with the wetness of the grass. The electric started has worked flawlessly thus far and the engine just keeps going. While new I have cut the lawn with this mower three times and I do not have a complaint. The drive system does best when you slowly advance the bar and do not take it any faster than necessary. Otherwise the mower will tend to jerk forward and lift the front wheels. The cut quality is the best I have seen -- the lawn looks beautiful when finished. I am very pleased with this purchase.
Date de publication: 2021-04-12
Rated

4

de

5
de
Jim M
par
great maneuverability
[This review was collected as part of a promotion.] I purchased my CC600 in Aug.2017. I feel that it does a good job on dry grass even with mulching, considering that your not scalping the lawn. Which you shouldn't do anyways. I intend on using the bagger for the first time today, due to the length of my lawn. I just wish that I didn't have to change the blades to bag.
Date de publication: 2021-04-19
Rated

5

de

5
de
Muffy515
par
Great mower, terrible customer service.
To be as upfront as possible I have only had the mower for a short period. In this short time in have not experienced any of the issues mentioned in past posts. The machine provides a clean even cut and does not leave a line in the middle between the two blades. The bagging system works flawlessly when you install the included high lift blades. It starts extremely easily. It handles very well around obstacles and handles bumpy terrain when you approach it at a reasonable speed. The local dealer I had it delivered to was amazing and provided great support. My unit was missing nthe knob to fix the chute to the deck. They took one off a floor model and apologized on behalf not cub cadet. Unfortunately the experience in dealing with cub cadet was not great. Shipping was slow and noone could provide me with any meaningful information in when I could expect the machine to ship until I posted a negative comment on the MTD Facebook page.
Date de publication: 2021-05-15
Rated

5

de

5
de
Spark NC
par
Great Mower and Tips!
[This review was collected as part of a promotion.] After 4 months cutting 1/2 Acre the mower operates great with no issues. Here are some observations and tips: -Install the high lift blades if using the bagger. Mower comes with mulching blades installed. -I sprayed the mower and inside the chute with an automotive polymer which makes clean up a breeze with water after each use. -Bagging works best with moist grass, never had the chute to clog to date. -Has plenty of power in high grass. -Doesn't miss any grass blades but you will need to slow down at times -Oil change is a breeze with the hose attached and hole provided in steel back plate. -I use 93 octane fuel - in all my equipment. -Added the stripping kit which helps but mower stripes pretty good without. -Operates smoothly and could use one hand if need be. -Wide cut helps lower the cut time more than you think. Roughly 24" cut after overlapping. -Starts easy every time. -Overall pleased thus far.
Date de publication: 2021-06-27
Rated

2

de

5
de
Anonyme
par
Good but not really
It is a great product when your not looking for the perfect cut. When I first got the mower it was not even. The left blade cut lower then the right leading to two lines when cutting, one showing much more shorter yellow grass compared to the right side showing nice green grass. I brought it to the dealer and they did not fix it at all nor give a proper assessment of the mower. It came back with scratches (the dealer didn't effect my rating of this mower) The engine runs flawlessly and I love that you can idle the engine without the blades running. The black panel on the front of the mower has to be removed after every few mowings as it gets jammed full of clippings. This can easily be fixed by having less entry points around that black panel. Side discharge works amazing especially when the grass is wet or very long. This motor has never stalled when going over very thick grass. Overall it's a great machine but there is definitely room for improvement. I wouldn't suggest buying this mower
Date de publication: 2021-07-14
Rated

3

de

5
de
Anonyme
par
Like it so far, but….
Cuts well and engine seems powerful. I like the 28" cut. Bought it in May, 2021 and it's currently in the shop as there was a problem with the differential in the drive…..was a struggle to turn at times. Don't have it back yet from shop but hopefully that's the extent of the problems with it.
Date de publication: 2021-09-14
Rated

3

de

5
de
Tmower
par
Not as great as I thought
I've had this CC 600 for less than a month and have used it 2 times. Tried to bag both times and the sides chute kept clogging. I have noticed multiple people have had the same issue. It's a beast when you discharge the grass but terrible for bagging. Not worth the money in my opinion
Date de publication: 2021-08-06
Rated

1

de

5
de
garabage
par
Garbage
Blade disconnect cable snapped after 1 year of use, installed a replacement cable and it too snapped after only 30 minutes, no faster than a push mower, only useful if you are old or extremely lazy, for most a basic push mower will be faster.
Date de publication: 2021-04-21
Rated

4

de

5
de
JWILL
par
Good Purchase
[This review was collected as part of a promotion.] The cut quality is excellent. The only thing I do not like are the front height adjustment slots. I wish the front adjustment was a lever, similar to the back. Very nice lawn mower overall.
Date de publication: 2020-11-19
bvseo_sdk, dw_cartridge, 18.2.0, p_sdk_3.2.0
CLOUD, getReviews, 10ms
reviews, product