CS16E
SCIE À CHAÎNE SANS FIL 60V MAX
Article
CS16E-60V-CORDLESS-CHAINSAW
From

279,00 $

-

399,00 $

MSRP
---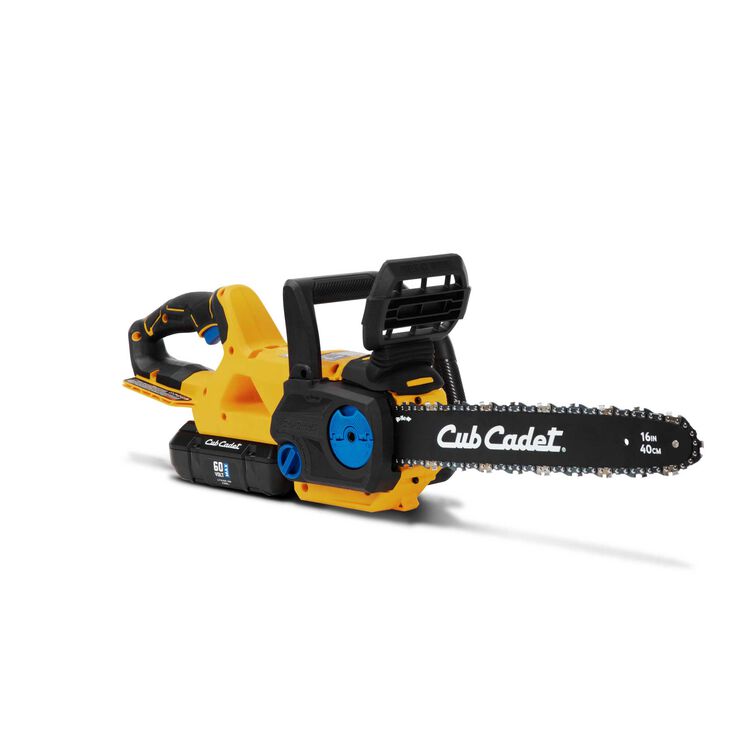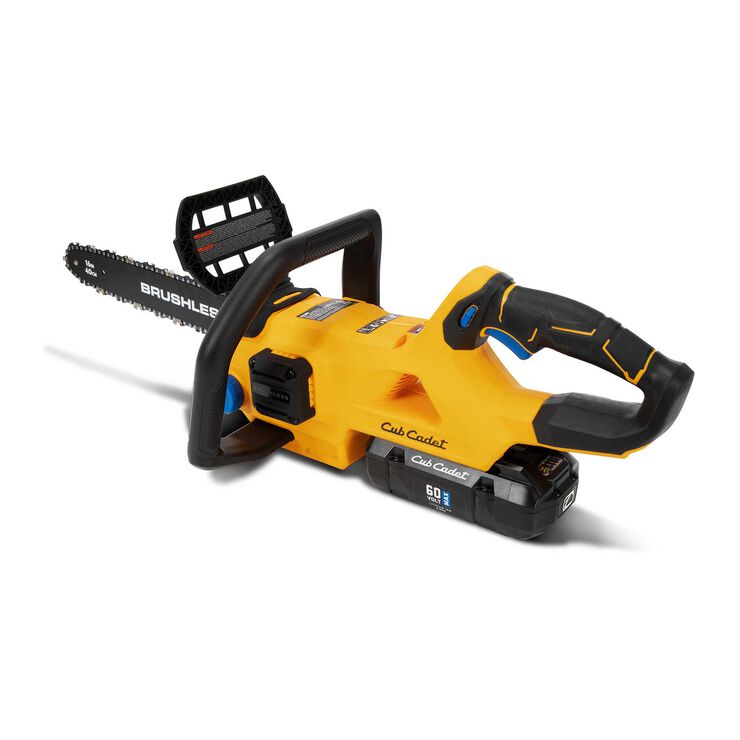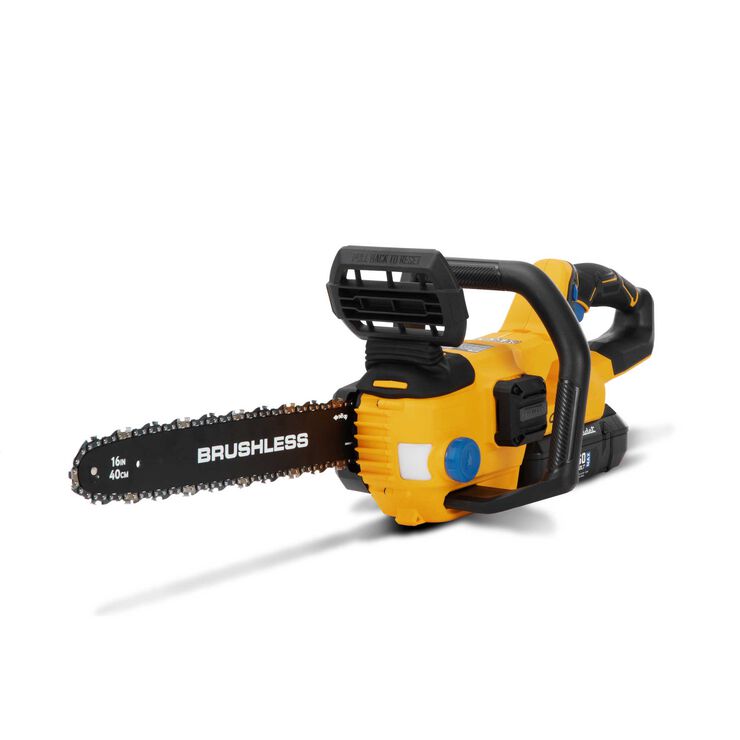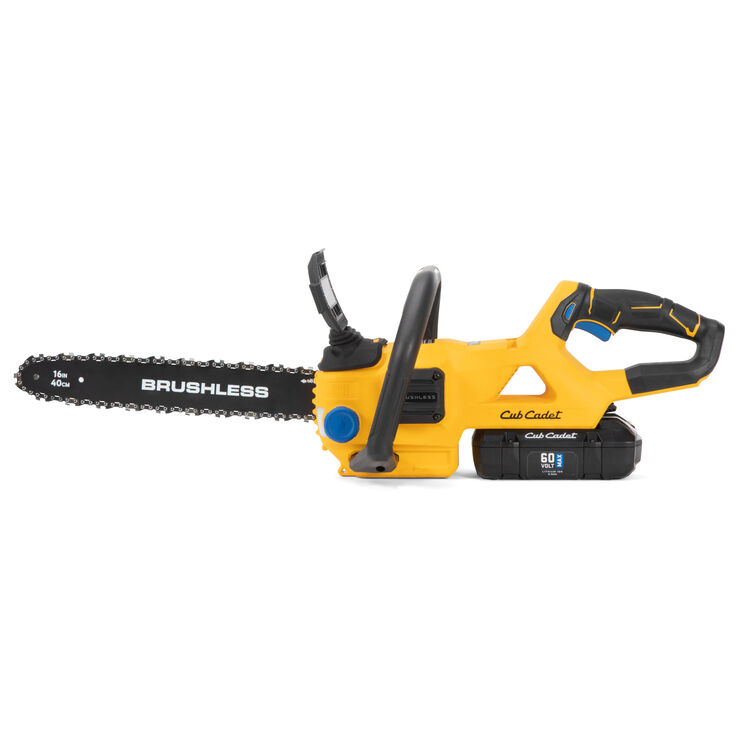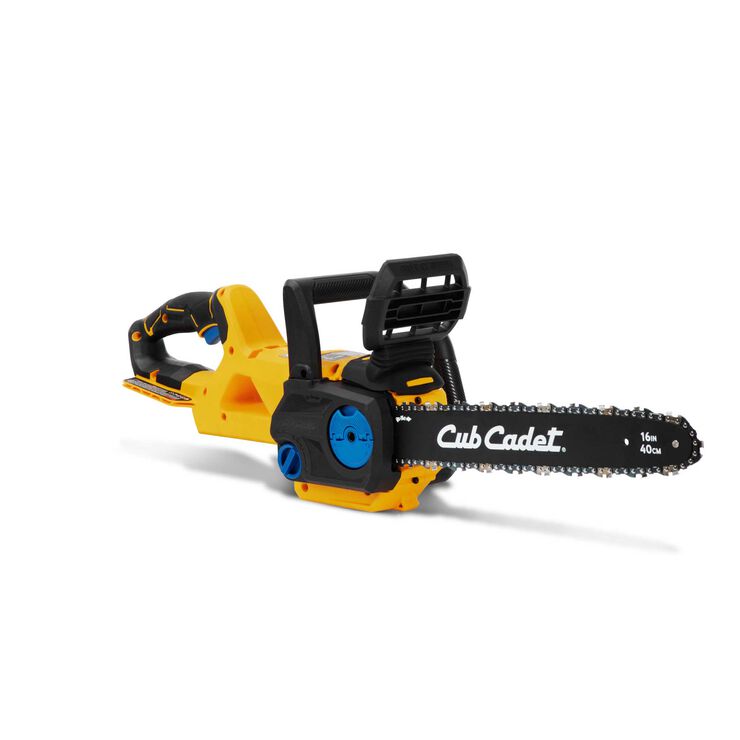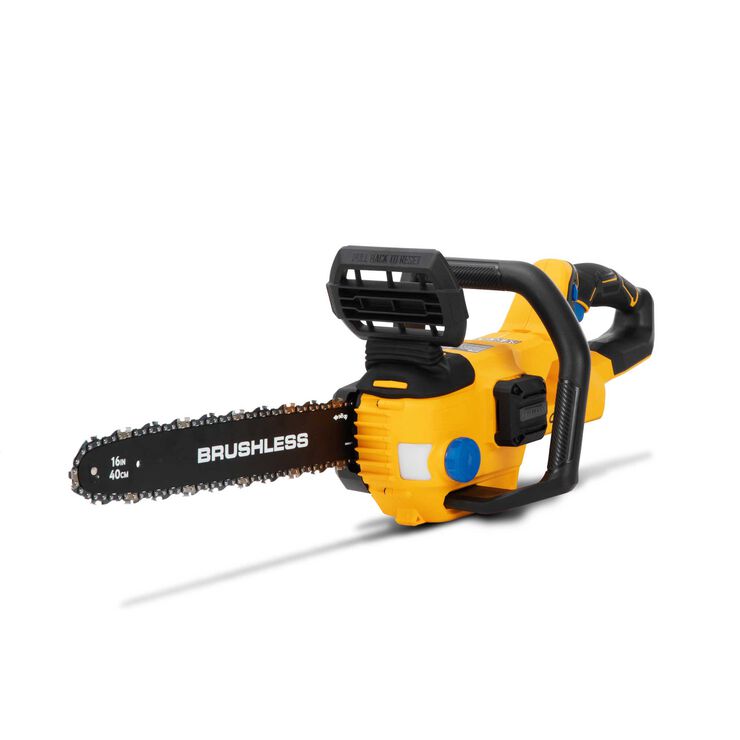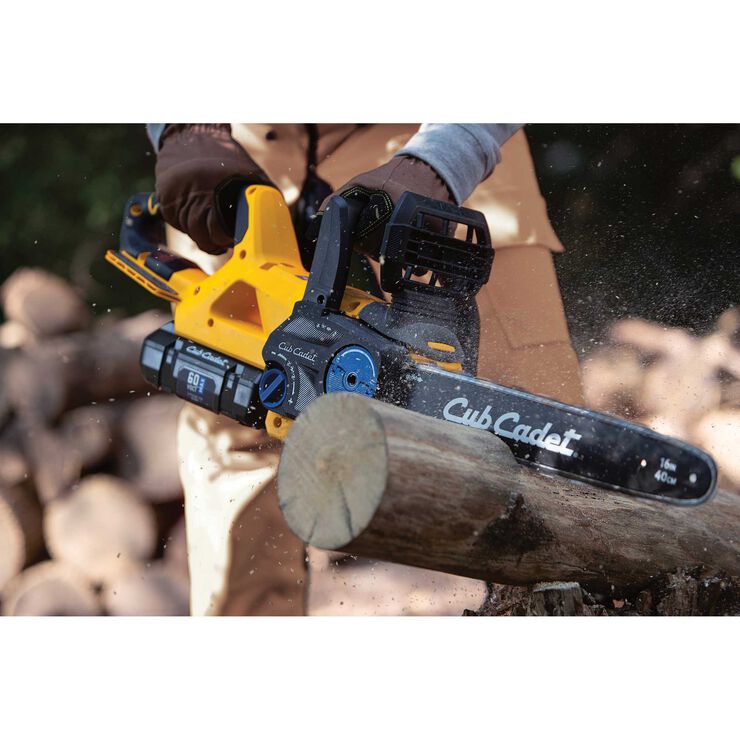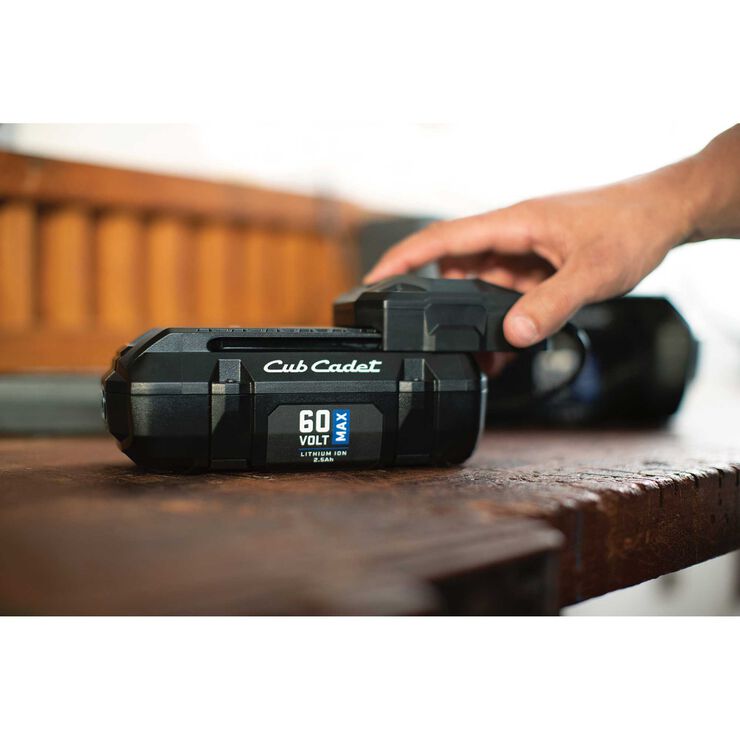 CS16E
SCIE À CHAÎNE SANS FIL 60V MAX
Article
CS16E-60V-CORDLESS-CHAINSAW
From

279,00 $

-

399,00 $

MSRP
---
---
Batterie au lithium-ion de 60 V MAX, 2,5 Ah, 150 watts-heures
Guide-chaîne et chaîne à faible rebond de 16 po conçus pour une stabilité et une maîtrise améliorées.
Permet jusqu'à 140 coupes d'un pin traité sous pression de 4x4 par charge
---
---
CS16E caractéristiques
Performance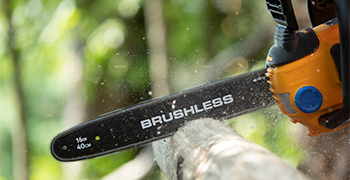 Elle possède une autonomie de 80 minutes sur une seule charge sans perte de puissance.
Faible rebond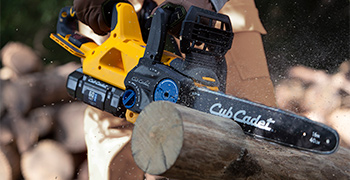 Guide-chaîne et chaîne de 16 po conçus pour une stabilité et une maîtrise améliorées.
Tension de la chaîne sans outil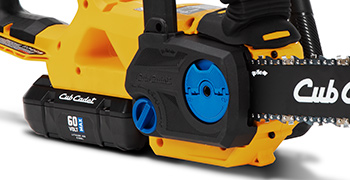 Réglage facile de la tension de la chaîne sans nécessiter d'outil.
Frein de chaîne standard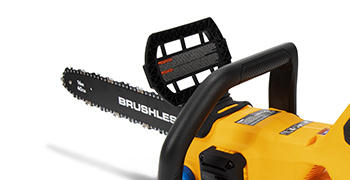 Conçu pour arrêter la rotation de la chaîne en toute sécurité.
Puissance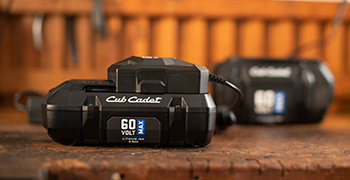 Batterie au lithium-ion de 60 V MAX, 5,0 Ah, 150 watts-heures.
Poignée à revêtement confortable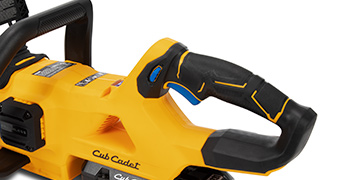 Manœuvrabilité maximale, amplitude de mouvement maximale, réduction des vibrations et plus de confort.
Meilleure garantie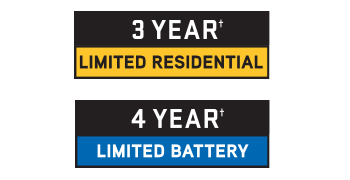 Souffleur de qualité couvert par une garantie limitée (pour usage non professionnel) de trois ans et une garantie limitée de quatre ans sur la batterie.
Soutien inégalé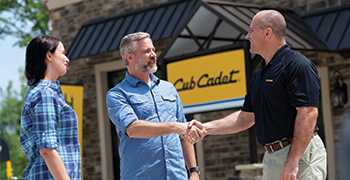 Un réseau national de concessionnaires expérimentés offre un soutien personnalisé sept jours sur sept.
Caractéristiques et entretien
Batterie
Type de batterie

Au lithium-ion

Tension de la batterie

60V MAX

Watts-heures

2.5Wh

Ampères-heures

150Ah
Garantie
Garantie

Garantie résidentielle limitée de 3 ans

Garantie de la batterie

4 ans
Dimensions
Poids estimé

9,88 lb / 12,5 lb avec la batterie
Spécifications
Longueur du guide-chaîne

16 po

Huileur du guide-chaîne

Automatique (huile non comprise)

Vitesse de la chaîne

13,4 m/s, 44 pi/s

Pas de la chaîne

0.625 po

Tendeur de chaîne

Installation sans outils
Disclaimers
Avis de non-responsabilité concernant les caractéristiques techniques

Nous nous réservons le droit de modifier les caractéristiques techniques du produit sans préavis ni obligation. Les produits représentés sur le site Web et les autres publicités servent uniquement à des fins de démonstration. Les produits effectivement proposés pour la vente peuvent varier en matière de conception, d'accessoires requis, de caractéristiques de sécurité et d'apparence non fonctionnelle. Voir les autres avis de non-responsabilité généraux au bas de notre site Web.
Aucun manuel ne correspond à votre recherche.
Commentaires d'utilisateurs
Rated

5

de

5
de
Goldenb
par
An Ideal Solution
[This review was collected as part of a promotion.] When I first saw this chain saw advertised, I was hoping it would be as good as advertised. So far it is. I haven't given it a REAL workout so far but did cut up some larger branches plus take down a 15 foot 7" diameter tree and cut that up. It worked very well at those tasks. I live in northern Wisconsin with many trees around - some healthy and others not so healthy. I have to have a chain saw ready 12 months out of the year in case one or more come down across my driveway. To have this chain saw ready-to-go with just the touch of the trigger is ideal for me. I am very pleased with the purchase.
Date de publication: 2021-06-27
Rated

5

de

5
de
Bigdog22
par
Great for a battery!!
[This review was collected as part of a promotion.] This chainsaw from cub cadet really shocked me! Much more powerful than I was expecting. I have had no issue cutting through any type or size of branch thus far. I do like how it has multiple safety feature. You have to push in a button with your thumb while you squeeze the trigger to get it to work. Also have to make sure the hand guard is locked into place or the machine will not start. Would have been nice if it came with some chain oil for the first start but going out to grab some was not too bad!!!! Overall I am very pleased with this CS and will continue to use!!!
Date de publication: 2021-06-15
Rated

5

de

5
de
Trigun11
par
Awesome
[This review was collected as part of a promotion.] I was super excited for this product and skeptical the first thing everyone thinks about a electronic product is the battery. how long will it last, the quality and will it be worth it to invest in such a project? But let me tell you this is awesome and you don't even have to ask these questions I cut like 3 trees and worked for roughly about 45 min of non stop cutting and was still going strong another thing I love about this saw is no loud noises of a traditional chain saw it just hums as your cutting so no more bothering the neighborhood with loud chainsaw noises thanks for always making quality products cub cadet
Date de publication: 2021-05-30
Rated

5

de

5
de
Brit34
par
Easy too use
[This review was collected as part of a promotion.] Cub Cadet - CS16E i got this for my husband and he absolutely loved it . its so easy to use it charges so quick and last a long time without having to charge it the battery life seems like it lasts for hours. Its not a heavy tool so it makes it easier to use it cuts smooth and without hesitation the chain is so sharp on it. The bonus is ut comes with a cover to go over the blades so that they dont wear and tare as quick. Its absolutely a amazing tool and is made so excellent. Plus the handle is a soft grip making it easier and more comfortable to hold on too.
Date de publication: 2021-06-02
Rated

5

de

5
de
Shan2609
par
Powerful chainsaw!
[This review was collected as part of a promotion.] Cub Cadet has always been a brand my family always uses. We were excited to see they have a battery operated chainsaw. No more fiddling with gas and oil mix. This chainsaw is super nice not to bulky or heavy and is battery operated which makes my life much easier. Saves me money on gas. It does the job in no time. I have 11 plus acres on my property and we tend to get alot of dead fall. This chainsaw makes the task of cleaning up my land that much easier. It cuts though so quick and easy in no time at all. I love this chainsaw!
Date de publication: 2021-05-28
Rated

5

de

5
de
Nonnieof2
par
Excellent equipment
[This review was collected as part of a promotion.] This battery chainsaw actually does a great job of cutting small limbs and bushes. They recommend only cutting smaller than 6 inches in diameter but we did cut one that was a tad bigger. I have never operated a chainsaw due just being scared of them but I have no issues with this. It's actually bigger than what I thought. I was expecting a small trim saw but it's as big as a normal saw. It's not too heavy but after using it for several minutes your arms do tire out some. Overall a great product.
Date de publication: 2021-06-07
Rated

5

de

5
de
Cissy111
par
CORDLESS
[This review was collected as part of a promotion.] My husband acting like a little kid when he opened this CORDLESS CUB CADET CHAIN SAW he wend right outside and cut a tree in a few minutes. No Gas smell or chords to the chainsaw. This chain Saw was very powerful just like our gas chainsaw I saw no difference except no gas to put in it. This chainsaw has a rechargeable battery and it didn't take long to charge it so the husband could go out and cut more trees I would give this Cub Cadet Chainsaw thumbs up great product
Date de publication: 2021-05-30
Rated

5

de

5
de
bluejeep
par
Easy to use!
[This review was collected as part of a promotion.] Okay, I don't use a chainsaw hardly ever, my husband is the woodcutter in this household. It was a little scary trying to figure this out, but the instruction book has detailed instructions and very clear diagrams to walk you through. The book also takes you through maintaining the chainsaw and any other things you should know to use it. It also has a 3 year warranty with clear instructions on what to do if you should need help. My husband was able to show me quickly how to work everything and now I'm using it. We live in the woods, so there is always plenty of wood. There are many times a tree or branch has fallen onto our driveway when he isn't home and I've always had to call someone to help me so I could go to work. Well, no more! I am comfortable enough to use this chainsaw. No pull start, just push the safety button so that you can then push the start button and it goes. Easy peasy! There is also a safety bar that must be engaged before you use it, so you don't have to worry about little ones touching the buttons. I can now keep bushes trimmed back along our property and help him out. He has used it and has said that it seems just as good as a gas powered chain saw and he loves to use it himself. The chainsaw comes with a charger with an easy to see display to let you know when it's charged. The battery seems to last a long time during use. I can easily get the yard done, or cut up a couple trees on one charge. The chain saw itself is close to what a regular gas chain saw size would be. It's not heavy at all, but feels very durable and strong. I feel that I can cut through various sizes of limbs or logs with no problem. I used it mostly for 3 to 6 inch limbs, or to cut through smaller trees that we were cleaning up around our property that had fallen during the winter and/or storms. I am happy to know that I won't be useless to clear brush or trees now. I'm 54 and have no issue holding or using this chainsaw. It came packaged in a protective box and pretty much all I had to do was plug in the charger. I would highly recommend this product or any other product that this manufacturer makes. I would definitely recommend to someone who doesn't use a chainsaw, but needs something in case of emergency. Of course any logger or someone who cuts wood for the winter a lot would also appreciate having this!
Date de publication: 2021-06-20
bvseo_sdk, dw_cartridge, 18.2.0, p_sdk_3.2.0
CLOUD, getReviews, 6ms
reviews, product