Learn About Cub Cadet's 60-VOLT MAX System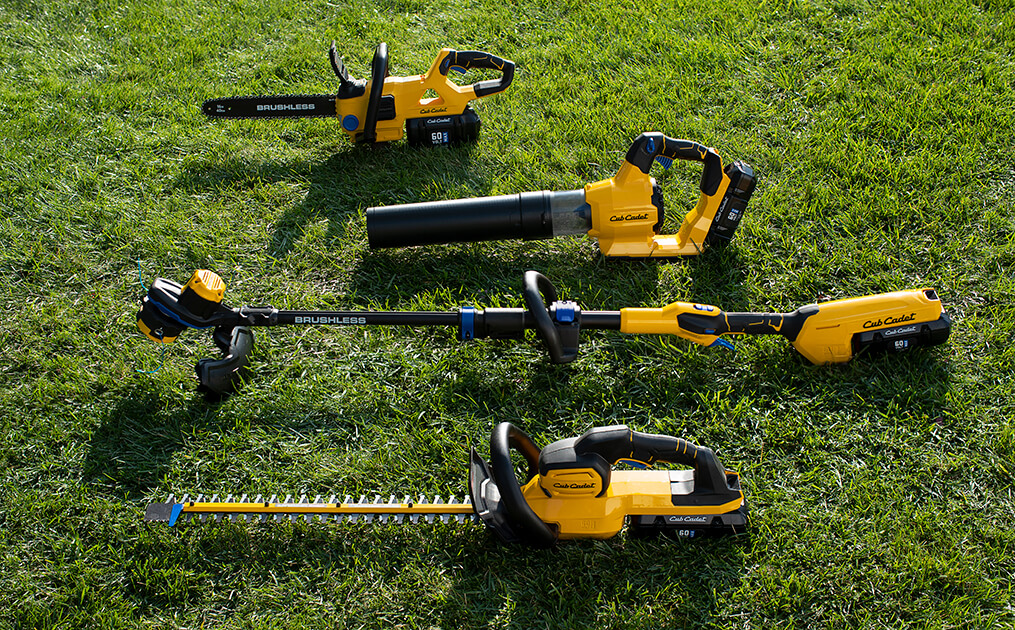 The 60-Volt Max battery system from Cub Cadet® is designed to conveniently power a suite of electric machines. Each piece of outdoor power equipment runs on an interchangeable lithium-ion battery so you can conveniently mix and match for enough power to finish the task at hand.
The 60-Volt Max suite includes a walk-behind push mower, a handheld string trimmer, hedge trimmer, chainsaw and leaf blower. The walk-behind push mower comes with a 5.0 Ah, 300-Watt hour lithium-ion battery. The handheld tools can be purchased with a 2.5 Ah, 150-Watt hour lithium-ion battery or as a stand-alone tool with no battery and charger.
Lithium-ion battery technology provides consistent power throughout the life of the charge, allowing you to utilize every second of run time to its fullest potential. Our 60-Volt Max lithium-ion batteries are interchangeable throughout the suite of equipment. If you have power leftover from one task, swap the battery with another machine to start another.
Each battery can be charged using the accompanying charger and a standard 110-Volt outlet. Because lithium-ion batteries don't have a charge memory, you don't need to fully drain the battery before recharging, meaning you can partially charge for a little extra juice if needed or start recharging the moment the job is finished instead of fully draining the battery.
The 60-Volt Max suite provides consistent power with the latest technology on a flexible platform so you can confidently get the job done.