The Ultimate Lawn Tractor Buying and Maintenance Guide
Looking to buy a lawn tractor but unsure where to begin?
Don't worry, this spring,
we've put together the ultimate lawn tractor buying guide

to give you the information you need to make the right decision for your yard.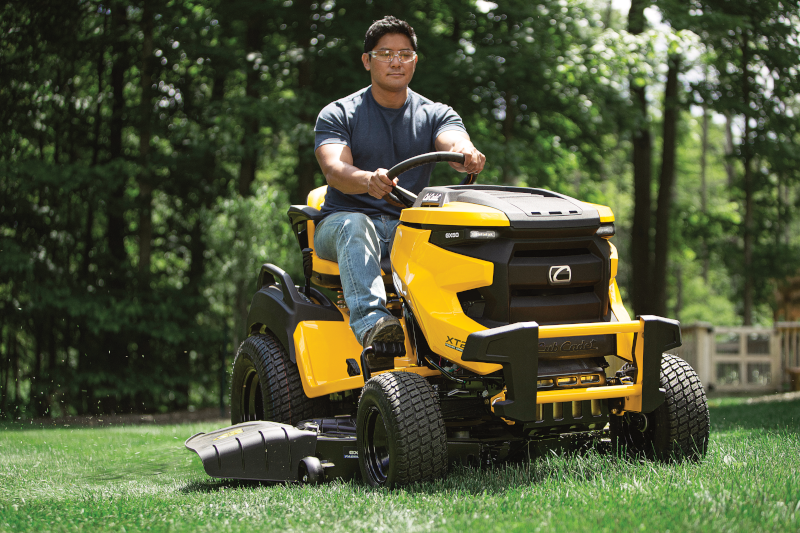 Table of Contents
---
Difference between riding mower, lawn tractor and zero-turn mower:
Looking to buy a lawn mower but unsure where to begin? Like any other outdoor equipment purchase, it's important to consider the task at hand, but the first step is to get to know your options. You know you want a machine you can ride, but what is the difference between a rear-engine riding mower, lawn tractor and zero turn, anyway? Let us break it down for you:
Rear-engine riding mower (See the Cub Cadet CC30)
Less costly than a tractor with a narrower deck, rear-engine riders are your most compact riding mower. Perfect if you have limited storage, but a yard that feels too big to tackle with a push-mower under the hot summer sun (most suitable for ½ to 1 acre properties).
Lawn and garden tractors
Faster than a push mower but not as quick as a zero-turn, and featuring a wider deck than a rear-engine riding mower (usually 42-48 inches wide), lawn and garden tractors are built to handle larger yards. While they require more storage space than a rear-engine riding mower, from cutting to bagging to mulching and often compatible with attachments like plows, lawn and garden tractors are designed to be your go-to machine, all year long. One option to consider is the new Cub Cadet XT2 – with it's new automotive-inspired design featuring LED headlights, Aero Force deck, adjustable seat, optimized steering and Tuff Torq transmission, it is engineered to give you a best-in-class cut and reliable power to tackle your yard.
Zero-turn (RZT's)
Featuring smooth operation, better maneuverability and higher top speeds than rear-engine mowers and lawn and garden tractors, zero-turn mowers are ready to tackle large yards and are the top choice for landscapers. With Cub Cadet's industry-exclusive steering wheel options, you'll find a zero-turn that fits your preferences, all while giving you the tightest possible turning radius and easiest maneuverability around trees, gardens and other obstacles.
---
Why choose a lawn tractor?
From the size of your yard to the obstacles you might encounter to the storage you have available and of course your own personal preferences, there are many great reasons to choose a lawn tractor over a push mower. If any of the following apply to you, a lawn tractor might be the right choice:
You have a yard that is more than ¼ acre and under 2 acres You have enough space to be able to store it
You are looking to get the job done faster and more thoroughly
You want a versatile piece of equipment that can do more than cut your lawn, such as towing or plowing snow in the winter
You are looking for easier maneuverability around the obstacles in your yard
You want to save the physical energy required to push - you rather ride!
---
What should I look for when buying a lawn tractor?
There are six key things to look for when buying a lawn tractor that will ensure the job gets done to your standard, mow after mow.
#1 Engine size
The larger the engine, the better it can handle tough cutting conditions. If you need a mower that can mow often, through wet or tall grasses, cut down weeds or bag and mulch leaves, a larger engine means handling challenging jobs with greater ease.
#2 Deck width
Deck width should increase as yard size increases. A deck size of 40-inches or less is suitable for a smaller yard – around ½ an acre. A deck size of 42 to 48 inches is suitable for a yard up with 2 acres. A yard that is 3 acres or more typically requires a deck size of 50-inches or greater.
#3 Cutting performance
Look for a mower that can give you a cut you can be proud of, every single time. Sharp and powerful blades make up the Cub Cadet Signature Cut, which means our mowers cut cleanly and consistently mow after mow, and never hack, pull on or damage your grass.
#4 Comfort
Not to be overlooked, comfort is incredibly important for a machine that you'll spend hours on over the course of peak mowing season. Is the seat comfortable? Does your back feel supported? What does the steering feel like?
#5 Durability
A lawn tractor that's durable is one that is built to handle the jobs you'll be throwing at it. Limit downtime by matching features to the tasks at hand, and by choosing a lawn tractor with easy-to-replace parts and accessories for any inevitable and normal wear and tear.
#6 Options
So your lawn tractor can cut, but can it bag, mulch and side-discharge? Get to know the options available to find a lawn tractor that's build to do what you need it to, and maybe even some more.
#7 Access to support, warranty, maintenance
Consider how easily you can access help when you need it. When you buy Cub Cadet you're backed by our Canadian Advantage, which includes outdoor power equipment that is engineered and tested in Canada, bilingual customer service support, and a nationwide network of 1,100 Service Dealers who are ready to help you find the right parts to make a quick fix, with your warranty or to help with maintenance.
---
Why choose a Cub Cadet Lawn Tractor?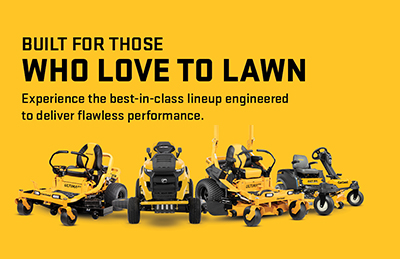 Cub Cadet offers a line of best-in-class outdoor power equipment that is engineered to deliver flawless performance. Cub Cadet is the standard for Canadians who want products that are carefully, thoughtfully, and purposefully designed around people. When you buy Cub Cadet, you're backed by our Canadian Commitment, which includes outdoor power equipment that is engineered and tested in Canada, bilingual customer service support, and a nationwide network of 1,100 service dealers that offer full warranty and parts service.
Cub Cadet riding lawn mowers are designed to give you unmatched strength and durability, and they're packed with performance features you'll appreciate. From bagging to snow blowing to mulching, our tractors are strong, built to last and are compatible with a long line of attachments that help you maximize your Cub Cadet lawn mower all year. The latest addition to Cub Cadet's lawn tractor lineup is the redesigned XT2, which features LED headlights for a sleek, new, automotive-inspired design, an Aero Force deck, adjustable seat, optimized steering and Tuff Torq transmission. The XT2 is built to deliver a best-in-class cut and reliable power to tackle your yard.
---
What's the best time of year to buy a lawn tractor?
The general rule of thumb when purchasing any type of outdoor power equipment is to think about buying before or after peak season. Not only does that mean you'll be well-prepared for the first glorious mow of the season, you might even find and snag a great pre-season sale. A sure-fire way to never miss those savings is to sign up for a mailing list like Cub Cadet's – you'll be the first to know when manufacturers and dealers are offering special prices on mowers!
---
What's the best riding mower for my yard size?
| Lawn Size | Mower Type |
| --- | --- |
| Up to ¼ acre | 30″-42″ riding lawn mower, like the CC 30 Neighbourhood Rider |
| ¼ - ½ acre | 30″-42″ riding lawn mower |
| ½ acre - 1 acre | 30″-42″ riding lawn mower |
| 1-2 acres | 30″-42″ riding lawn mower |
| 2-5 acres | 42″-54″ riding mower / zero turn mower |
| 5+ acres | 42″-61″ zero turn mower / lawn tractor |
---



Lawn tractor features
Lawn tractors are built to make mowing, easier and more efficient all season long, and having the right features can make the process even better. The new XT2 comes fully-equipped with features that ensure a best-in-class cut – finer clippings, increased evenness and fewer clumps and stragglers. Here is a quick guide to lawn tractor features that will help you achieve a perfect cut, every time: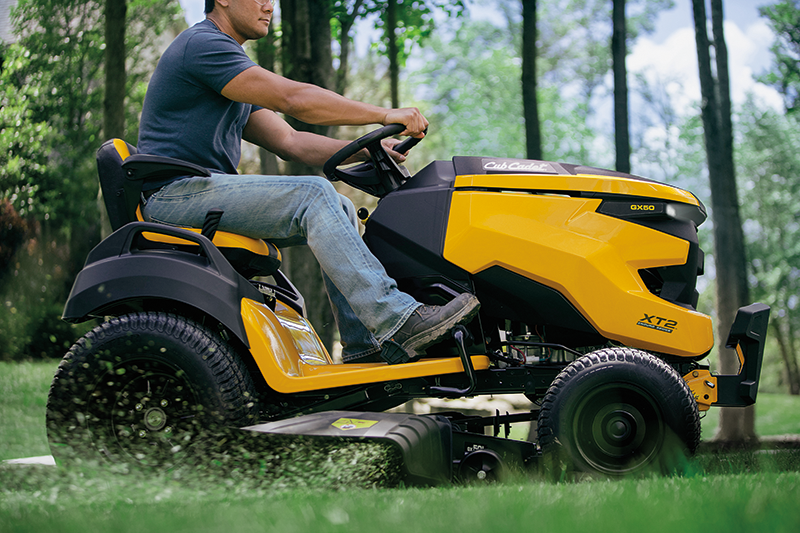 Easy deck engagement
Deck engagement refers to the manual engagement of the cutting blades, which don't start spinning automatically after start-up for safety purposes. Using either a mechanical lever or electric push button, "easy deck engagement" means safe and smooth transitions from one job to the next.
Bumper
Some lawn tractors come equipped with a bumper for the inevitable run in with a tree, shrub or other debris. For those tractors that don't come equipped with one, bumper kits can also be purchased separately and wrap around the front of your riding mower to help prevent damage.
Hour meter
An hour meter records engine run time. Maintenance tasks are often associated with run time, so this feature will help you keep better track of when your mower might need a tune up. Limit down time and keep it running well, all season long.
Gas gauge
Choose from a gas gauge that's visible while driving, or a transparent tank to always know how much fuel you have and when you need a top up.
Engine size and features
Ideal engine size depends on how you want to utilize your lawn tractor. Larger engines can be an important feature for people who are looking to use their machine for more than just achieving that Cub Cadet Signature Cut. A larger engine will allow you to take advantage of attachments like a cart for hauling or a snow blade to plow through snow.
In addition to engine size, consider whether you want a carburetor or electric fuel injection (EFI). Cub Cadet offers both options, but EFI is particularly effective in ensuring smooth start up and boosting fuel efficiency.
Mow-in reverse mechanisms
Like the start-up manual blade engagement safety feature, the blade will also need manual re-engagement when you shift into reverse as the blade will automatically stop spinning. Reverse mechanisms are either a distinct key reposition, or a button that needs to be held the entire time you reverse.
Gear-style transmission
Generally available on the least expensive lawn tractor models, gear-style transmission refers to the lever system used to shift from forward to backward and faster or slower.
Variable transmissions
If you're looking for something other than gear-style transmission, there are two styles for continuously variable transmissions (CVTs) too. The first uses a manual lever for directional adjustment and a foot pedal for speed adjustment. The second and more expensive variation has pedals for both speed and directional adjustments.
Hydrostatic lawn mower
For the smoothest maneuverability and operation, the most high-end choice is a mower with hydrostatic transmission, which operates similarly to an automatic car transmission.
---
Top lawn tractor accessories
Your mower can do more than mow! Here is a list of the top lawn tractor accessories that will help you maximize the use of your machine through the spring, summer, fall and even winter.
Bagger
Easy to attach to your mower, a bagger collects grass clippings and other debris that your mower runs over, instead of redistributing them onto your lawn to keep your lawn tidy.
Leaf collection system
Designed to handle more debris than a bagger, a leaf collection system makes for a smooth and efficient collection of leaves, clippings and other debris. No more raking.
Sunshade/snow cab
The interchangeable sunshade/snow cab ensures the ultimate comfort for the operator in any season; keeping you out of direct, harsh sunlight in the summer, and protecting you from freezing snow and wind in the winter.
Mulching kit
Designed to help you groom and beautify your lawn, mulching kits cut grass clippings, lawn and leaf debris into finer, small pieces, to be easily reused by your lawn as a natural, nutrient-rich fertilizer.
All season plow for dirt, gravel or snow
Simply align, latch and lock the all-season plow in place and start moving snow, dirt, gravel, mulch and more. Featuring a single handle with comfort grip, the operator can easily lift, lower and adjust the angle of the blade without leaving the seat.
Snow blower
Optimize the use of your lawn tractor with a 3-stage accessory snow blower and robust steel high arch chute for optimal snow blowing. Innovative three-stage technology clears snow up to 25% faster than a traditional two-stage, to remove 18" of snow with ease. The 3-stage accessory snow blower also includes adjustable replaceable skid shoes and scraper blade. Sprayer Compatible with liquid fertilizer, pesticides, de-icer and water, attach your 9-Gallon tow-behind spot sprayer quickly and easily and operate it easily with an electric on/off switch from the operator's seat.
Brush guard
Align, latch and lock your brush guard to the front of your lawn tractor to protect your tractor's front end.
---
How to use a lawn tractor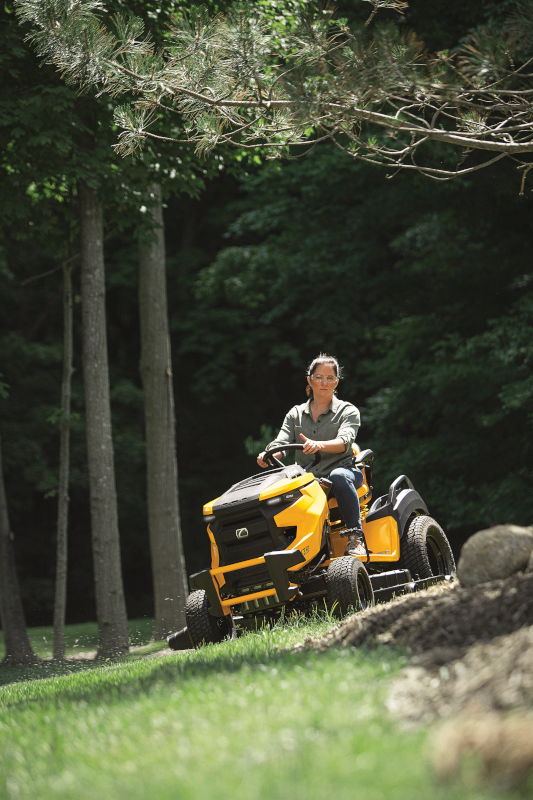 When cutting your grass, keep the lawn mower in a low gear so that you do not lose control. Before starting the lawn mower make sure you have enough gas, and always avoid driving on concrete with the lawn mower blades engaged.
Step 1
Put the ignition key in the ignition slot. Turn the key while simultaneously pressing the brake and clutch of the lawn mower. The lawn mower's engine will start.
Step 2
Shift the lawn mower to a low gear using the shift lever and drive the lawn mower towards your lawn. The steering wheel will turn the vehicle as if it were a car.
Step 3
Stop the lawn mower when you reach your lawn by pressing the brake and clutch at the same time.
Step 4
Hit the blade engagement button on your lawn mower to lower the blades, then release the brake and clutch pedals to start the mower again. Drive the lawn mower over your lawn until it is cut to a satisfactory height. When you are done, press the blade engagement button again to retract the blades before driving the vehicle back to your garage.
---
Lawn tractor safety
Operator error is the number one cause of breakdowns and injuries. Keep yourself safe and your lawn tractor working efficiently with these tips:
Lawn tractor safety before you turn it on:
Prepare the space by walking the lawn quickly before mowing to check for and remove anything that could be struck by the machine and thrown out, potentially injuring the operator or bystanders
Take care when adding fuel that there are no hot surfaces or other ignition sources such as cigarettes that could ignite fuel or vapors
Keep your fingers out of the machine
Shut the machine off before attempting to remove any debris – Even when stopped, use a stick or other tool to remove the obstruction.
Beware of stored energy. Many motorized lawn and garden implements are capable of storing energy, like a coiled spring, in the drive mechanism. Take care that if a lawn mower or similar device suddenly jams and stalls, there may still be stored tension in the machine. Reaching in to remove the obstruction may cause the blades to move again suddenly, which can be enough to cause serious injuries to fingers or anything else that happens to be in the way.
Lawn tractor safety during operation:
Wear proper footwear (never barefoot or sandals) to limit injury to your feet from thrown objects
Wear long pants to protect your legs.
Wear hearing protection to avoid prolonged exposure to the loud engine noise and eye protection to help protect yourself in the event of flying debris
Children under 16 should not operate a riding lawn mower.
Review lawn mower safety with children over 16 before they operate it
Never carry passengers on a riding mower; they can fall off and quickly be run over by the mower.
Beware of burns from the hot engine and exhaust. Burns are possible if unprotected skin comes into contact with these surfaces for even a short time
Keep people clear of running mowers and flying debris ejected from a mower
Keep hands and feet away from the spinning blades
If mowing on an angle or hill, care should be taken to ensure that the mower does not tip so that it slides and comes into contact with your feet, hands or anyone else
Keep your fingers out of the machine
Shut the machine off before attempting to remove any debris – Even when stopped, use a stick or other tool to remove the obstruction.
---
Recommended lawn tractor maintenance
Proper riding lawn mower maintenance will help your machine run well for years, and maintenance should be done more often than once at the beginning of the season, and once at the end. Know when to change the oil, replace lawn mower blades or just clean the different parts and attachments to extend the life of your mower using our riding mower maintenance schedule and tips:
| | Before Each Use | Every 10 Hours | Every 25 Hours | Every 50 Hours | Every 100 Hours | Prior to Storing |
| --- | --- | --- | --- | --- | --- | --- |
| Clean hood/dash louvers | | Yes | | | | Yes |
| Check engine oil levels | Yes | Yes | | | | |
| Check air filter for loose or damaged parts | Yes | | | | | |
| Clean and re-oil air filter's pre-cleaner | | | Yes | | | |
| Replace air filter element | | | | | Yes | |
| Change engine oil and replace oil filter | | | | Yes | | |
| Clean battery terminals | | Yes | | | | |
| Lube front axles and rims | | | Yes | | | Yes |
| Clean engine cooling rims | | | Yes | | | Yes |
| Lube pedal pivot points | | Yes | | | | Yes |
| Check spark plug condition & gap | | | | | Yes | Yes |
| Replace fuel filter | | | | | Yes | |
| Check & Sharpen or Replace Lawn Mower blades | | | Yes | | | Yes |

In addition to the maintenance tasks listed above, there are a few additional things you should check periodically:
Make sure lawn mower blades come to a complete stop within approximately five seconds after operating the blade disengagement control
Check the lawn mower blade(s) and engine mounting bolts for proper tightness
Visually inspect blade(s) for damage
Keep all nuts, bolts and screws tight to be sure the equipment is in safe working conditions
Check that your lawn mower blades are sharp to maintain the health of your lawn. Brown grass tips may be an indicator it is time to sharpen or replace blades.
Add fuel stabilizer to fresh gasoline before adding it to your mower. Stabilizer can extend the shelf-life of your gas past 30 days and help keep the engine clean.
Watch for wear and damage on the grass catcher components, discharge cover and trail shield that could expose moving parts or allow objects to be thrown.
Find an authorized Cub Cadet Service Center near you to handle more complex repairs or to save time on seasonal maintenance.
---
Common lawn tractor/mower questions:
The Starter Rope is Hard to Pull or Seems Stuck:
If pulling the cord out gently and then slowly allowing it to recoil doesn't solve the problem, something blocking the blade and preventing movement could be the reason for your starter rope to feel stuck. Disconnect the spark plug, look under the deck and remember to never dislodge debris using your hands.
Your Mower Won't Start:
If your mower is having trouble starting, it might be a fuel issue. Double check that you have gas, that the gas you have is fresh, and that your gas is reaching the engine. If it's not reaching the engine, a new fuel filter might be the trick. The next thing to check on is the status of your spark plug. Clean it if it's dirty, tighten it if it's loose or reconnect it if it's been disconnected. If your mower still won't start, ensure you are working with a clean air filter.
You Lose Power in the Middle of Mowing:
There are a few common reasons for losing power in the middle of a mow: a dirty air filter, dirty spark plug or debris build-up. In each case, simply clean the area causing the problem (and/or replace the part if necessary, in the case of an air filter or spark plug).
Riding Mower is Struggling to Cut Grass:
If your mower is struggling to cut grass, ensure there isn't a build up of clippings and debris on the deck. Also check the condition of your blades, to ensure they are sharp and not broken.
Your Mower or Tractor is Smoking:
There are several reasons that your mower might be smoking, and they're generally not serious. Most often, smoke is the result of an oil chamber that's too full – oil that spills over can burn when it meets a hot engine. If your mower smoke issue is accompanied by other problems, find a service centre near you for some professional help.
How Long Should a Lawn Tractor Battery Last?
The average life of a lawn and garden battery is three years. Being meticulous about maintenance can ensure you get the most life out of your mower.
Why Does my Riding Mower Sound Like it's Surging?
If your mower sounds like it's surging, it could be an indication of water entering your fuel system and choking the engine. Try draining the fuel tank and refilling it with fresh gas. If the sound persists, ensure your air filter and carburetor are clean, and make sure your carburetor is tight enough that it's not causing an air leak.
Why is my Riding Mower Sputtering?
A sputtering machine generally means a disproportionate mixture of fuel, air and spark. Moisture in the tank, a damaged spark plug or a dirty air filter could be the culprit. If a fresh tank of fuel, spark plug replacement and clean air filter do not resolve the issue, sputtering could be an indication of an issue with your carburetor.
---
How to winterize a lawn tractor:
As the weather continues to cool down and frost makes its way across Canada, it's time to start thinking about storing your mower for the winter. Proper lawn mower storage and maintenance is imperative to keep your machine running safely and smoothly and can help prevent common malfunctions that arise from sitting unused for long periods of time. Here are some basic tips to keep in mind, but always be sure to follow the specific storage instructions in your equipment manual. Always remember to turn off your engine and ensure that it's cool before proceeding.
Empty the Gas Tank
Begin by draining the remaining fuel from the tank or run your mower to get rid of excess fuel. Add fuel stabilizer to fresh fuel and fill the tank. One of the number one reasons people have difficulty with their mower starting in the spring is because of stale gas that was left behind in the machine. After 30 days, old gas can become a thick molasses-like consistency that can gum up your machine regardless of how old or new it is. To prevent problems with your machine caused by stale gas, you can add a quality fuel stabilizer which can keep your gas fresh for up to two years. The fuel stabilizer will help prevent old fuel from gumming-up the mower components when it is not in use and is an important element when it comes to storage
Drain and Replace the Oil
Changing the oil will ensure your mower is in good condition during the winter months. Ensure you change the filter. To change the oil, you'll want to do the following:

Remove the dipstick, then, place the tube of your siphon pump into the dipstick whole on the engine, and the bottom of the tube of the siphon into the oil pan.
Pump the siphon handle three to four times to prime the pump. Once the oil begins to flow, it will flow without further pumping. You can now remove the siphon pump.
Add new oil. Refer to your operator's manual to determine the correct type and amount of oil you'll need for your mower model.
Replace the dipstick. After several minutes, check the oil level and ensure the level of oil is within the range on the dipstick.

Clean the Undercarriage
To access the undercarriage and blade you'll need to tilt the mower on it's side with the air filter facing up. Thoroughly clean away dirt, grass clippings and other objects that may have become lodged in the undercarriage. Wear a pair of gloves and inspect your blade for wear or damage. If the blade requires sharpening or needs to be replaced, they should be removed from the undercarriage. To do this, use a blade removal tool to hold the blade in place. Then, using a socket wrench, loosen the bolt securing the cutting blade to the engine driveshaft. Remove the blade ensuring to be cautious of the sharp edges. If your blade needs sharpening, a blade balancer sharpener kit will be needed. Follow the manufacturer's instructions carefully when sharpening your mower to reduce the risk of accidental injury.
Change the Air Filter
Remove the ignition key and disconnect the spark plug ignition wire, then engage the parking brake. Remove the air cleaner cover from the top of the engine and wash the foam element in mild detergent and water and allow it to dry completely. Never use gasoline or low flash-point solvents for cleaning the air cleaner elements. Apply a few drops of clean engine oil and squeeze out all excess oil, replace the foam and paper elements, then reattach the assembled air filter. Replace the air cleaner cover and secure it with the wing nut.
Check for Broken or Worn Parts
Check all your parts such as the belt cover, discharge chute, bag, mulch plug and tires. Check cables for signs of rust, or corrosion and replace any that may be broken or worn as noted in your owner's manual.
Replace and Disconnect the Spark Plug
If you notice the spark plug is worn or damaged, it is the perfect opportunity to replace it. Your spark plug's operator's manual will house the correct part number. Before storage, be sure to also disconnect the spark plug. When all of these steps have been completed, your mower is ready for storage. Store your mower in a well-ventilated, clean, dry area. Be cognizant of what you store your mower near – avoid corrosive materials such as fertilizer, or appliances with a pilot light or flame like furnaces or water heaters.