The Ultimate Lawn Tractor Buying and Maintenance Guide
Looking to buy a lawn tractor but unsure where to begin?
Don't worry, this spring, we've put together the ultimate lawn tractor buying guide to give you the information you need to make the right decision for your yard.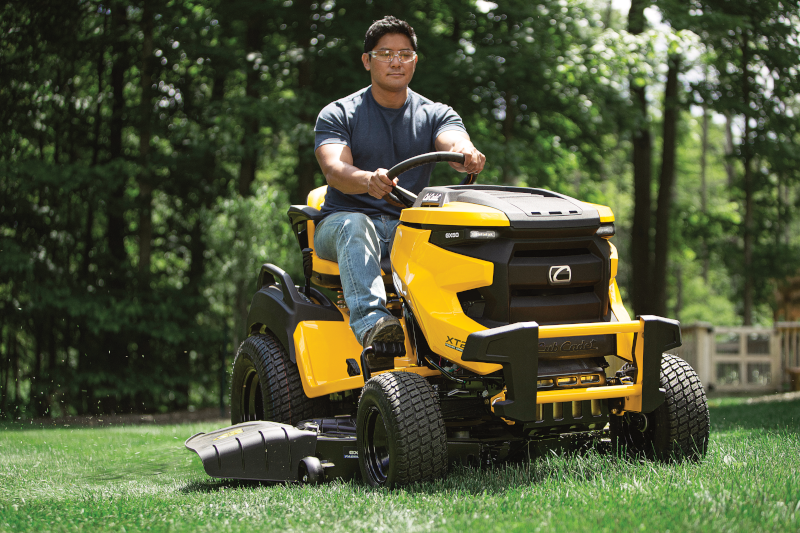 Table of Contents
---
Difference between riding mower, lawn tractor and zero-turn mower:
Looking to buy a lawn mower but unsure where to begin? Like any other outdoor equipment purchase, it's important to consider the task at hand, but the first step is to get to know your options. You know you want a machine you can ride, but what is the difference between a rear-engine riding mower, lawn tractor and zero turn, anyway? Let us break it down for you:
Rear-engine riding mower (See the Cub Cadet CC30)
Rear-engine riders are compact riding mowers that are less costly than a lawn tractor and have a narrower deck. Perfect if you have limited storage, but a yard that feels too big to tackle with a push-mower under the hot summer sun (most suitable for ½ to 1 acre properties).
Lawn and garden tractors
Faster than a push mower and featuring a wider deck than a rear-engine riding mower (usually 42-48 inches wide), lawn and garden tractors are built to handle larger yards. While they may require more storage space than a rear-engine riding mower, from cutting to bagging to mulching and often compatible with attachments like plows, lawn and garden tractors are designed to be your go-to machine, all year long. One option to consider is the refreshed Cub Cadet® XT1 Enduro Series™ – with its updated automotive-inspired design, powerful Kohler® engines, AGM battery, stamped decks and responsive steering, the XT1 Enduro Series™ is engineered to give you a precise cut and reliable power to tackle your yard.
Zero-turn (RZT's)
Featuring smooth operation, excellent maneuverability and higher top speeds than our rear-engine mowers and lawn and garden tractors, zero-turn mowers are ready to tackle large yards and are a great choice for landscapers. With Cub Cadet®'s steering wheel options, you'll find a zero-turn that fits your preferences, all while giving you a tight turning radius and easy maneuverability around trees, gardens and other obstacles.
---
Why choose a lawn tractor?
From the size of your yard to the obstacles you might encounter to the storage you have available and, of course, your own personal preferences, there are many great reasons to choose a lawn tractor over a push mower. If any of the following apply to you, a lawn tractor might be the right choice:
You have a yard that is more than ¼ acre and under 2 acres You have enough space to be able to store it
You are looking to get the job done faster and more thoroughly
You want a versatile piece of equipment that can do more than cut your lawn, such as towing or plowing snow in the winter
You are looking for easier maneuverability around the obstacles in your yard
You want to save the physical energy required to push - you rather ride!
The Cub Cadet® lineup of XT Enduro Series™ lawn tractors are built to handle tough yard work. The all-new redesigned XT1 Enduro Series™ gives owners quality performance, exceptional control and comfort mow after mow with new Kohler® engines, responsive steering and adjustable cut-and-sew seats. Not to be outdone, the powerhouse XT2 Enduro Series™ is built for strength and durability to tackle demanding jobs and is loaded with premium features.

Cub Cadet® has lawn tractors for all types of yard sizes and the right tractor for you.

---
What should I look for when buying a lawn tractor?
There are seven key things to look for when buying a lawn tractor that will ensure the job gets done to your standard, mow after mow.
#1 Engine size
The larger the engine, the better it can handle tough cutting conditions. If you need a mower that can mow often, through wet or tall grasses, cut down weeds or bag and mulch leaves, a larger engine – like the Kohler® engines on the redesigned XT1 Enduro Series™ – means handling challenging jobs with ease.
#2 Deck width
Deck width should increase as yard size increases. A deck size of 40 inches or less is suitable for a smaller yard – around ½ an acre. A deck size of 42 to 46 inches is suitable for a yard up to two acres. A yard that is three acres or more typically requires a deck size of 50 inches or greater.
#3 Cutting performance
Look for a mower that can give you a cut you can be proud of, every single time. Sharp and powerful blades make up the Cub Cadet® Signature Cut™, which means our mowers cut cleanly and consistently mow after mow, and help to avoid hacking, pulling on or damaging your grass.
#4 Comfort
Not to be overlooked, comfort is incredibly important for a machine that you'll spend hours on over the course of peak mowing season. Is the seat comfortable? Does your back feel supported? What does the steering feel like? Refreshing the XT1 Enduro Series™ lawn tractors meant upgrading its comfort features, including adjustable cut-and-sew seats and responsive handling.
#5 Durability
A lawn tractor that's durable is one that is built to handle the jobs you'll be throwing at it. Limit downtime by matching features to the tasks at hand, and by choosing a lawn tractor with a selection of replacement parts and accessories for wear and tear.
#6 Options
So your lawn tractor can cut, but can it bag, mulch and side-discharge? Get to know the options available to find a lawn tractor that's built to do what you need it to, and maybe even some more.
#7 Access to support, warranty, maintenance
Consider how easily you can access help when you need it. When you buy Cub Cadet®, you're backed by our Canadian Commitment, which includes outdoor power equipment that's designed for Canadians, bilingual customer service support, and a nationwide network of local service dealers who offer warranty and parts service.

---
Why choose a Cub Cadet Lawn Tractor?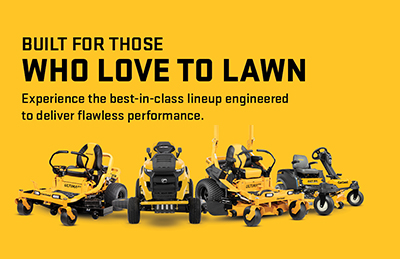 Cub Cadet® offers a line of outdoor power equipment that's engineered to deliver quality performance. Cub Cadet® is the standard for Canadians who want products that are carefully, thoughtfully, and purposefully designed. When you buy Cub Cadet®, you're backed by our Canadian Commitment, which includes outdoor power equipment that's designed for Canadians, bilingual customer service support, and a nationwide network of local service dealers who offer warranty and parts service.

Cub Cadet® riding lawn mowers are designed to give you outstanding strength and durability, and they're packed with performance features you'll appreciate. From bagging to snow blowing to mulching, our tractors are strong, built to last and compatible with a long line of attachments that help you maximize your Cub Cadet® lawn mower all year.

Always looking to enhance our lawn tractor lineup, the XT1 Enduro Series™ has been redesigned for power and performance. Equipped with Kohler® engines, an AGM battery and heavy-duty stamped cutting decks, plus a variety of updated premium features, the all-new XT1 Enduro Series™ will take your lawn care experience to another level with the versatility to mow, tow, bag and throw obstacles in its way.

Along with the impressive XT2 Enduro™, Cub Cadet® offers a lawn tractor duo in the XT Enduro Series™ that's hard to top.
---
What's the best time of year to buy a lawn tractor?
The general rule of thumb when purchasing any type of outdoor power equipment is to think about buying before or after peak season. Not only does that mean you'll be prepared for the first mow of the season, you might even find and snag a great pre-season sale. A sure-fire way to never miss those savings is to sign up for a mailing list like Cub Cadet®'s so you'll be the first to know when manufacturers and dealers are offering special prices on mowers.
---
Where should I buy a lawn tractor?



Most lawn tractors are available to purchase both in store and online, and where you get yours depends mostly on your preference. Here's a breakdown of where you can buy a lawn tractor and the factors that could impact your decision:
Independent Dealer
It's hard to beat the quality personal service of an independent dealer. These smaller retailers, often located in rural areas, partner with manufacturers to reach customers who may not have immediate access to a larger retailer. Independent dealers are often locally owned, sometimes have exclusive deals with manufacturers, and can provide excellent one-on-one service. Cub Cadet®'s nationwide network of local dealers can find you the perfect machine and help with new parts, maintenance and your machine's warranty. Click here to find a Cub Cadet® dealer near you.

Mass Retailer
Big-box stores offer a dependable mix of convenience, selection and service to make them a popular option for many potential buyers. Often the first destination that comes to mind for people who are purchasing outdoor power equipment in towns or cities, these established chains offer an excellent variety of machines and have knowledgeable employees. If buying at a mass retailer is your preference, consider making the trip to Lowe's where Cub Cadet®'s all-new redesigned XT1 Enduro Series™ lawn tractor is now available.

Online
The ultimate in convenience, shopping for a lawn tractor online means you can get the perfect lawn mowing machine for you without having to leave the comforts of home. Lawn tractors are often available to buy online through the manufacturer, like Cub Cadet®, or the retailer websites so you have options should you choose to shop online. If you know exactly what machine you want to buy, and that machine is in stock, shopping online may be your best option.

Back to Table of Contents
---



Lawn tractor features
Lawn tractors are built to make mowing, easier and more efficient all season long, and having the right features can make the process even better. The new XT2 comes fully-equipped with features that ensure a best-in-class cut – finer clippings, increased evenness and fewer clumps and stragglers. Here is a quick guide to lawn tractor features that will help you achieve a perfect cut, every time: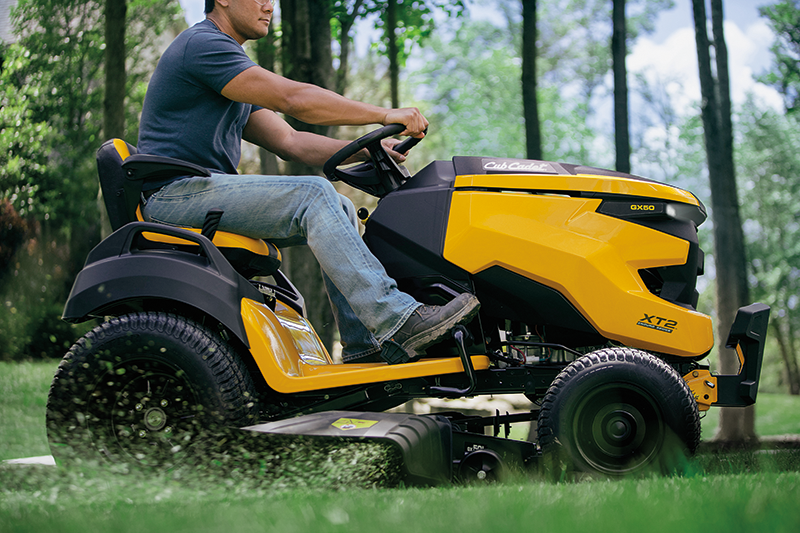 Bumper
Some lawn tractors come equipped with a bumper in the event of a run in with a tree, shrub or other debris. For those tractors not equipped with one, bumper kits can be purchased separately and wrap around the front of your riding mower to help prevent damage.
Hour meter
An hour meter records engine run time. Maintenance tasks are often associated with run time, so this feature will help you keep better track of when your mower might need a tune up. Limit down time and help keep it running well, all season long.
Gas gauge
Choose from a gas gauge that's visible while driving, or a transparent tank to know how much fuel you have and when you need a top up.
Engine size and features
Ideal engine size depends on how you want to utilize your lawn tractor. Larger engines can be an important feature for people who are looking to use their machine for more than just achieving that Cub Cadet® Signature Cut™. A larger engine will allow you to take advantage of attachments like a cart for hauling or a snow blade to plow through snow.

In addition to engine size, consider whether you want a carburetor or electric fuel injection (EFI). Cub Cadet® offers both options, but EFI is designed to provide smooth start-up and boost fuel efficiency.
Mow-in reverse mechanisms
Like the start-up manual blade engagement safety feature, the blade will also need manual re-engagement when you shift into reverse as the blade will automatically stop spinning. Reverse mechanisms are either a distinct key reposition, or a button that needs to be held the entire time you reverse.
Gear-style transmission
Generally available on the least expensive lawn tractor models, gear-style transmission refers to the lever system used to shift from forward to backward and faster or slower.
Variable transmissions
If you're looking for something other than gear-style transmission, there are two styles for continuously variable transmissions (CVTs). The first uses a manual lever for directional adjustment and a foot pedal for speed adjustment. The second and more expensive variation has pedals for both speed and directional adjustments.
Hydrostatic lawn mower
For smooth maneuverability and operation, the choice is a mower with hydrostatic transmission, which operates similarly to an automatic car transmission.

---
Top lawn tractor accessories
Your mower can do more than mow! Here is a list of the top lawn tractor accessories that will help you maximize the use of your machine through the spring, summer, fall and even winter.
Bagger
Easy to attach to your mower, a bagger collects grass clippings and other debris that your mower runs over, instead of redistributing them onto your lawn to keep your lawn tidy.
Leaf collection system
Designed to handle more debris than a bagger, a leaf collection system makes for a smooth and efficient collection of leaves, clippings and other debris. No more raking.
Sunshade/snow cab
The interchangeable sunshade/snow cab ensures the ultimate comfort for the operator in any season; keeping you out of direct, harsh sunlight in the summer, and protecting you from freezing snow and wind in the winter.
Mulching kit
Designed to help you groom and beautify your lawn, mulching kits cut grass clippings, lawn and leaf debris into finer, small pieces, to be easily reused by your lawn as a natural, nutrient-rich fertilizer.
All season plow for dirt, gravel or snow
Simply align, latch and lock the all-season plow in place and start moving snow, dirt, gravel, mulch and more. Featuring a single handle with comfort grip, the operator can easily lift, lower and adjust the angle of the blade without leaving the seat.
Snow blower
Optimize the use of your lawn tractor with a 3-stage accessory snow blower and robust steel high arch chute for optimal snow blowing. Innovative three-stage technology clears snow up to 25% faster than a traditional two-stage, to remove 18" of snow with ease. The 3-stage accessory snow blower also includes adjustable replaceable skid shoes and scraper blade. Sprayer Compatible with liquid fertilizer, pesticides, de-icer and water, attach your 9-Gallon tow-behind spot sprayer quickly and easily and operate it easily with an electric on/off switch from the operator's seat.
Brush guard
Align, latch and lock your brush guard to the front of your lawn tractor to protect your tractor's front end.