1X™ 221 LHP
1X SINGLE-STAGE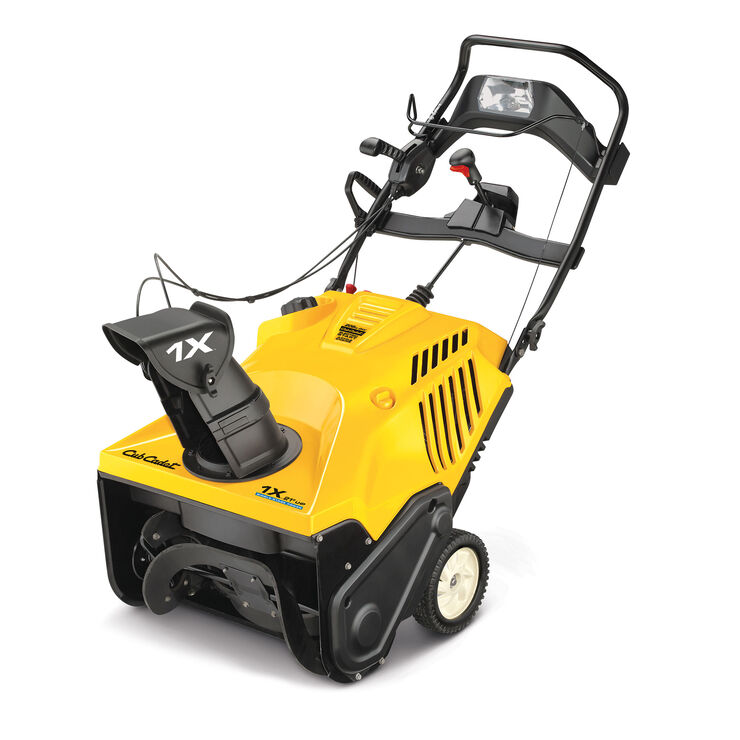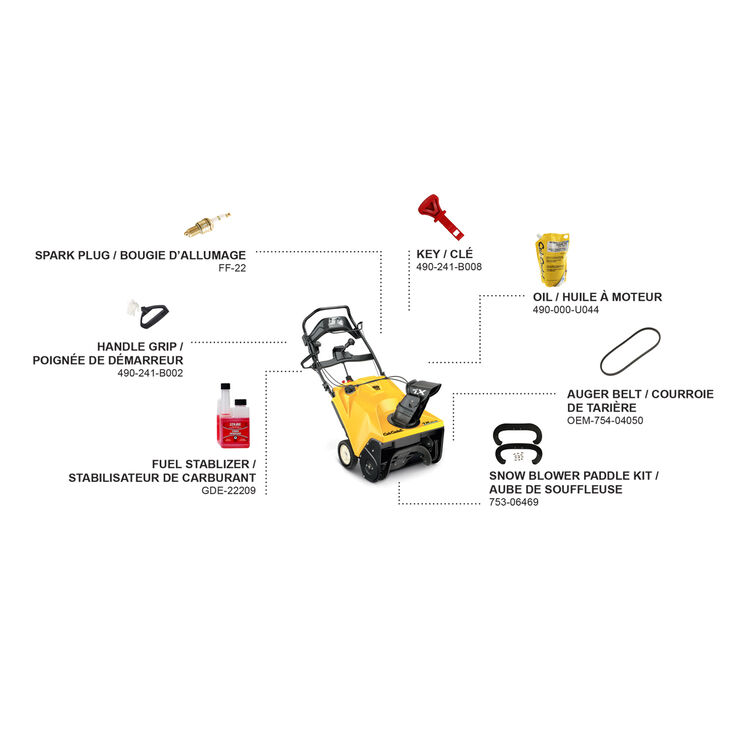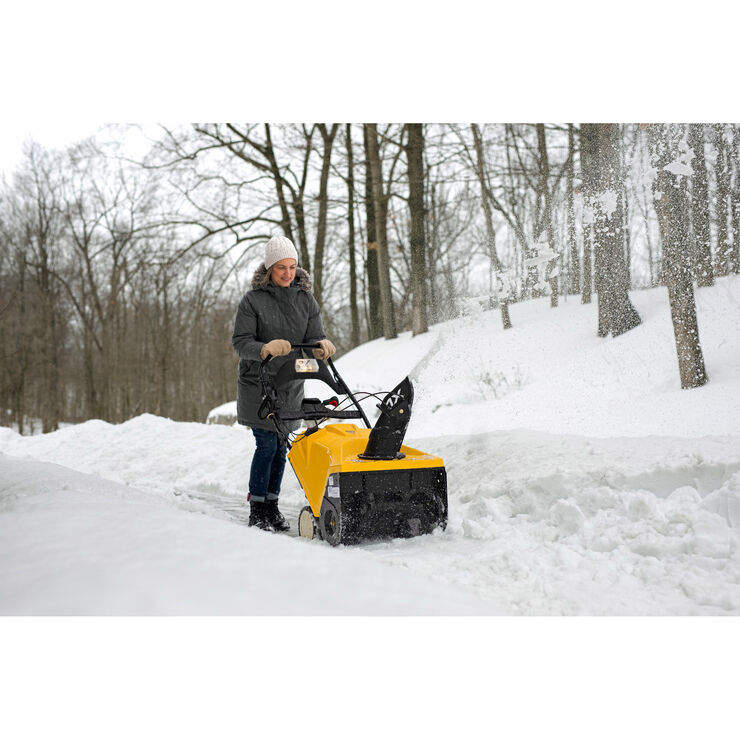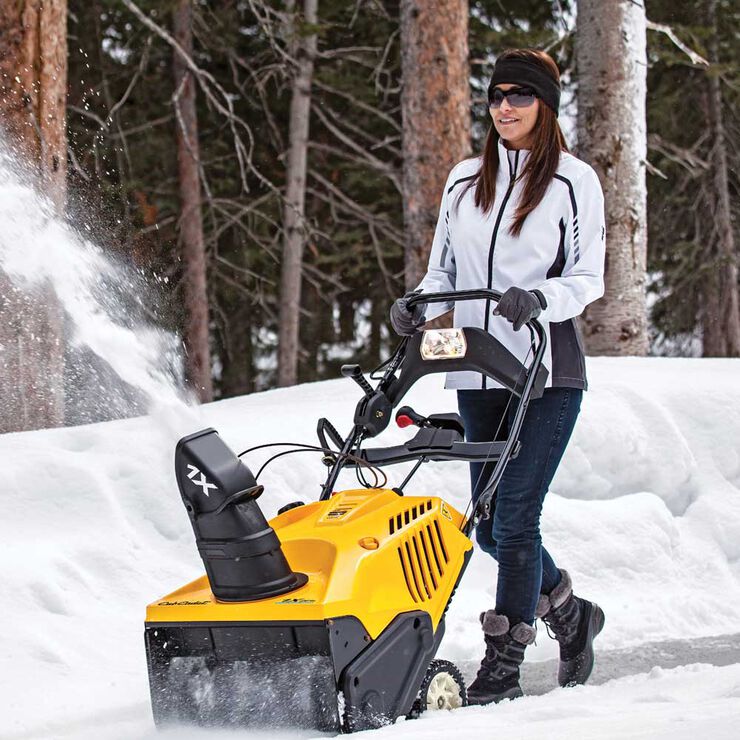 1X™ 221 LHP
1X SINGLE-STAGE
---
Compact Size. Enormous Strength.
The 1X single-stage power is ideal for quickly and easily removing six inches of snow from smooth, smaller areas. A single-stage high-performance auger efficiently scoops and discharges snow accumulation to clear the way all winter.
Huge performance in a compact size! Perfect for your small driveway, sidewalk or deck.
Documents and Guides
Easy push-button electric start 208cc OHV engine
In-dash headlight for increased visibility and safety
High-performance auger-propelled drive system allows you to go at your own speed
Single-hand chute control from the operator's station lets you effortlessly throw snow in the direction you want
Ideal for: Light snow fall under 6", small driveways and smooth surfaces
---
---
1X™ 221 LHP Features
Push-Button Electric Start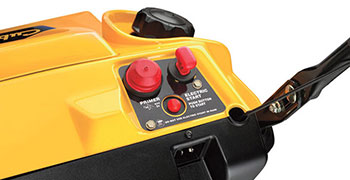 A large, powerful 4-cycle Cub Cadet OHV engine gives you much more power than you might expect from a single-stage snow blower.
Self-Propelled Auger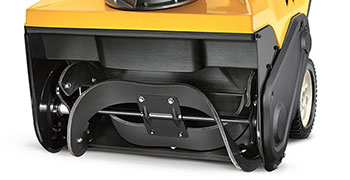 With a self-propelled auger drive system created from high-impact rubber and reinforced with steel, you get an ideal blend of power and dependability in a lightweight design.
Warranty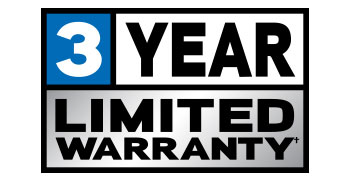 You're covered winter after winter with a premium 3-year limited residential and 1-year limited commercial warranty.
Effortless Chute Control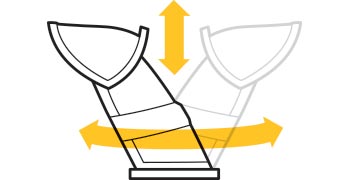 Throw snow in the direction you want with easy pitch and chute control from the operator's station.
Canadian Commitment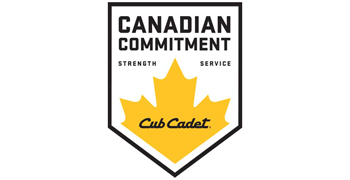 When you buy Cub Cadet you're backed by our Canadian Advantage, which includes outdoor power equipment that is engineered and tested in Canada, bilingual customer service support, and a nationwide network of 1,100 Service Dealers.
Engine
Engine Brand

Cub Cadet® OHV 4-cycle

Engine Displacement

208cc

Starter Type

Push Button Electric Start (110 volt)

Fuel Tank Capacity

2 quarts US / 1.9 L
Drive System
Drive System

Auger-assist
Warranty
Warranty

3-year limited residential

Commercial Warranty

1-year limited commercial
Controls
Handle

Folding / Adjustable Gull-Wing

Handle Grip(s)

No

Pitch Control

Remote lever

Tread

Cub Cadet®
Power and Performance
Clearing Width

21"

Intake Height

13"

Number of Stages

1X Single-Stage
Additional Specifications
Headlight(s)

In-dash

Shave Plate

Polymer / reversible

Drift Cutters

No

Oil Fill Tube

Extended

Auger Material

Rubber / steel reinforced

Chute Material

5" high-impact / clog-resistant

Model Number

31AM2T6C596
Carburetor Specs
Number of Engine Cycles

4
Shave Plate Specifications
Disclaimer
Specifications Disclaimer

Specifications subject to change without notice and without incurring obligation. Products depicted on website and other advertisements are for demonstration purposes only. Actual products offered for sale may vary in design, required attachments, safety features and non-functional appearance from. See other general disclaimers at the bottom of our website.
| Model | Manual | Form Number | |
| --- | --- | --- | --- |
| 31AM2T6C596 | MAN: ILL.PTS SGL STG S/T | | |
| | MAN: ILL.PTS SGL STG S/T | 769-10073B | Download |
| | MAN:CUB SS S/T W_CRC 2T6 | 769-09997A | Download |
| | MAN:OWNR:ENGINE 179,208_243 EN | 769-11676A | Download |
| | MAN:OWNR:ENGINE 179,208_243_27 | 769-15430 | Download |
| | MANL:OPER:BILING:179/208/272/2 | 769-25211 | Download |
| | MANL:OPER:BILING:X1:SNOW_BLOWE | 769-24532 | Download |
| | MANL:OPER:ENG_FRENCH:SS SNOW | 769-12224 | Download |
| | MANL:OPER:ENG_FRENCH:SS SNOW | 769-16631 | Download |
| | SHEET:SUP:31X2X-3X:CUB:US_CA | 769-24534 | Download |
| | SHEET:SUP:BILING:EPA:CARB:EXH: | 769-15393 | Download |
| | SHEET:SUP:BILING:EPA:CARB:EXH: | 769-17172 | Download |
| | SHEET:SUP:BILING:EPA:CARB:EXH: | 769-23593 | Download |
| | SHEET:SUP:BILING:EPA:EVP:06301 | 769-15392 | Download |
| | SHEET:SUP:BILING:EPA:EVP:18-19 | 769-17171 | Download |
| | SHEET:SUP:BILING:EPA:EVP:18-19 | 769-23590 | Download |
| | SHEET:SUPP:WARR/PARTS:CA:CUB S | 769-16632 | Download |
| | SHEET:SUPP:WARR/PARTS:CUB Sgl | 769-12310 | Download |
Product Reviews
Rated

5

out of

5
by
OhioMike
from
A great little machine
The 221 LHP is my first snow blower purchase. I could not have bought it at a better time - for the winter of 2011. I have used it on my smaller, circular driveway at least 8 times, just in January. It is powerful, yet light weight and easy to use. Throws snow easily without any jams. The chute directional controls are very convenient. I thought the light would not be needed but makes night-time cleanup much safer. Get this- my wife even asks to use it. Starts-up on no more than two pulls. We love it!!!!
Date published: 2011-02-02
Rated

5

out of

5
by
Ia4snow
from
good buy
Purchased a Cub Cadet model 221 LHP. After using another major brand previously, was impressed with this model when being shown by my dealer.. The features included on this model made the decision for me very easy. After using it following our first 8 in. snowfall, proved to me that I definetly made the right decision. This is the best single stage blower on the market.
Date published: 2010-12-07
Rated

5

out of

5
by
mikemike
from
ECELLENT QUALITY BLOWER
great auger, throws snow far. quiet, starts easy, 2 way chute control, headlight, large wheels with ball bearings, great style, comes assembled at dealers. great quality product with all the bells and whistles. give it a try you will thank yourself for getting one with the lite, and chute control, or at least your back will.
Date published: 2010-11-05
Rated

5

out of

5
by
JohnnyC
from
Terrific
I used it for the first time yesterday 3/12/14 in Southern Michigan. The 8 - 13" had fallen on warm ground and it there was 1 to 2 inches of slush down near the concrete drive and sidewalk. My old blower would have failed to move this mess, but my new Cub churned right thru it, and slung the slush 10 feet without any plugging or loss of RPM due to lack of power. I can't imagine any blower working better because you can't get any better. Slush is awful to blow, but it was nothing for my Cub!!
Date published: 2014-03-13
Rated

5

out of

5
by
NJSnowBuster
from
Purchased my Cub Cadet model 221 LHP after selling another major brand 2 stage. This model with the 208cc engine handled everything old man winter has thrown at it. Every snowfall I put on a show for my neighbors. The looks on their faces were priceless. The machine is easy to start and use. My wife even cleared my driveway and sidewalk before I came home from work one day. You can't beat that! This is the best single stage blower on the market for my money.
Date published: 2011-02-17
Rated

5

out of

5
by
Charny
from
Winter 2017 - Vancouver
We bought 2 of the Cub Cadets from Lowes Queensboro. After doing a lot research. One for not so mechanical brother in law and one for me. This unit shoots snow across the street, easy to handle. I have used my neighbors two stage powered wheel unit, but found that monster like using a rototiller hard to handle. This unit works like a lawnmower, easy to backtrack you can push if you want, the auger pulls the unit along pretty nicely. Staff at Lowes brought in the 2 units from Alberta for no extra charge. Highly recommend. By the way the bag of oil fits ! You just need to add slowly. Added Chevron 94 Octane ( all yard motors get the 94), second pull start ! AWESOME !!!
Date published: 2017-02-09
Rated

5

out of

5
by
SJC18
from
Awesome product and why...
Without being too wordy, I felt compelled to come here and post a review which I typically do not do. And here is why. This specific snow blower is described as being for light to moderate snow. Within the past three weeks this is what my area got for snow and how this handled that. Week one was a light powder about 10 to 12 inches all in one storm. Week two was a moderately heavy snow. Not too wet but packed well. The kind you can make a snowman with. Once again about 8 to 10 inches all in one night. Week three was just about two feet in one night (23 to 25 inches). It was a powder. Later that week we got 2 inches of heavy wet slush. And now, we are getting another heavy storm expecting 8 to 14 inches depending. All of the storms I mentioned were exceeding what the manufacturer said this model could handle. Powder of course clears easy, however if it is so deep, and much higher than the intake, it does take some negotiating to move the snow. I have a bad back after an injury to it and so I chose to get a snow blower. The rubber blades are actually very good at clearing snow right down to the pavement or walkway unlike metal blades that quote-unqoute "float" a little over the pavement or walkway leaving some snow always present. This snow blower clears snow much cleaner than any of my neighbors that have metal blades. However, there are some limitations to this blower. The rubber cup/blades are not as aggressive at chopping up snow that is hard and packed like at the end of a driveway after a plow goes by. Nonetheless, I still used this blower. I did not and would not recommend just diving into a hard packed mound like that. However, take a shovel and just chip the chunks down a bit and then take the blower and blow them away. This method works very well. The blower had pleanty of power and throws the snow I would guess litterally thirty feet maybe even a little more. Of course that is depending on the type of snow. The slush was thrown maybe 8 to 10 feet. But that's fine by me. This unit is a tool for me. "It's either my back or the snow blower" that I will wear down. And I choose the snow blower. I can always replace a part on it here or there alot easier than on my back if you know what I mean. The rubber blades from what I am told need replacing every so many years. Once again, I'm sure that is dependent on what kind and how much snow you get. Still, if I have to replace the rubber blades by the end of this season, I consider it well worth it. But I highly doubt I will have to do that. I'm sure I can get several years out of it even with this kind of snow. This model really does work well. I like the light too. Two things however about this model. If you are in the middle of clearing some snow and take a break for a while, you may not want to choke it again. Just try starting it. I took a lunch break with the two foot snow storm and came back about 35 minutes later. I shut the choke. Primed it three times, and could not start it. That was my fault. Not the fault of the blower. I just thought I'd mention that if you intend on choking it again, it had better have sat not running for a long time. Lastly. I feel there is only one improvement that can be made on the design. Maybe the engineers will read this and take me up on it. The area where the primer button, ignition key, and starter button is, is totally exposed to the elements. When you are blowing snow and wind kicks it back at you, these buttons all get covered with snow. You then have to clear the snow before you take the key out, which is the only way to shut it off. Otherwise snow will get into the ignition. All they have to do is put a flip cover over that area. That's it. My hand control for the direction of the shoot froze after the slush storm only because a lot of water got in and froze over night. Once I heated it up with moderately hot water, and before it froze again, I took some canned air to clean the water out, then sprayed silicon spray in it. This seemed to lubricate it and also help to keep future water out and from freezing again. All in all, I'm glad I got this unit as apposed to a larger one with metal blades. I'm sure the metal blade versions are stronger, more aggressive at cutting down hard packed snow, and may even last longer without having to replace parts like the rubber blades on this model, however, I find nothing wrong with an occasional need to grab the shovel to loosen up the huge mounds of hard packed snow the plow leaves, then use the blower to move it. At least I didn't have to scoop it up on my shovel and carry somewhere and throw it myself. The blower does the hard work. Long story longer...I feel you can not go wrong with this kind of blower even if you feel you are making some kind of comprimize on the rubber blades over that of metal ones. Do your homework. Research this further. Take into account what kind of snow and how much you will be clearing and how often. Maybe a metal blade one will be better for you. I'm just saying this is a great unit that has far exceeded my expectations of what it truly can handle.
Date published: 2011-01-27
Rated

5

out of

5
by
Rickelake
from
This machine is a beast!
This is the 3rd season with my Cub and still going strong! This past weekend gave us the largest snowstorm the East coast has ever seen here in Frederick Maryland. I always run the gas out each season before storage and she fires right up after some fresh petrol, a few primes and a couple pulls. The 33+ inches we just got where no match for Cyclops(single headlight). Sure I had to pull back and hit it a few times, but once you know how to handle it, it's a piece a cake. I really like the way it scrapes the snow right down to the bare sidewalk. Needless to say, our elderly neighbors and their dogs really appreciate it when they hear me fire it up :0) I highly recommend this Beast of a snow thrower!
Date published: 2016-01-24
bvseo_sdk, dw_cartridge, 18.2.0, p_sdk_3.2.0
CLOUD, getReviews, 40ms
reviews, product