How to Decide Between a Single-Stage, Two-Stage, or Three-Stage Snow Blower
When there's a snowstorm in the forecast, the last thing you want to be is caught off guard. That's why the Cub Cadet® X Series® lineup offers three levels of snow-clearing power and a host of top-rated model options. The key is selecting the right snow blower for the type of snowfall your area typically experiences.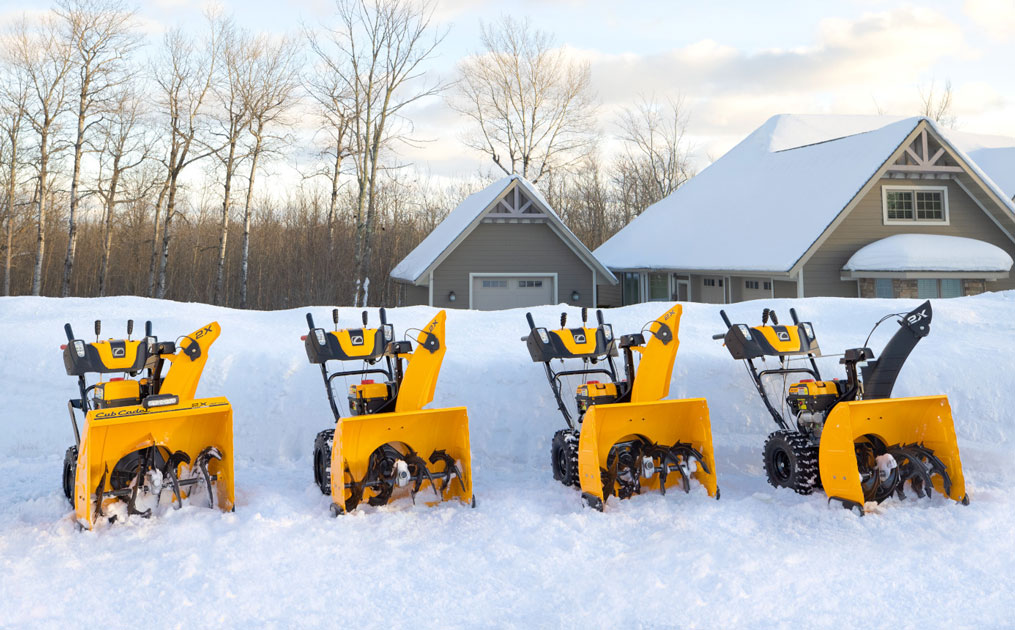 1X™ Single-Stage Power
Single-stage snow blowers are ideal for quickly removing six inches of snow from smooth, smaller areas. With a self-propelled auger drive system created from high-impact rubber and reinforced with steel, you get an ideal blend of power and dependability in a lightweight design. There are two models available:
1X™ 21" LHP: Similar to the HP model but has an added in-dash headlight for the ability to use your snow blower around the clock, is equipped with 2-way chute control and remote pitch. This model also comes with a larger 208cc OHV engine.
Best for: 6-12" of snow on concrete.
Advantages: Least expensive, lightweight, compact and easy to handle.
Challenges: Not for use on gravel or for battling large snow drifts.
2X™ Two-Stage Power
Two-stage snow blowers are ideal for clearing 12" of snow while gliding over both smooth and rough surfaces. With heavy-duty augers and a steel shave plate constructed with 12" serrated steel, they are better suited for larger areas. There are four models available:
Best for: Heavier and sturdier designs clear 12" of snow with ease. MAX can handle 18"-23" of snow.
Advantages: Great on gravel and concrete driveways as well as deeper expanses of snow.
Challenges: Harder to steer and manipulate than the single-stage option.
3X™ Three-Stage Power
The three-stage snow blower is the strongest snow blower on the market and allows you to clear snow 50% faster than the Cub Cadet two-stage snow blower. This snow blower powers through ice, snow, and slush with its three-auger system. Overall, the Cub Cadet three-stage snow blowers offer top-rated performance and the ultimate peace-of-mind. There are four models available: the base model, the HD model, the MAX model, and the MAX H model.
Best for: Up to 23" of snow and easily handles slushy or icy conditions.
Advantages: Most powerful and efficient of the snow blower options.
Challenges: Difficult to maneuver.
Click here to check out the full Cub Cadet® X Series® lineup.