Double Bagger For 42- and 46-inch Decks
---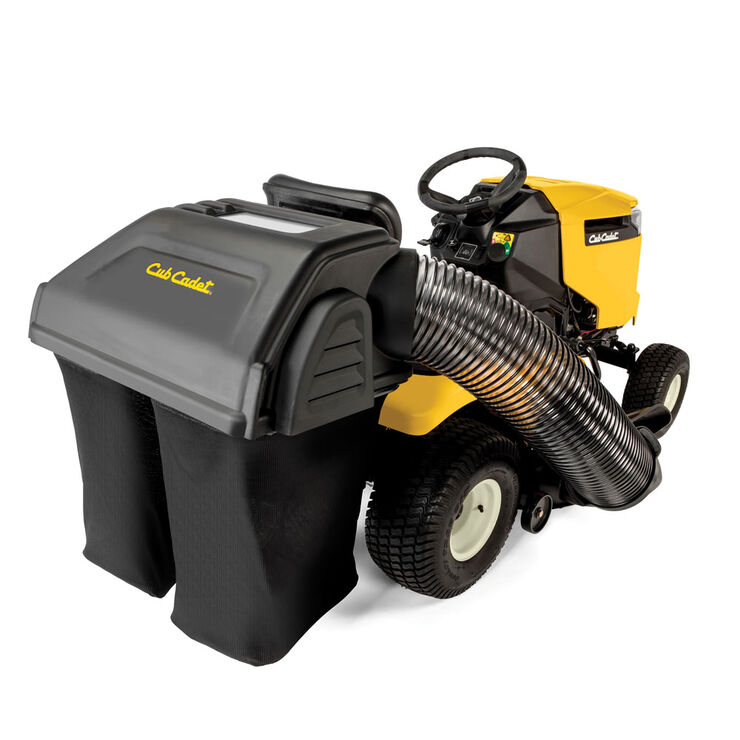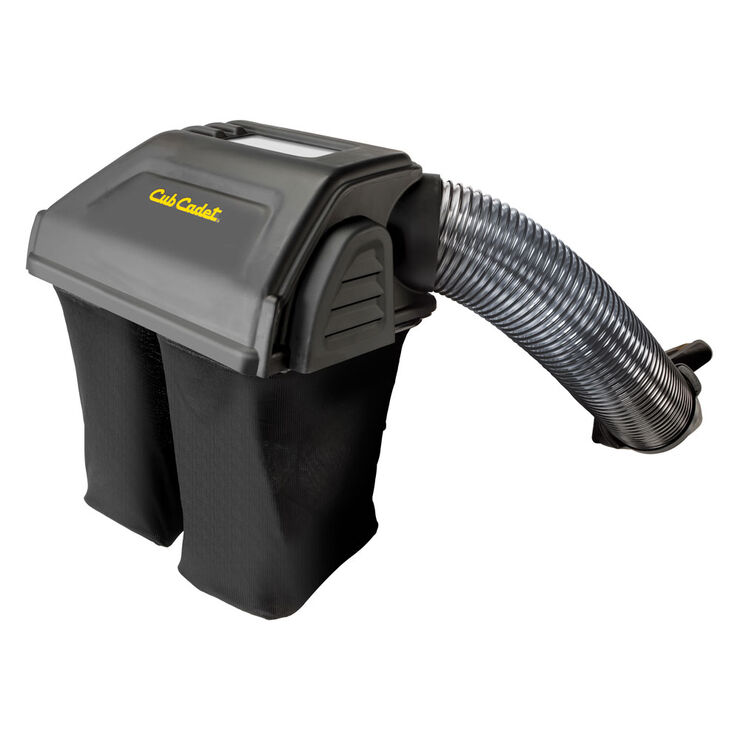 Double Bagger For 42- and 46-inch Decks
---
---
Fits Riding Mowers including XT1 and XT2 Enduro Series Models (2010- )
Integrated hood design
Flex tubing for visual of grass flow and increased shipping efficiencies
Top hinged hood so you do not have to flip the seat up to empty the bags
Improved bag material
Sight window to let you know when the bags are full
---
---
Blade Specifications
Deck Cutting Width

42 in, 46 in
Attachment Specifications
Fits Series

XT1/XT2 Enduro Series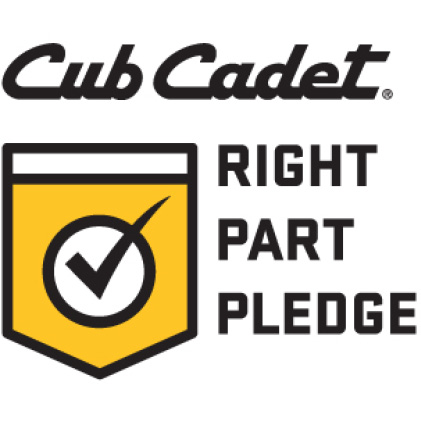 Shop with Confidence
Avoid frustration when buying parts, attachments, and accessories with the Cub Cadet Right Part Pledge. If you purchase the wrong part from Cub Cadet, we will work with you to identify the correct part for your equipment and initiate a free exchange. See full terms and conditions.

Fast, Free Shipping
Parts orders over $50 ship free.* Delivery for standard shipping averages three to five (3-5) business days.
*Some exclusions apply. Read full shipping policy.

Hassle Free Returns
We'll make sure you get the right part. Enjoy 30-day returns for unused parts and we won't penalize you for ordering the wrong part when you follow our return policy.*
*Some exclusions apply. Read full returns policy.

Chat with Experts
Our outdoor power equipment experts are just one click away through Live Chat. Available Mon - Fri 8am - 5pm EDT
Phone support also available:
1-800-668-1238
Product Reviews
Rated

1

out of

5
by
chapril
from
Terrible Bagging System
I was very excited to receive my dual bag for my 42" zero turn mower. I used the product a few times, and within 3-4 uses the plastic had already broken in multiple places. It still sorta works, but for the price, this is absolute garbage. If you will be bagging your lawn, I would recommend purchasing a different brand mower all together. I'm considering selling my cub cadet and finding something more appropriate for bagging lawn.
Date published: 2020-05-27
Rated

4

out of

5
by
JoeHopp
from
Way better than I expected
[This review was collected as part of a promotion.] I did a lot of research before I decided to purchase this double bagger for my Cub Cadet tractor. I was a bit skeptical based on the mixed reviews I saw on this website. After watching a few Youtube video's I installed it without much trouble and used it in my backyard to clean up a whole tree's worth of leaves. It was a pain in the butt because I had to continually get off the tractor to unclog the chute and empty the bag's. In the past I waited and used a blower to get them together, bagged them and put them out in the trash. Once I realized the best approach to utilizing this new system, I ran my tractor weekly as the other tree's leaves were still falling and not wait until the leave have completely covered the lawn. I actually enjoy doing it, since I can now anticipate when the bags are getting full. I highly recommend this system.
Date published: 2020-12-02
Rated

4

out of

5
by
KMV05
from
Works
I bought a cub cadet for the first time last year and am very happy I need. I also bought the double bagger on my 42" mower. So far so good. No issues with clogging and is a little dusty after mowing a certain part of my yard, but that is on me. Overall happy and would purchase the double bagger again.
Date published: 2020-04-06
Rated

1

out of

5
by
usapower01
from
terrible
The Shute clogs alot. I have changed the blades on my XT2 42". Tried silicone the shout. Tried it with mulching blade. Same results, Clogs up. i took the bags out and tried mowing the lawn, figuring if the bags filled it was the problem. still clogs. I am going to sell my mower. For the price of the mower and baggier I am very disappointed with Cub.
Date published: 2019-10-15
Rated

2

out of

5
by
Garnetmica
from
Flawed design
I wish I had another option for my Cub Cadet 46". Pros: 75% of the time, the lid stays closed on flat surfaces and the deck/tube and bagger do a nice job of collecting grass. Cons: the other 25% of the time, the lid shifts and detaches itself from the sides of the structure. The lid regularly pops loose blowing grass clippings everywhere. When the lid is closed, some grass clippings are blown forward out of the side of the assembly, blasting fresh green grass particles all over the ride side of the riders back. Use of the bagger requires frequent stops to secure the lid. Not worth the price for the frustration of use.
Date published: 2020-07-09
Rated

2

out of

5
by
buggs
from
bagger storage
Who the hell designed that bagger for the current 42 / 46 inch deck, have you tried to store it yet. holy crap is it way to heavy to pit up in your rafters without a eye hook and pulley set up yet let alone take it and put it on your mower without assistance, the engineer that designed that bracket assembly must have been smoking something when he came up with this design, what an idiot!!!!! My old one for my 2005 42 inch is a joy to use and store w=every year and I can tell you now without even using it yet it is going to suck to mount and store at the end of the season, still debating whether to return it to my dealer or not.
Date published: 2021-04-06
Rated

4

out of

5
by
belltrains
from
good grass catcher but could of use plastic bucket
i bought it 2 days ago and already the fabric on the top of the catcher is already detaching itsellf from the top of the plastic frame.
Date published: 2020-05-29
Rated

1

out of

5
by
Wayman
from
The bagger doesn't work without clogging
We just recently purchased the XT1 LT42e ELECTRIC RIDING MOWER and just LOVE the mower, BUT, the bagger was expensive and doesn't work without plugging. I have to constantly stop and unplug the chute. If I barely cut the grass it appears to work a little better. But if your grass is nice and green and lush, forget it, the bagger is worthless.
Date published: 2020-04-24
Rated

1

out of

5
by
FrankJ
from
Complete Junk
[This review was collected as part of a promotion.] Bagger was very flimsy before installation. Lid does not stay closed when using high lift blades. Latching tabs are on the back outside corner. Worst position possible. Busted tab first day. My previous John Deere bagger had latch in back and was still fully functional after 17 years. Now using two bungee cords to hold together. One because of broken latch and the other to keep top from coming loose. Only pick up grass in spring to mulch garden. Will say that mulching blades on mower have eliminated need for fall leaf pickup. What used to be a two weekend plus job can be finished in half a day.
Date published: 2021-05-19
Rated

5

out of

5
by
Carly
from
Buy the bagger!
[This review was collected as part of a promotion.] I've used the bagger about 5 times now and it works GREAT! I am a single momma and easily put the bagger on my mower with no problem at all. I would highly recommend this bagger at this point.
Date published: 2021-07-01
Rated

5

out of

5
by
Anonymous
from
Cub Cadet Double bagger fits Zero turn 42-46 decks
[This review was collected as part of a promotion.] I had purchased the Cub Cadet double bagger about a month ago and find it to be a great purchase for my needs. The assembly process could be explained better with the pictorials, however with a little common sense, I assembled the bagger in about 2-1/2 hours. I find the bagger works very well to pick up all my grass, leaves and small sticks that my Cub Zero turn mower mulches very nicely. The bagger seemed a little expensive at the time, but after seeing the parts involved which also included front end counter weights, the price was worth every penny because of the quality of the materials used in this bagger.
Date published: 2022-10-06
Rated

5

out of

5
by
Frankly
from
Work good sure beats a rake
Bough along with xt2 lx 46 no problems at all don't know why the bad reviews
Date published: 2020-05-30
Rated

5

out of

5
by
19A30031100
from
42" double bagger
I bought a bagger attachment for my mower and I love it! My wife and I installed it in about an hour and I was eager to try it out. The bagger worked perfectly and my lawn looked like a carpet. I've mowed my yard 4 times since I've had the bagger and every time it looks great. The grass bags are easy to dump and a blower easily removes the excess grass after I'm finished mowing. I'm very happy with the bagger attachment!
Date published: 2021-07-29
Rated

5

out of

5
by
Happy Home Owner Beth
from
What are you waiting for? Get one!
[This review was collected as part of a promotion.] This is a great addition to the accesories I have for my 42" Cub Cadet. I have 3/4 acre property but I could use this on a much bigger lot. This easy to assemble bagger is a must. Just be sure to follow the directions it comes with it. I wasn't sure I wanted a bagger but now I am glad i bought it! It does fill up rather quickly so I dont wait until my grass is too long. The bags are heavy, when full, but just the right size to take off and dump out. The strong handle underneath is definatly helpful with the process. The innovated clear tubing used for the grass clipping transfer shoot is a brillent idea to avoid over loading your bags or to catch a backup in the grass! I use the bagger every other mow to keep my lawn from being over crowded with clippings that could potentially smother my lawn causing dead spots. The metal assembly can easily be stored on the wall of your shed or garage with a few brackets. Hanging the bags on it lets them dry out to prevent mold and rot of the left over clippings. I highly recommend getting the Double Bagger straight from the company, Cub Cadet, they have the best price for them. Thanks for reading my review..... I am a 56 yr old woman that lives in the heartland of Delaware's farming country! I can easily assemble, install and use the piece of equipment! My father recommended I buy one and now I recommend it my friends. What are you waiting for? Now get yourself one!
Date published: 2021-04-26
Rated

1

out of

5
by
Gfar
from
Worst
I have used it 6 times. Had to tie wrap top cover because latch broke first time. Top cover is flimsy. Bags are small, when they get full, they fall out onto the lawn...I usually don't post bad reviews but this product is terrible. Past John Deere owner.
Date published: 2020-06-14
Rated

1

out of

5
by
ScottL615
from
Flimsy plastic cover
I don't use the bagger often, but when I do it's not the best product. A few people have mentioned the clogging of the shoot and the throwing of dust (making the drink holder not usable) and those things are definitely true, but not a deal breaker for me. The biggest issue I have is the cover. It's so flimsy and one of the tabs that kept it down broke off completely when I simply went to latch it. Now, I'm forced to hold it down while I drive or I get covered in grass and dust. I'm a big cub cadet fan, but the quality of the cover makes me second guess the purchase - especially since it's not cheap!
Date published: 2020-10-07
Rated

1

out of

5
by
eap1159
from
Hate It
I bought this a month ago for picking up fall leaves. No matter what height I position the deck, it seems like more leaves get pushed away from it then get sucked into the backer. The last time I used the system, I noticed that the clear hose (with the spiral reinforcement) has already split open. I will be contacting Cub Cadet for warranty instructions on this one.
Date published: 2020-11-01
Rated

1

out of

5
by
themowingman
from
Plastic Junk
I bought this bagger last year and from all the driving and work picking up leaves and grass in one years time all the plastic clips broke that secure the bagger to the support system. the upper chute support needs replaced and guess what? they dont make it anymore. the left cover has been replaced by a new part number which will cost me $43. lets hope it fits. this bagger cost me $350. bottom line? refer to my title please.
Date published: 2020-10-14
Rated

5

out of

5
by
Mikewb
from
Easy Install
Arrived in excellent condition, box was secure and all parts were included. Directions to install the bagger were easy to follow and I had the bagger connected to my mower within 1/2 hour with no problems.
Date published: 2021-05-04
Rated

4

out of

5
by
Tally
from
Not all leaves go it discharge chute.
[This review was collected as part of a promotion.] I'm happy with the bagger, except it blows out many leaves from under the mower deck on the chute discharge side.
Date published: 2020-11-24
Rated

1

out of

5
by
Donson
from
Poor bagger design
While assembling the bagger I could tell it was a cheap design. Having a previous bagger from Cub Cadet 14 years back, this new design and material used is a downgrade from 14 years back. When using it for picking up leaves and grass the tube clogs constantly. The two bags being small fill fast compare to the old bagger. The cover latching is a poor design having to mess with it each time getting it open. You would think 14 years later the design engineers would have a better bagging system. I do not recommend this bagger for many reasons.
Date published: 2020-10-19
Rated

1

out of

5
by
Jimmer 1
from
cheap plastic bagger
[This review was collected as part of a promotion.] cheap plastic. The lid is very flimsy and looks as though the hinge set up will not last long. The plastic locks on the sides are also a poor design. I find it to clog extremely easy since there is nothing to propel the grass up the chute. ( the only thing I can say that is good about Gravelly is their bagging system). It is not easy to access the clog either. I found the easiest way is to park on an incline, raise the deck then reach under and as far as you can to remove grass. Then pull off the chute hose and reach down as far as possible, again to remove the clog. It is not that I am cutting long or wet grass either. the window on the top is useless as well. You can not view it while running the machine, plus if you wanted to see it you would have to try and clean it after each use. Not worth the money they charge for it. I have reached out to CC without getting a response
Date published: 2021-03-14
Rated

5

out of

5
by
Parker
from
Works great!
[This review was collected as part of a promotion.] This bagger is great! I love how easy it is to empty the bags and set up.
Date published: 2021-06-20
Rated

3

out of

5
by
SeanH
from
Gets the job done, could use a few tweaks
[This review was collected as part of a promotion.] Cleared lots of leaves on my wooded acre. Good performance. I've not used it to bag grass. The blades (CC mulch kit) seem to kick a lot of the discharge from under the front right side of the deck, requiring another pass or requiring you to be mindful of your passes. The left latch on the bagger lid is also balky, hangs up. That's my only complaints. Assembly & use is straightforward, though. I recommend it for leaves on a 1/2 -1 ac lot. I'm sure it could do bigger.
Date published: 2022-11-15
Rated

3

out of

5
by
Snake
from
Close but no cigar.
[This review was collected as part of a promotion.] I read where people were talking about grass blowing out of the deck. I installed mine and noticed the same thing only to find a gap in the front between the bagger attachment and deck. I pop riveted a piece of plastic to the inside to cover the gap. I hope it works.
Date published: 2021-10-02
Rated

5

out of

5
by
NNY Mower
from
Great Bagger
I have an XT3 & XT 2 with bagger attachments. This bagger is fantastic and well designed. I don't know how anyone gets a clog in this bagger. If you do it's because you are cutting 6 inch deep wet grass. I would recommend this attachment to anyone. Used it several times and have not experienced any problems.
Date published: 2021-07-23
Rated

5

out of

5
by
Dan Harvey
from
Great product
[This review was collected as part of a promotion.] Exactly what I expected. Great quality and easy to install. Requires high lift blades for the best result which it doesn't come with. Very satisfied with the product. Works well without the special blades but I'm sure it'll be better once I have them.
Date published: 2021-06-30
Rated

4

out of

5
by
Heather Mac
from
It's okay
[This review was collected as part of a promotion.] The little window directly behind the seat is pretty much useless. You must be very careful when opening the compartment to dispose of clippings; if you let it fly back the plastic will bust in very little time. Less durable than our previous model
Date published: 2021-05-29
Rated

1

out of

5
by
Prymela
from
Poorly made, messy and hard to use.
I've had this for a couple seasons. The window is useless as it get's dirty immediately upon use. The cover doesn't seal well at all and grass blows out all the gaps. The seals came off after the first and second use and I never did find them (most likely got mowed over). I'm here trying to find replacement seals but it's not on the parts list. Not worth the money...at all.
Date published: 2021-09-02
Rated

5

out of

5
by
Duane R
from
Very Satisfied
[This review was collected as part of a promotion.] Works as advertised. Very pleased with the product. I've only had it for a month but appears to be very durable and if taken care of properly it should last for quite awhile. Definitely worth the investment.
Date published: 2021-05-27
bvseo_sdk, dw_cartridge, 18.2.0, p_sdk_3.2.0
CLOUD, getReviews, 11ms
reviews, product