3X™ 30" TRAC Snow Blower
3X™ THREE-STAGE POWER
---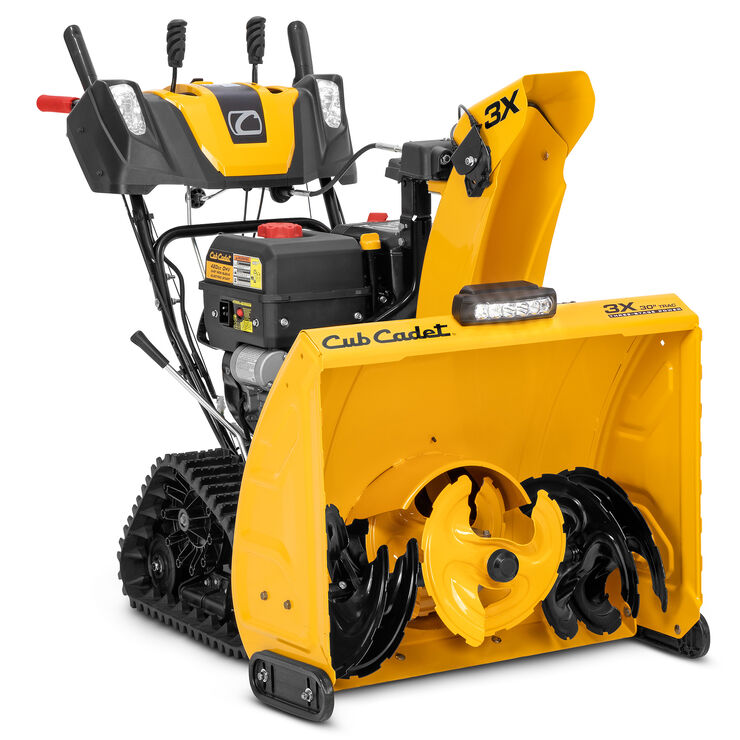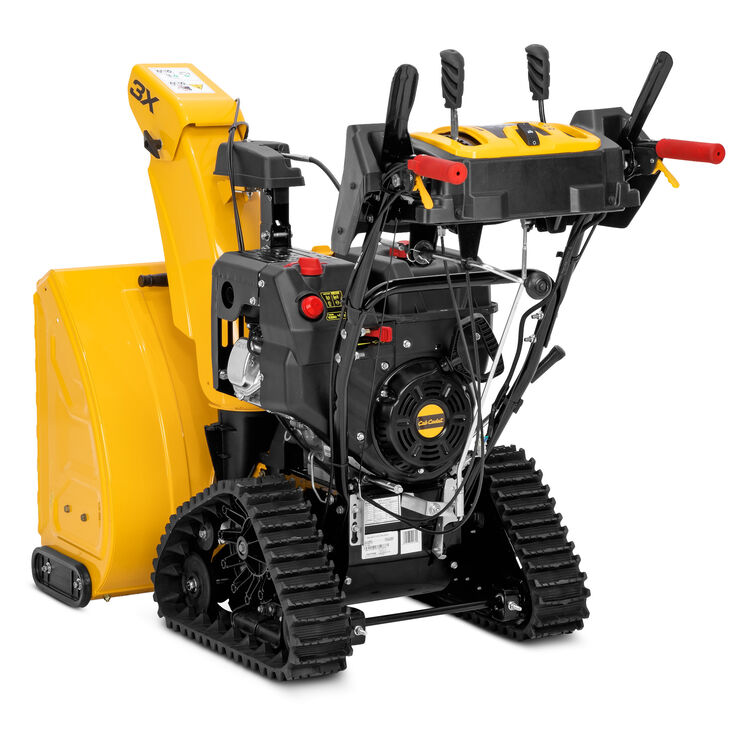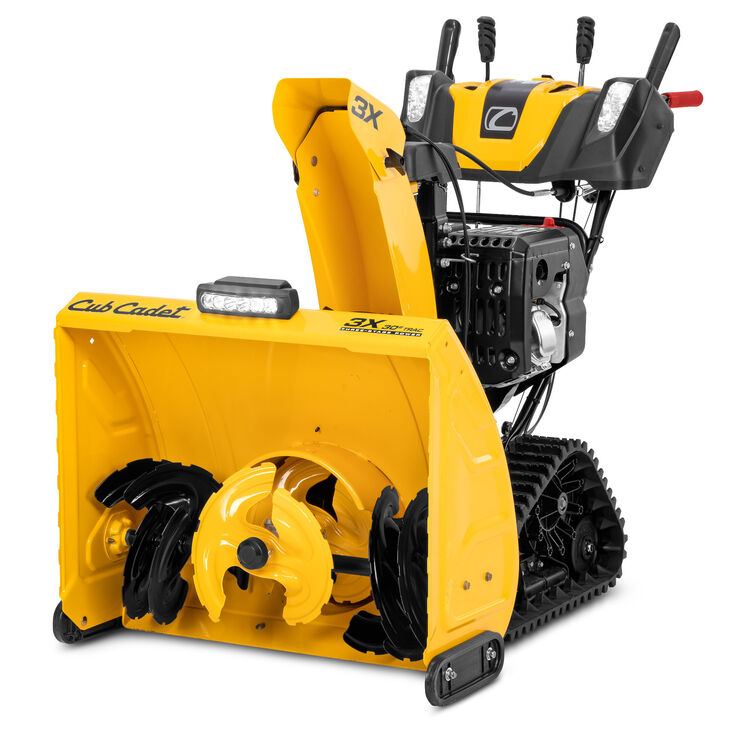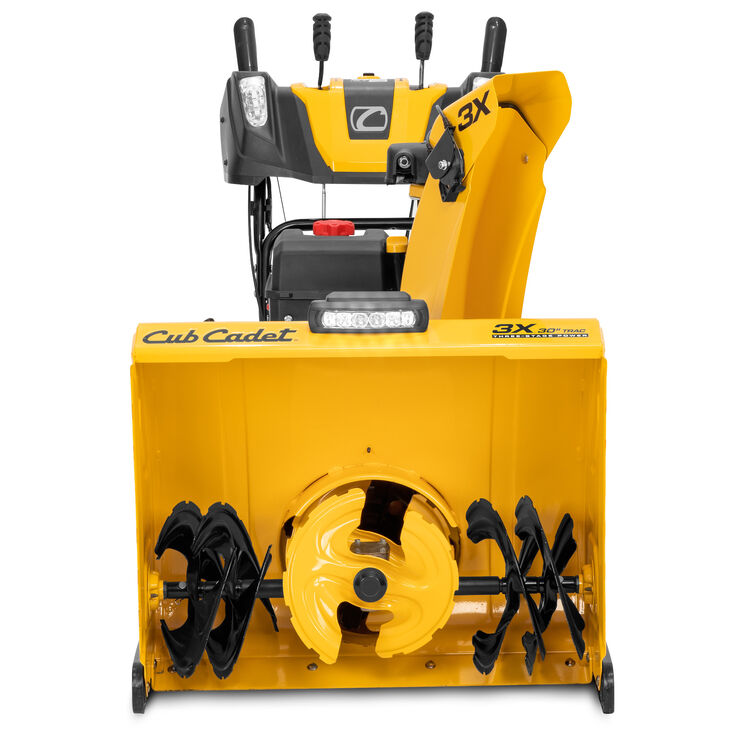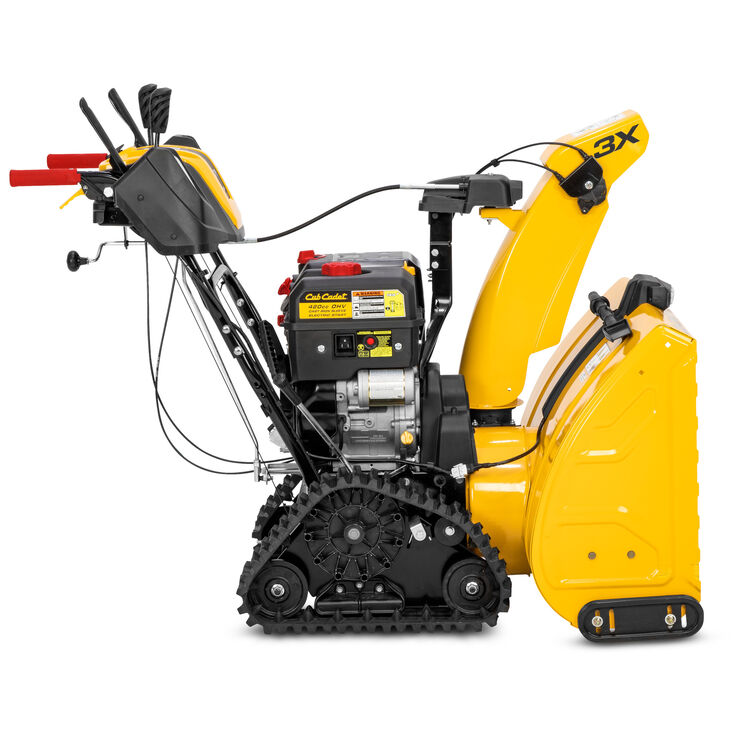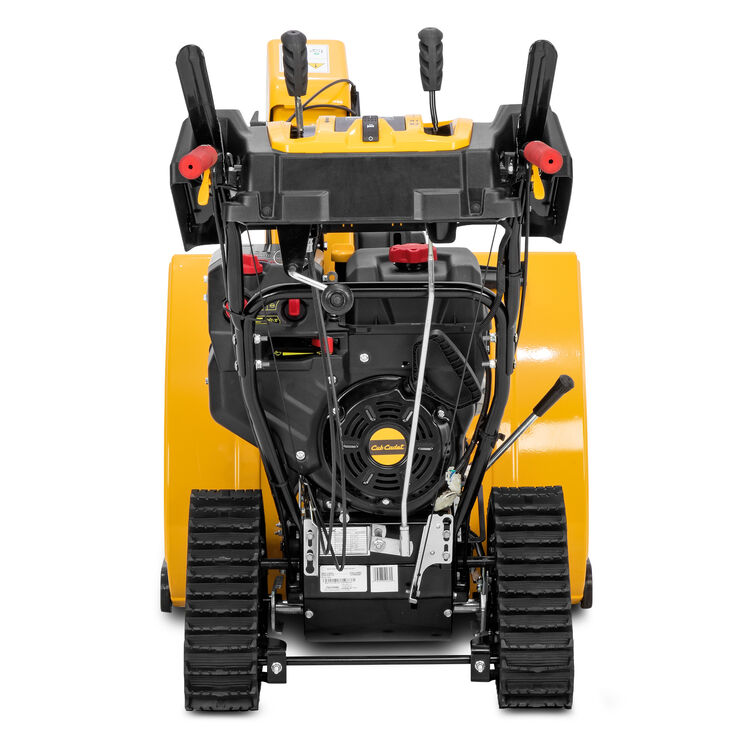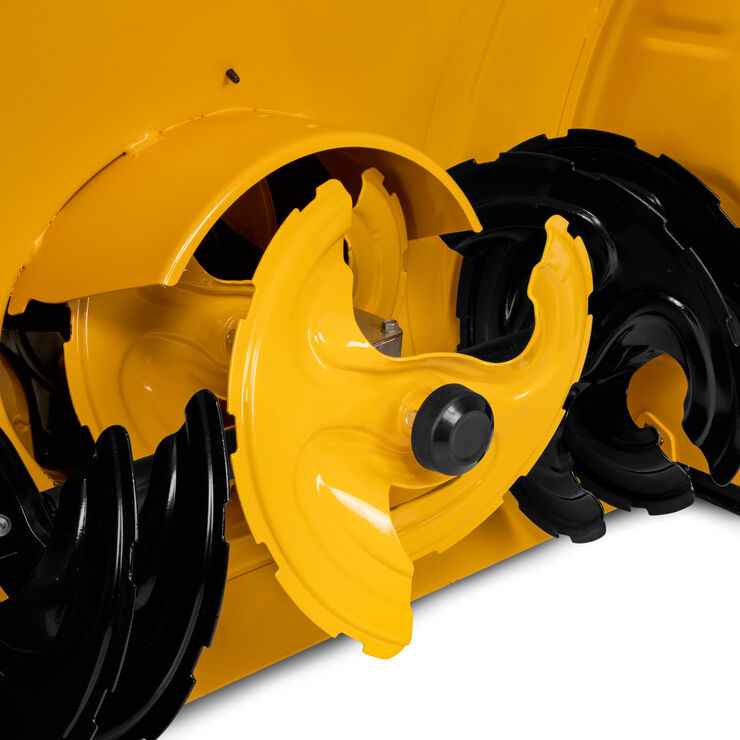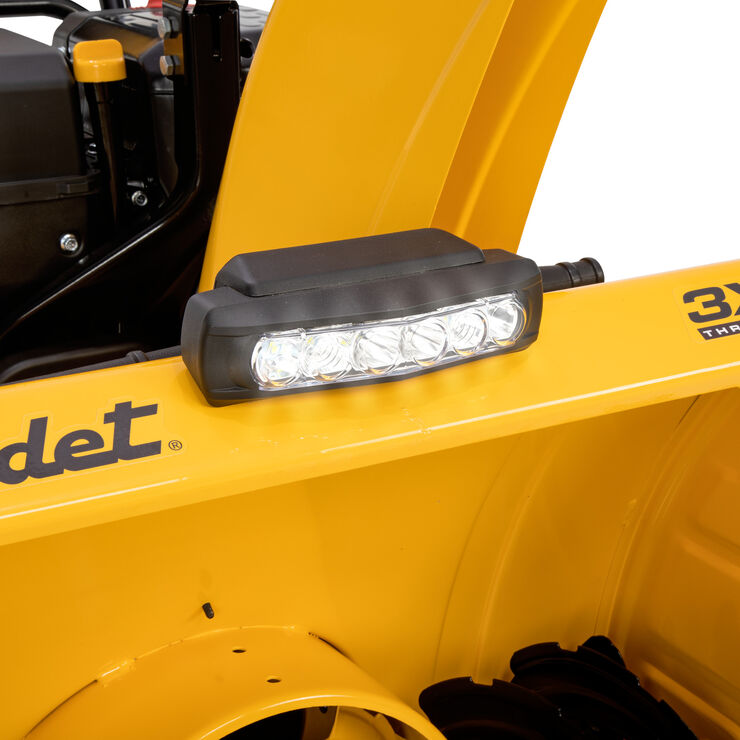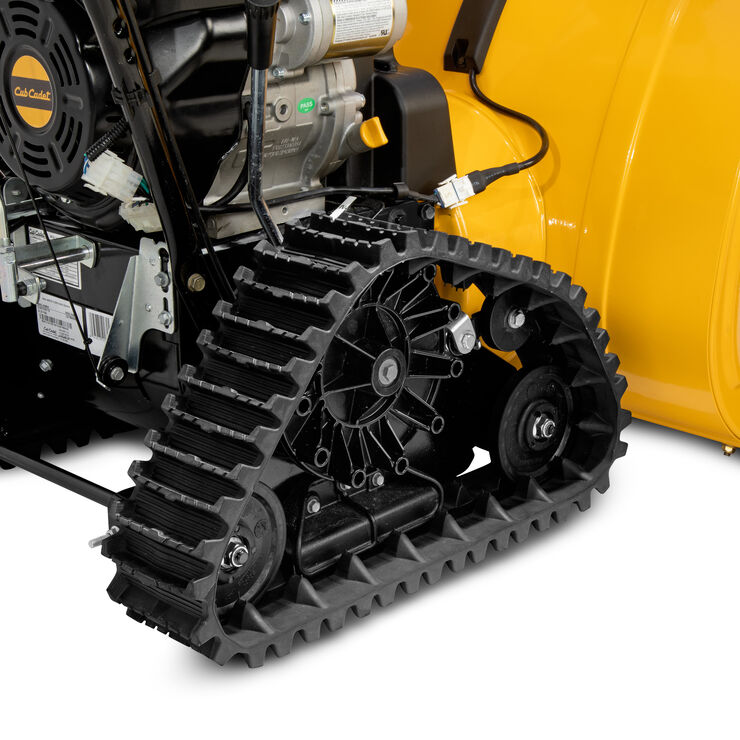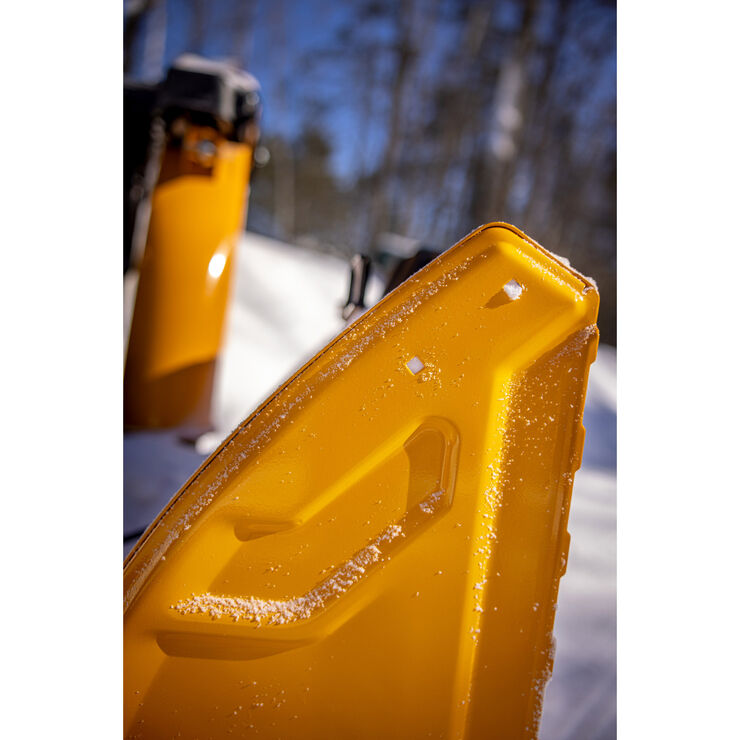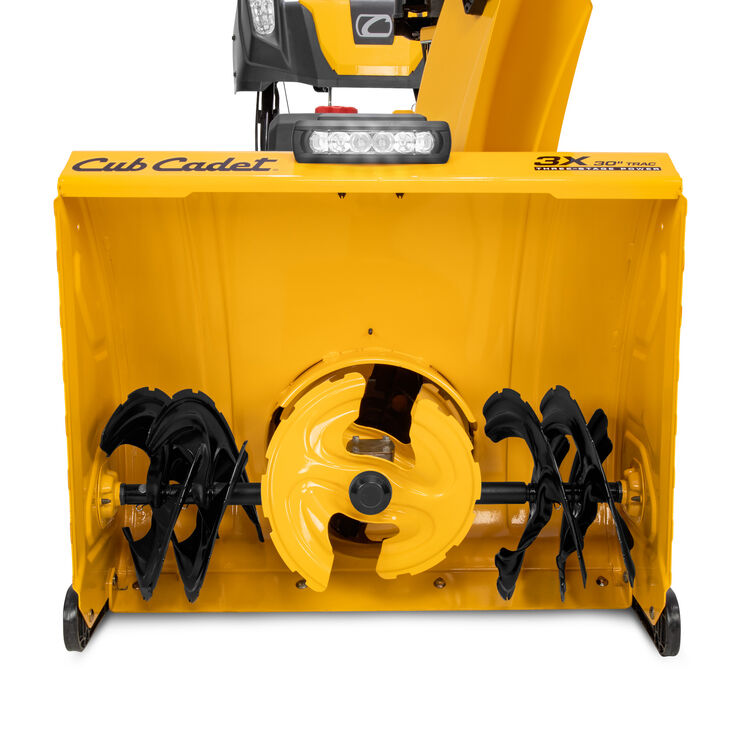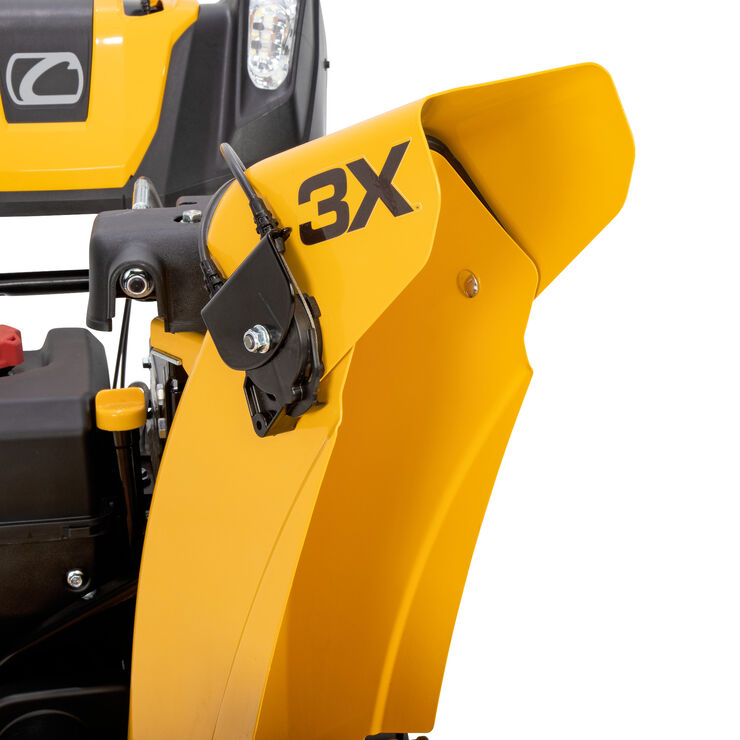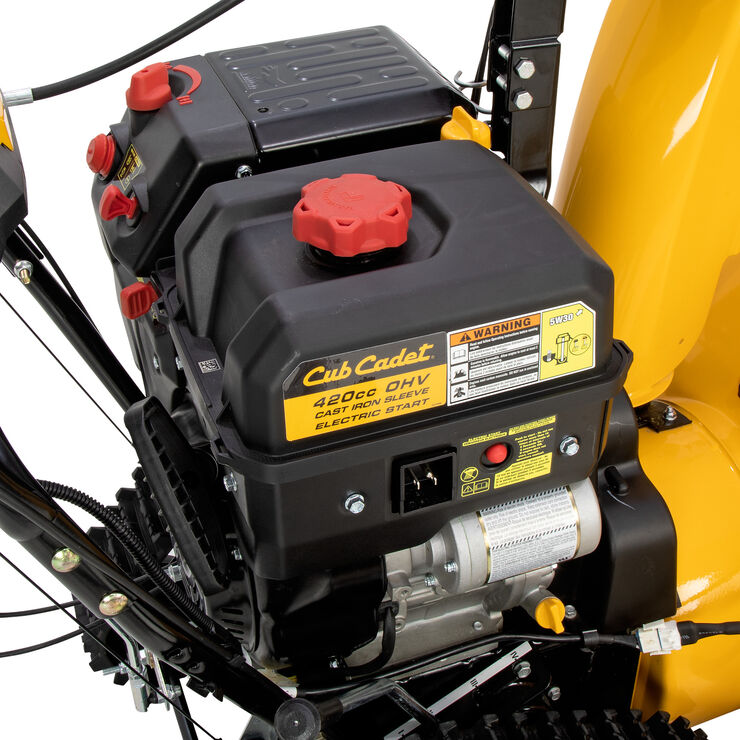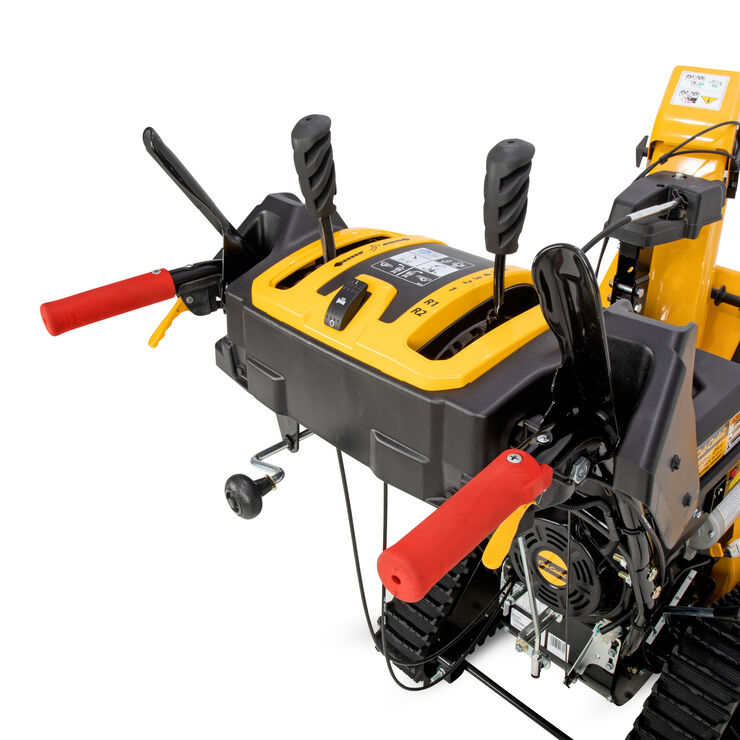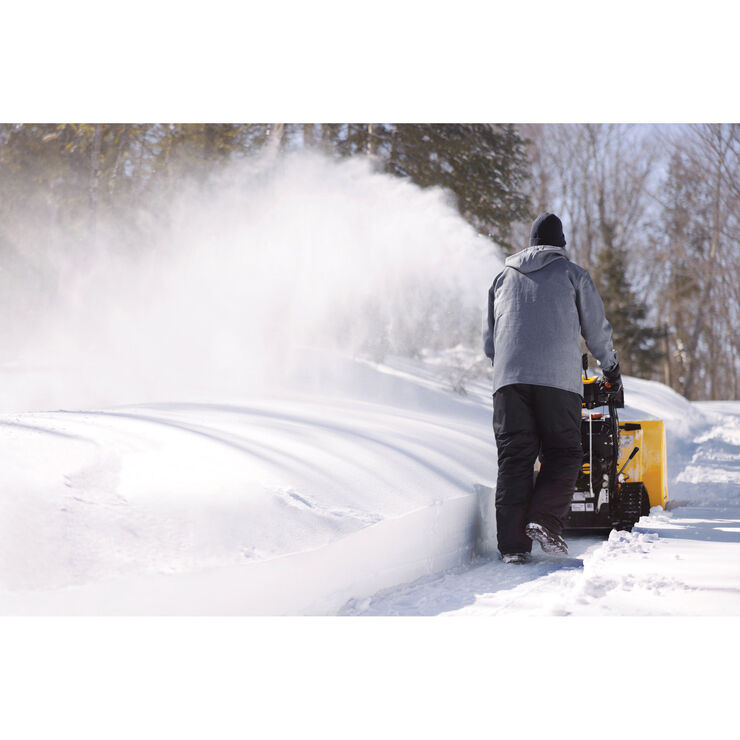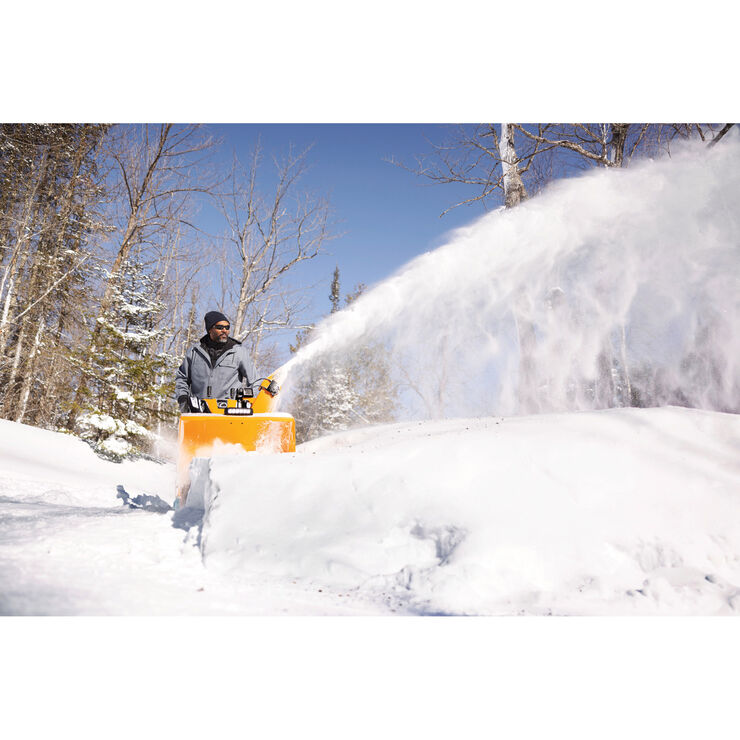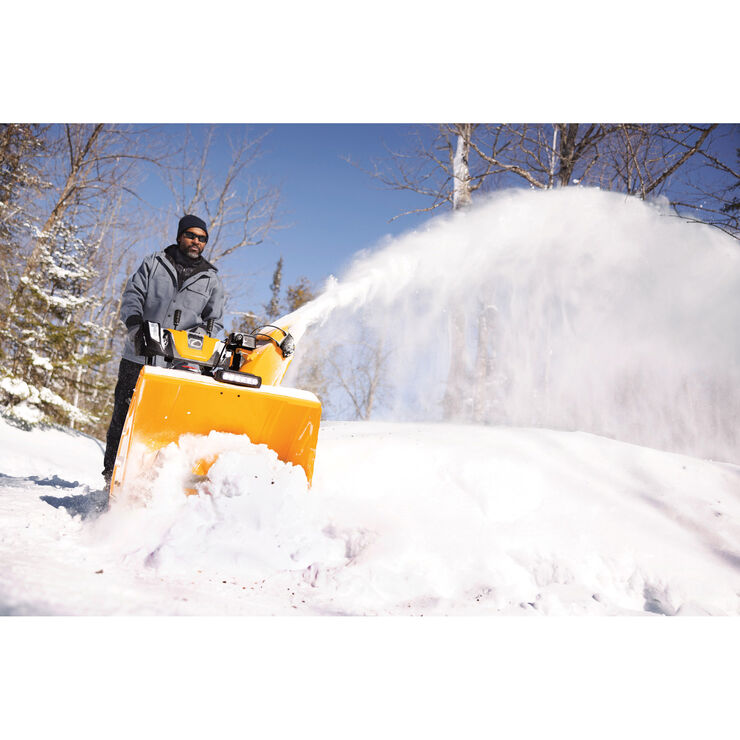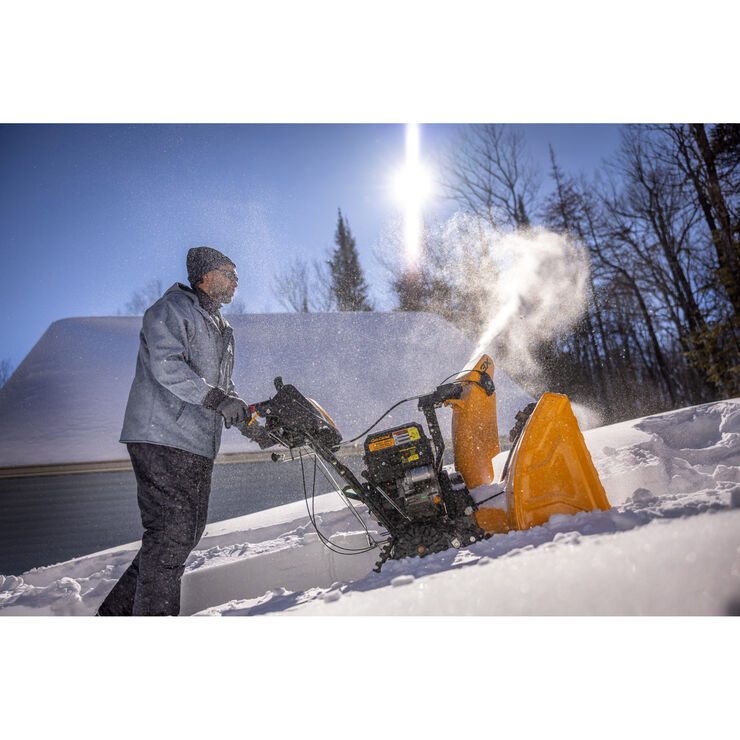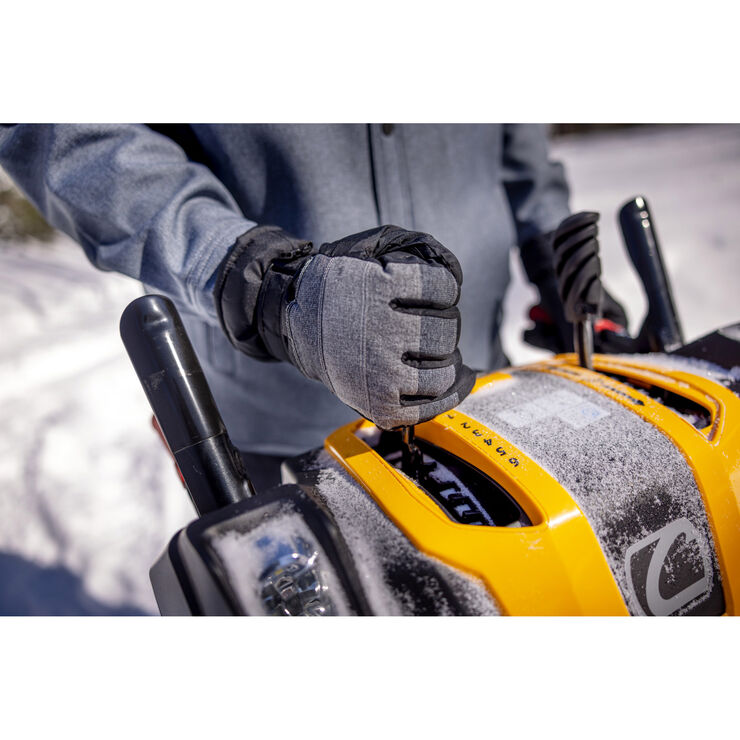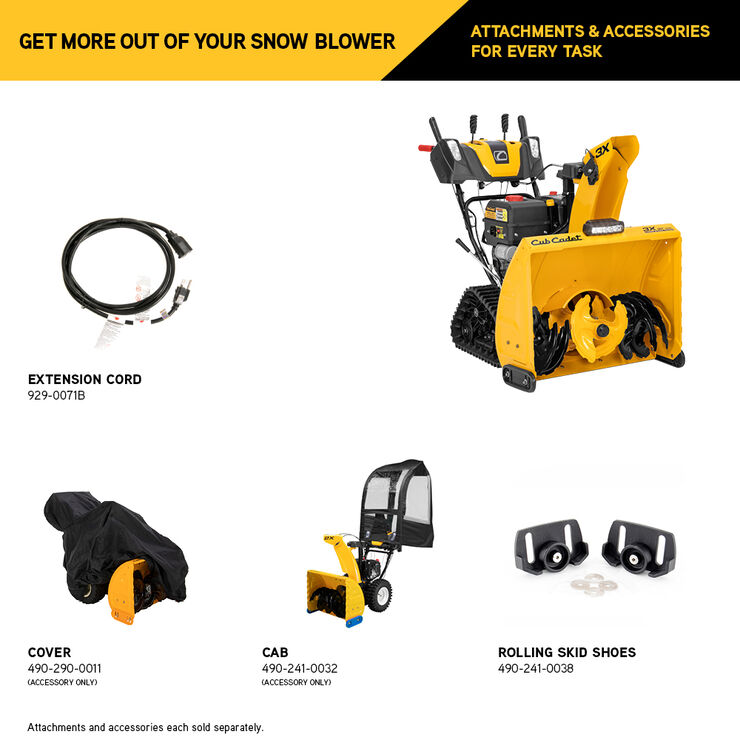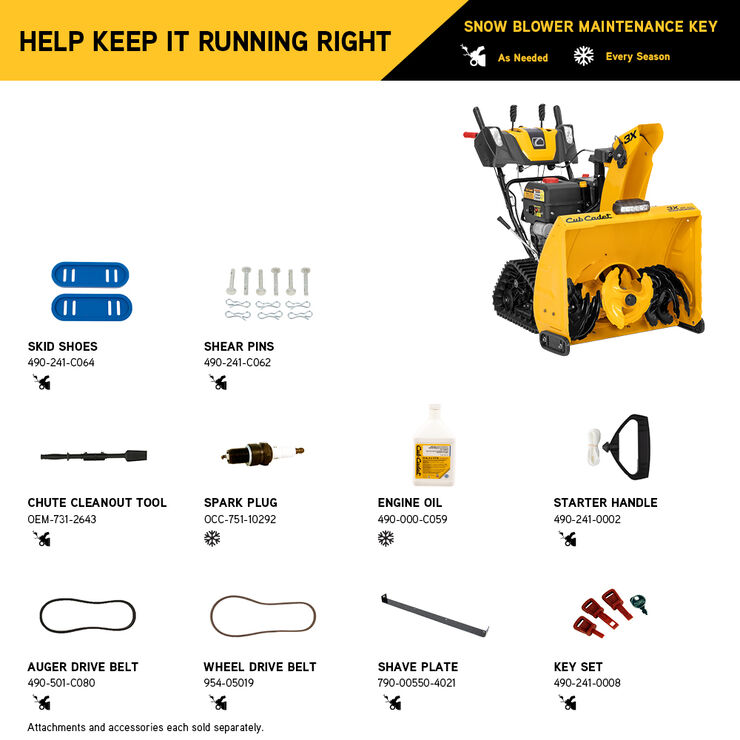 3X™ 30" TRAC Snow Blower
3X™ THREE-STAGE POWER
---
---
Take down the wall of winter with this 3X 30 in. 420cc Gas Three-Stage Snow Blower. Equipped with track drive designed for traction on slopes, inclines, and gravel driveways and a three-stage design that quickly breaks down heavy, wet snow and clears up to 18 in. of snow†. Includes trigger-controlled power steering engineered for control and maneuverability. Heated hand grips help provide warmth and comfort. LED lightbar on top of the auger housing and dual LED headlights on the dash help provide visibility in low-light conditions.
Documents and Guides
30 in. clearing width and 23 in. intake height powers through 18 to 23 in. of snow†
Track drive is ideal for slopes, inclines, and gravel and provides reliable traction in winter conditions.
Three-stage design with durable, center-mounted steel accelerator spins 10 times faster than the augers to break down and quickly clear heavy, wet snow
420cc 4-cycle OHV Cub Cadet engine delivers the power to help clear snow on driveways that are 12+ parking spaces in size
Engineered for durability thanks to a heavy-duty cast aluminum auger gearbox, heavy-duty steel auger housing, and steel chute.
---
You're shopping available inventory from
---
---
3X™ 30" TRAC Snow Blower Features
Easy Start Ups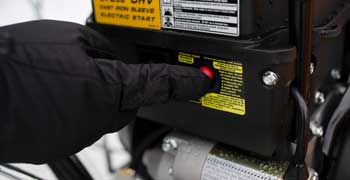 Start your engine at the push of a button when you need it most with electric start.
Effortless Control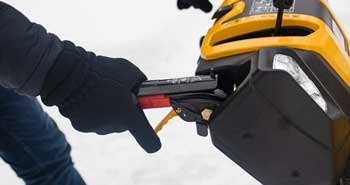 Trigger-controlled power steering and self-propelled drive for unmatched control, effortless maneuverability and single-hand operation.
Work Longer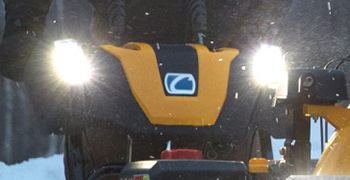 Work before dawn or after dark with dual LED headlights.
More Intake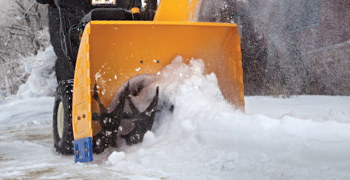 A 23-inch intake height allows you to clear snow more efficiently.
Extra Comfort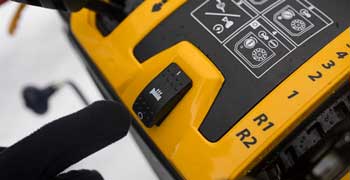 Heated hand grips provide extra warmth in extreme weather conditions with the push of a button.
Reliable Traction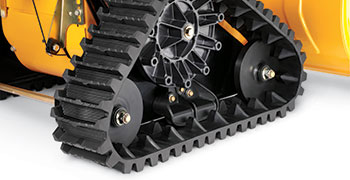 Track drive is ideal for slopes, inclines, and gravel surfaces, providing reliable traction in extreme weather conditions.
Easy Pitch Control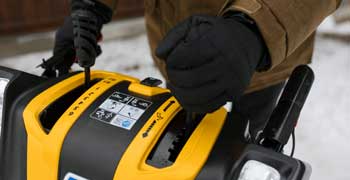 Change the pitch of the chute to throw snow up to 40-feet.
Redirect Snow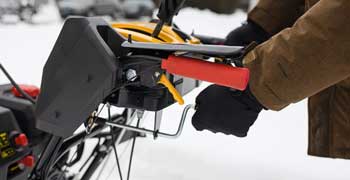 Rotate the chute a full 200° with just 2.5 turns of the crank.
Engine
Engine Brand

Cub Cadet®

Engine Model Number

690-WUC

Engine Displacement

420cc

Fuel Tank Capacity

5 quarts US / 4.7 L

Engine Start

Recoil and Push-Button Electric

Governor

Mechanical

Fuel Delivery

Carburetor
Drive System
Number of Forward Speeds

6

Number of Reverse Speeds

2

Drive Type

Friction Disc

Drive System

Track Drive
Controls
Handle Grip(s)

Soft-Touch Heated Grips

Chute Rotation Control

Remote Overhead Crank

Chute Pitch Control

Remote Single-Lever

Chute Rotation

200°

Single-Hand Operation

Standard

Steering Control

Trigger-Controlled Power Steering
Power and Performance
Clearing Width

30"

Intake Height

23"

Auger Gear Box

Heavy-duty cast aluminum

Number of Stages

Three
Dimensions
Auger Diameter

12"

Impeller Diameter

12"

Accelerator Diameter

12"
Specifications
Tire Size

N/A

Tread

Track Drive
Additional Specifications
Headlight(s)

Dual LED and LED Light Bar

Shave Plate

Heavy Duty Steel

Skid Shoes

Reversible Poly

Drift Cutters

No

Auger Material

Serrated Steel

Chute Material

Steel

Model Number

31AH7EVZ710
Warranty
Auger Gearbox Warranty

5-year limited

Warranty

3-year limited residential

Commercial Warranty

1-year limited

Chute Warranty

3-year limited
Disclaimers
Specifications

Specifications subject to change without notice and without incurring obligation. Products depicted on website and other advertisements are for demonstration purposes only. Actual products offered for sale may vary in design, required attachments, safety features and non-functional appearance from. See other general disclaimers at the bottom of our website.

Snow Removal

†Results may vary depending on weather and snow conditions
| Model | Manual | Form Number | |
| --- | --- | --- | --- |
| 31AH7EVZ710 | MANL:OPER:31X:700:NA | | |
| | MANL:OPER:31X:700:NA | 769-26797 | Download |
| | MANL:OPER:BILING:31X:3/5/6/800 | 769-11510C | Download |
| | MANL:OPER:BILING:31X:700:US_CA | 769-24890 | Download |
| | MANL:OPER:BILING:31X:700:US_CA | 769-26073 | Download |
| | MANL:OPER:BILING:31X:700:US_CA | 769-26589 | Download |
| | MANL:OPER:BILING:31X:7XX | 769-11517A | Download |
| | MANL:OPER:BILING:31X:7XX | 769-16190 | Download |
| | MANL:OPER:BILING:31X:7XX | 769-22275 | Download |
| | MANL:OPER:BILING:MTD ENG:277/3 | 769-11494B | Download |
| | MANL:OPER:BILING:MTD ENG:357/4 | 769-14992 | Download |
| | MANL:OPER:BILING:MTD ENG:357/4 | 769-25490 | Download |
| | SHEET:SUP:31X2X-3X:CUB:US_CA | 769-24534 | Download |
| | SHEET:SUP:31X2X-3X:CUB:US_CA | 769-26490 | Download |
| | SHEET:SUP:BILING:EPA:CARB:EXH: | 769-15174 | Download |
| | SHEET:SUP:BILING:EPA:CARB:EXH: | 769-17172 | Download |
| | SHEET:SUP:BILING:EPA:CARB:EXH: | 769-23593 | Download |
| | SHEET:SUP:BILING:EPA:CARB:EXH: | 769-25882 | Download |
| | SHEET:SUP:BILING:EPA:CARB:EXH: | 769-26276 | Download |
| | SHEET:SUP:BILING:EPA:CARB:EXH: | 769-26611 | Download |
| | SHEET:SUP:BILING:EPA:EVP:06301 | 769-15171 | Download |
| | SHEET:SUP:BILING:EPA:EVP:18-19 | 769-17171 | Download |
| | SHEET:SUP:BILING:EPA:EVP:18-19 | 769-23590 | Download |
| | SHEET:SUP:BILING:EPA:EVP:20-21 | 769-25879 | Download |
| | SHEET:SUP:BILING:EPA:EVP:21-22 | 769-26272 | Download |
| | SHEET:SUP:BILING:EPA:EVP:22-23 | 769-26607 | Download |
| | SHEET:SUP:ENGL:31X:7XX:CUB | 769-12300 | Download |
| | SHEET:SUP:ENGL:31X:7XX:CUB | 769-16931 | Download |
| | SHEET:SUP:ENGL:31X:7XX:CUB | 769-22281 | Download |
| | SHEET:SUP:Warranty_Addendum_In | 769-26830 | Download |
Product Reviews
Rated

2

out of

5
by
Disappointed too
from
Disappointed, happy for 3 year warranty!
[This review was collected as part of a promotion.] Bought this last year (Dec 2019) and loved it. The first time we used it this year the drive sprocket on both tracks broke. Leaving it unable to move. We were shocked that they were made out of plastic. There is another review purchased the same month that had the same problem. The repair man said it was not common. We wonder if the plastic was defective at that time. Luckily it was still under warranty and we were able to get it repaired at no cost. We will keep an eye on it for any cracking this year. Perhaps we should have purchased the model with wheels.
Date published: 2020-12-20
Rated

2

out of

5
by
jsdan1
from
Not Super Impressed, not good for wet snow at all
Purchased this snow blower last spring after moving into a home with a longer driveway and with an expectation of more snow. I was excited to use the 30" trac on our first snowfall this winter and struggled almost the whole time. Snow kept getting backed up in the auger and I spent most of the time pushing snow rather than throwing it. When it was working, it only threw the snow a few feet, mostly landing back on the driveway I was trying to clear. Hopefully this works better in future snowfalls since it is too late to return. Trac system worked well on my steep driveway, only getting stopped once the pile that accumulated got too big. Turning on the other hand was a struggle and the triggers did not seem to do much to assist in turning.
Date published: 2020-10-26
Rated

2

out of

5
by
DoninPA
from
Expected more
I bought the 3X 30 inch track to replace a 25 year old snow blower and finally got to use It today. Started easily enough and steering was a little rough but I'll get used to that. Snow today was only about three to four inches and very light and fluffy. My 25 year old snow blower would have sent this snow 30-40 feet. This new top end one only sent it about 10-12 feet. Again this was light and fluffy. So because I have a wide driveway I have to blow snow twice. I can't imagine what will happen when we get wet heavy stuff. I'm really worried. On the other hand the Tracks worked great going up the steady incline of my driveway. For the price I paid for this I expected more!
Date published: 2020-01-08
Rated

5

out of

5
by
Mark in Ohio
from
Love the 30" track drive
I bought the 30" track drive in Feb 2021 after my YardMan 24" wheel drive two stage could not keep up with the new gravel drive and snow at the new country house. The 30" track drive works really well, almost like it is passing through cotton candy, it doesn't ever bog down. Bother reverse are slow, too slow. The heated handles are useless since you're going to be wearing thick winter gloves. The left/right steering paddles work well, no problems controlling in any direction. We expanded the drive to almost 500' and it's all compacted millings, and it worked great yesterday. Easy, right through drifts.... I am very happy with this purchase.
Date published: 2022-01-18
Rated

4

out of

5
by
Murice
from
It's a work horse in the snow
I have only had snowblower for a few months but I've used it twice once in a 20inch snow storm and the other in a 6inch snow storm. Performance was great or just wants more snow. The only thing I would suggest cub cadet make sure customers purchase plenty of shear pins at the time on purchasing snowblower. Heavy snow will cause them to break it seems every use. But great snowblower.
Date published: 2019-02-16
Rated

5

out of

5
by
Lexicon303
from
Unbelievable piece of equipment!
Purchased the 30 inch 3x with tracks. Using in North Dakota.I try to give the best actual use reviews that i can good and bad. Lets start at the top. The controls are great, the hand controls these are larger, if you have small hands it may pose a small issue, but, the levers are not hard to press down either. When moving forward with the auger on you can take your hand off of the auger control for one handed use this is good to have sometimes personally I don't use it much. The triggers for the zero turn capability are great and the feature works great, although, it seems to be easier for me to just move the machine by my own power, getting the blower to move quickly with this feature would mean stopping and switching to one of the faster gears to turn around fast. The Chute worm drive works great, on a few occasions i have had the cables that run over the chute gear box hang up on that box and i have to move them off or it wont turn, not a big deal. the lever controlling the chutes directional out put, great no problems. One thing i didn't understand is that the all metal chute sits on a polymer base, glass filled plastic i guess? I would have preferred steel paying 2k for a machine you would think they wouldn't cheap out on that. Heating hand grips get toasty enough, if you have big gloves and its 40 below then they are ok. The gear speeds are what you would expect although R1 is basically useless, but, that has been my experience with all blowers, just go right to R2, 6 is perfect for top end fast. The engine on the machine is impeccable, the thing is a monster, it seems like the more load you give it the more it wants to throw snow even farther...wow. it holds a TON of gas too, which i love, and its pretty quiet in my opinion for a 420cc engine. As we move down you have the height adjustment, transport, gravel, packed etc. This feature works great and they really thought about the settings i think, they are great for each application, although you will likely use them for something other than what is marked. The lever on the adjustment can be pretty hard to move for a smaller person though. On to the Tracks, these things are great, i have to blow out tons of snow out of my yard and sometimes you run up on snow pack, wheels dig in and you are stuck, the tracks just keep on moving love this feature. The tracks will slip, internally, when they are wet or slightly icy or if you are trying to go forward or back and you are decently stuck, not my favorite, hasnt stopped me but i would prefer to not have to put extra wear on that part. The 30 inch cut is what it is, 30 inches, the fact that the engine and the auger will handle anything you stuff in there is what really sells me. it throws and throws and doesn't quit. The 3 stage auger itself, great feature, the machine draws snow much better than a traditional cheap dollar snowblower. The LED lights on the unit are great, you get a great spread of light and its bright. The material the unit will throw. if you have deep light powdery snow, it just fun to use. The blower cuts through that stuff like it isnt even there and tosses it a like 40 feet. Heavier snow that is slightly wet, it seems to throw just as far, the only issue here is that the traction is so good that you start to push a snow-pack out in front of you and you end up stopping, maybe that is user error but it happens to me sometimes. Heavy wet snow, even with this the blower throws it probably 10 or so feet but it throws. Watery Slushy snow, you will find that it just comes out of the Chute 3 or 4 feet but generally does not just fall out the Chute all over the side of the blower. Deep snow, if it is light powdery snow, i have run several inches over the top of the blower and it will just make itself a tunnel and keep going anything after light and fluffy you slow down more and more and may have to even break up the snow in front if its really bad. All in all, this is a Titan in the walk behind class of blowers. If you have the money to spend...SPEND IT! You won't be disappointed. Just looking at this piece of equipment and the craftsmanship, you can tell it will last a very long time. A+ Cub Cadet!
Date published: 2019-03-19
Rated

1

out of

5
by
NorthCoaster_part2
from
Snow Blowing along the North Coast - 3rd yr review
This is an update to my review from about three years ago (Nov 2017). In that time I have probably used this machine 2-3 times in the first two years and twice(2) this year for a total use of not more than 8-10 snow removal uses. While the blowing of snow is very good, the maneuverability of the unit is lack luster at best and the traction, that the tracks provide, do sometimes slip on packed snow occationally. As stated in the original review, this machine with tracs is good if you are just doing a long driveway (or run) but if you have a "turn around" apron then clearing this is "difficult" and down right "maddening". Turning this trac beast 180 degrees is very difficult using the steering levers and the two backup (reverse) gears are so slow it is laughable. Reverse gear #1 is all but useless and gear #2 is not much better. Anyway, today, which was the second use this year and probably about the 8th or 9th use over the past three years, the left track stopped moving and I found that the TRAC DRIVE WHEEL, which is made out of plastic, had cracked (disintegrated? pieces here and there on the driveway) at the sprocket LIKE A FEW OTHER REVIEWS HERE STATED. Of course the 3 year warranty ended last month (typical) and I tried to stop by the dealer today and see about the TRACK DRIVE WHEEL part, and ask if there is a replacement procedure (not shown in the owners manual nor a belt adjustment procedure either) but they were closed. I will stop by again during the week with the following two questions: 1) can this be converted to wheels, and if not, 2) what is the replace procedure for the TRACK DRIVE WHEEL (sprocket) once parts of obtained. This seems to be a flaw on this model (3x 30 trac) and I would not suggest getting it unless you ONLY have a long straight narrow drive. But, as always, YMMV. Good Luck.
Date published: 2020-12-26
Rated

2

out of

5
by
Flybyglass
from
Not the Best
Shut tilt control plastic and breaks off cable stays in cold weather. Reverse 1 is so slow barely moves.
Date published: 2021-01-30
bvseo_sdk, dw_cartridge, 18.2.0, p_sdk_3.2.0
CLOUD, getReviews, 5ms
reviews, product