ST 100
WHEELED STRING TRIMMER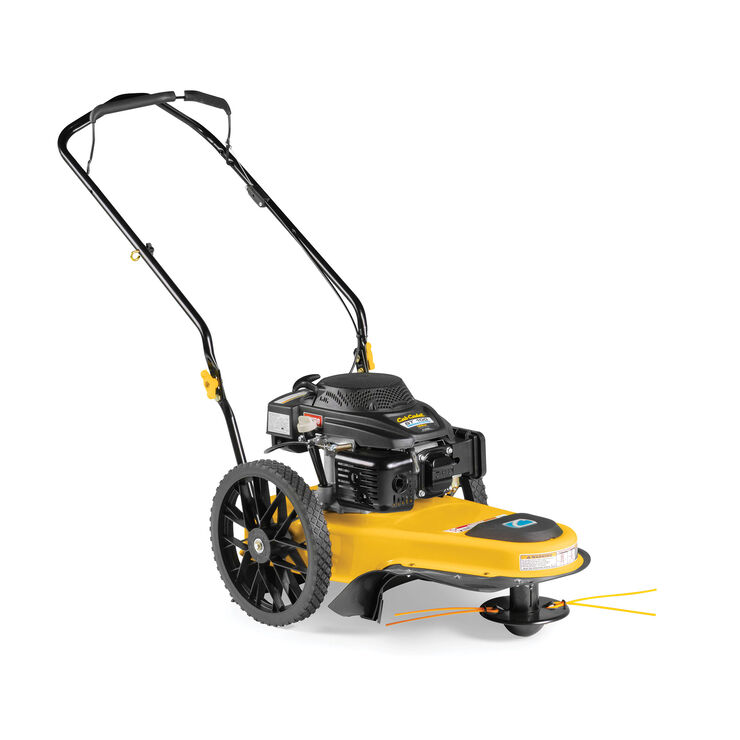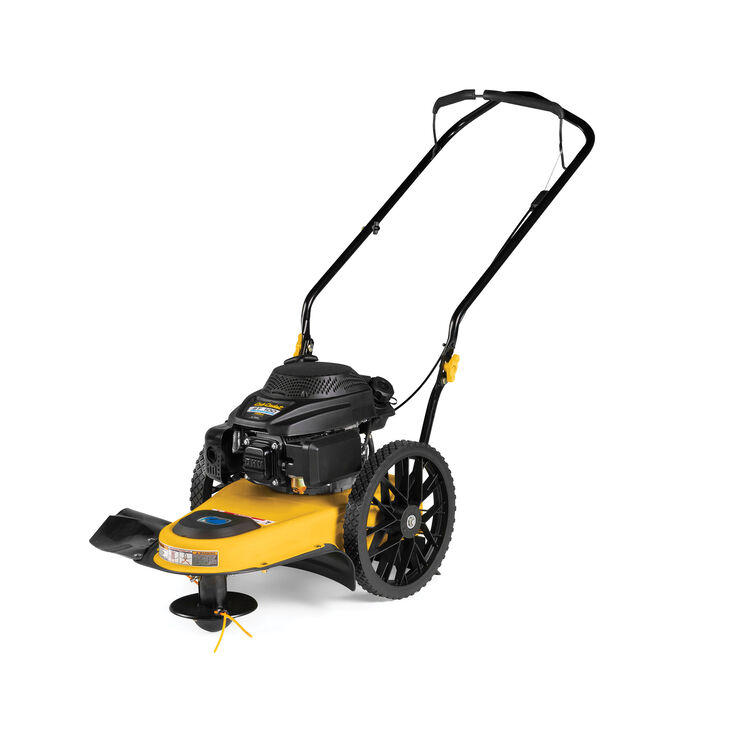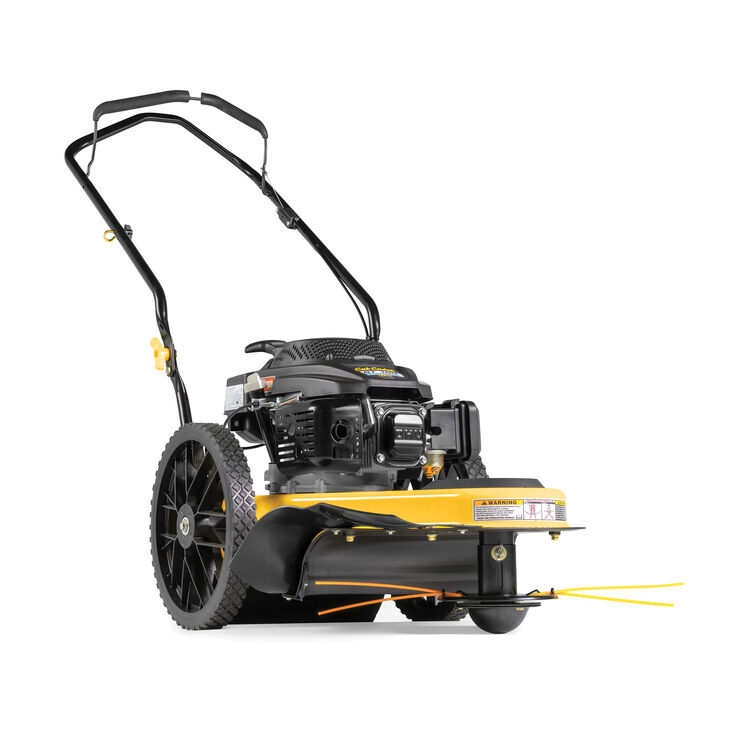 ST 100
WHEELED STRING TRIMMER
---
This Cub Cadet® wheeled string trimmer's high performance 159cc OHV engine is equipped with an AutoChoke system that eliminates the need to prime the engine prior to starting. Debris shield on deck protects the operator. Cub Cadet's unique deck shape with high rear wheels allows you to trim right up against fence lines, posts, draining ditches, and other obstacles.
159cc Cub Cadet® OHV engine
Foldable loop handle
Offset steel deck
---
---
Warranty
Warranty

3-year limited residential
Additional Specifications
Handle Type

Folding

Model Number

25B-262J710
Specifications
Engine

Cub Cadet® 159cc OHV w/ Auto Choke

Wheels

Solid 14" rear wheels

Cutting Swath

22"

Cutting Line

Heavy-duty, square .155 lines
Disclaimer
Specifications Disclaimer

Specifications subject to change without notice and without incurring obligation. Products depicted on website and other advertisements are for demonstration purposes only. Actual products offered for sale may vary in design, required attachments, safety features and non-functional appearance from. See other general disclaimers at the bottom of our website.
| Model | Manual | Form Number | |
| --- | --- | --- | --- |
| 25B262J710 | MAN:OWN:COL3X_159CC_196CC_ENG | | |
| | MAN:OWN:COL3X_159CC_196CC_ENG | 769-15770 | Download |
| | MAN:OWN:COL3X_159CC_196CC_ENG | 769-15770B | Download |
| | MANL:OPER:BILING:25X:26X:28X:C | 769-21390 | Download |
| | MANL:OPER:BILING:25X:26X:CONS | 769-18032 | Download |
| | MTD 159CC 196CC ENGINE MANUAL | 769-21611 | Download |
| | SHEET:SUP:BILING:EPA:CARB:EVP: | 769-15172 | Download |
| | SHEET:SUP:BILING:EPA:CARB:EVP: | 769-17170 | Download |
| | SHEET:SUP:BILING:EPA:CARB:EVP: | 769-23591 | Download |
| | SHEET:SUP:BILING:EPA:CARB:EXH: | 769-15174 | Download |
| | SHEET:SUP:BILING:EPA:CARB:EXH: | 769-17172 | Download |
| | SHEET:SUP:BILING:EPA:CARB:EXH: | 769-23593 | Download |
| | SHEET:SUPP:WARR/PARTS:262 TRIM | 769-18033 | Download |
| | SHEET:SUPP:WARR/PARTS:26X 28X | 769-21492 | Download |
| | SHEET:SUPP:WARR/PARTS:26X 28X | 769-22571 | Download |
| | SHEET:SUPP:WARR/PARTS:26X 28X | 769-22571A | Download |
Product Reviews
Rated

5

out of

5
by
LongPham
from
Powerful Machine
This is my first push trimmer. I have 4 acres of fenced-in property. Took me about 1 hour to trim around the fence. Other than pushing the machine, it was effortless. The only drawback was that I had to replace the strings about 4-5 times since hitting rocks, fence posts, trees, etc. The best part about this trimmer was that I didn't have to re-fuel after all that trimming and still has gas leftover. Starting was as easy as advertised (about 2 pulls).
Date published: 2019-05-08
Rated

5

out of

5
by
Gunnyhighway78
from
Unstoppable
I purchased it 2 months ago now and absolutely no regrets. My yard is on the highway and has a huge ditch which I cannot mow with my lawn tractor, and until now has been killing my back, using a hand - carried trimmer. What use to take an hour and some aspirin, now takes 15 minutes and no pain. It always starts on the first pull and is unstoppable. Cub Cadet is a solid machine. Since buying mine, my neighbor now has one! I tried attaching a photo but it didn't work, the ditch is approximately 200' long & 20' wide - big
Date published: 2019-06-18
Rated

5

out of

5
by
rjrdomer
from
Great machine
Great little machine. A couple of negatives but I still give it 5 stars. The negatives are, it is not self-propelled, and if you're going through some tall grasses, the grasses can get wrapped around the head and cause the engine to cut off. I found that the solution to this is if you hear the engine lagging a bit, just back off what you're doing and the rotating head will clear out by itself. Once you learn the sounds and feeling of the machine, it becomes easier and works great. I cut some tall weeds and grasses that were above my waist and it took no time at all. It's great for managing property and areas where a mower won't fit, or a string trimmer just won't do. I use it for a weedy clearing, the sides of my house and long driveway at a vacation home in the woods. Pull the cord, and it starts right up. The cutting line is very easy to change. No spools or anything like a basic line trimmer.
Date published: 2019-07-29
Rated

3

out of

5
by
Sadface
from
I'm not happy
Auto chokes need to be outlawed! you have to be a mechanic to take it apart and try to start it! Would not suggest anybody purchase products that puts auto chokes even if they are a mechanic, time-consuming to take apart!! The smarter we get the worse products we produce!!
Date published: 2017-04-02
Rated

5

out of

5
by
Diamondback 28
from
Great trimmer.
This trimmer works perfect in my yard. So much easier to handle than a hand held trimmer. Starts easy & easy to change string
Date published: 2019-06-30
Rated

2

out of

5
by
Lazyguy
from
No fuel filter = carb clog
This machine is great but because of the lack of a fuel filter the carb will clog easily. If you're moderately mechanically skilled, install a filter. Amazing that it doesn't come with one, or a least mine didn't. Other than that it beats a hand held trimmer if you have a long fence line and/or a lot of trees. Keep in mind its not a brush trimmer but because it has thicker trimmer string it will get through more than a hand held string trimmer.
Date published: 2020-05-04
Rated

5

out of

5
by
Capt John 13
from
Great product for multiple jobs ...
I have had my ST-100 for 2 -3 years. I think it is awesome. I have 5 acres that I need to manage. This machine eats up whatever is in front of it. It works really well on my fence lines (over 2000 feet). It also does a great job of keeping grass neatly trimmed around grass and border stones. It's only 22 inches wide, so obviously isn't designed to "mow" entire pastures ... although if you have the time I am certain the ST-100 would do it.
Date published: 2019-09-17
Rated

2

out of

5
by
ADMTX
from
No blade attachment
This would be less useless for me if it had a blade attachment available. A brush cutter that you can't use on any brush stronger than grass is kinda pointless. I have 10acres of brush and strong weeds that have thick stems and it just destroys the line. It's too big and cumbersome to use around trees in my 1acre yard so I use it for the fence line then get out the trusty handheld for around the trees and such.
Date published: 2019-09-04
Rated

3

out of

5
by
IslandGirl
from
Cuts well, but safety bar is a pain
I really wanted to love the Cub Cadet, but two major flaws force me to give less than a 5-star rating. First, the positive: The Cub Cadet mows through everything from crabgrass to thick blackberry canes with ease. The open design around the cutting assembly helps to prevent debris from wrapping around the line holder and preventing the line from spinning. Now, the negatives: The Cub Cadet is VERY hard to start. If I were a 6-foot-tall man with long arms, I probably wouldn't have a problem. However, as a 5' 4" woman, my arms are not long enough to get enough torque on the pull rope to start the engine. There is no place where I could place my foot to push against the machine for extra torque while I pull the rope to start the engine. Because the safety bar must be held against the handlebar to start the engine, with my short arms it is literally impossible for me to start the Cub Cadet by myself. I must interrupt my husband from whatever project he is working on to start the engine for me. At 5' 8", even he has complained about how hard it is to start the machine, which leads me to negative #2. My biggest complaint about the Cub Cadet is that releasing the safety bar kills the engine. Now, some engineer (who probably has never used a wheeled trimmer) thought using the safety bar to cut the engine was an excellent safety feature. In actual use, however, it's a pain in the butt. Because the trimmer is so difficult to start, I constantly hold the safety bar in place to prevent killing the engine. I can't even let go of the bar to rest my hands or take the cap off of a water bottle. It would have been better if releasing the safety bar stopped the cutting assembly from spinning but kept the engine running, allowing the user to move from one area to another without worrying about the spinning line catching loose debris on the ground and flinging it across the yard. It's only a matter of time before I fling a rock at a window (or worse, my husband) as I move from one side of our gravel driveway to the other. My husband used the trimmer only twice before he started talking about using Velcro, bungee cords, or tape to fasten the safety bar in place so that both of his hands could be free at the same time. It's not safe, but that's what happens when safety features get in the way of product usability - the customer simply disables the safety features. If it wasn't for the difficulty in starting the trimmer and the poor design of the safety bar, I would have given this machine 5 stars.
Date published: 2020-03-22
Rated

2

out of

5
by
Bob F
from
worked well 1 time
I bought ST100 in January 2020, brought it home worked well on high grass and brush by our pond. Tried to use it again in March and would not run. I called and was told where to take it for warranty work. Ha Ha needs a carb. and they are only warranted for 30 days. I will never buy or recommend a cub cadet product to anyone
Date published: 2020-04-16
Rated

5

out of

5
by
The Yukon Fungi
from
Eats almost anything
got one for the farm last year, it was life changing. No longer do I have to spend countless hours holding a regular trimmer to get all the places the tractor can't go. Clean your tools, and it will work as long as you want. Last thing it is so easy to start, man I love this thing
Date published: 2020-04-25
Rated

5

out of

5
by
Steve K
from
Expectations were exceeded...
[This review was collected as part of a promotion.] After checking ratings, I went to my local dealer and they said that all their employees own one... My expectations were high and all my expectations were exceeded... I am quite satisfied...
Date published: 2020-06-14
Rated

1

out of

5
by
ZebL
from
Not a quality product
The product is not designed well, or made with quality parts. I was only able to trim weeds with it twice before the aluminum engine base cracked and broke. Now I can't use it anymore.
Date published: 2020-07-01
Rated

4

out of

5
by
Ricky63
from
Steal head
I bought one few days ago seems to good but the string dont last long Was looking for some other device that would last longer..any one have a idea ?
Date published: 2020-05-01
Rated

1

out of

5
by
ScotMeisterD
from
Carburetor is finicky, and line breaks very often.
After using for one season and being sure to run it dry before storing, the "two pull start" was revealed to be just a marketing gimmick. It turns out that the carburetor was clogged and required a complete cleaning before it would run again. Also, even when it runs, it's a royal pain to keep going. Even with the extra thick trimmer line, the line snaps very easily with anything except light grass. This is marketed as a brush trimmer, but it is nothing of the sort. After getting it running again for this 3rd season, I installed two sets of lines and began trimming some light flower/weed brush (approx. 1/4 inch in diameter). About 30 seconds in, both lines had snapped. Insane! The problem is that when the line snaps, you have to turn off the engine, lift the whole thing up, feed in new lines, and restart. When the starting gets difficult, as it will before the end of each season, you end up with a very sore arm after only 30 minutes of use. I bought this because I have over an acres, and some of it is "natural". I'm about ready to just leave this on the side of the road, though, because it's more trouble than it is worth. Honestly, my regular wand-style trimmer cuts thicker brush and runs better.
Date published: 2020-04-20
bvseo_sdk, dw_cartridge, 18.2.0, p_sdk_3.2.0
CLOUD, getReviews, 11ms
reviews, product