---
23 HP Kawasaki® FR Series V-Twin OHV, 726cc Engine
Adjustable lap bars with Industry-exclusive overmold soft-touch ergonomic hand grips optimized for comfort.
EASE OF MAINTENANCE an open frame design and hinged/removable floor pan allow easy access to the deck and engine for quick and simple maintenance.
Lap Bar Controlled Dual-Hydro Transmissions with Mow-In-Reverse
---
---
ZT1 50 Features
Built with Strength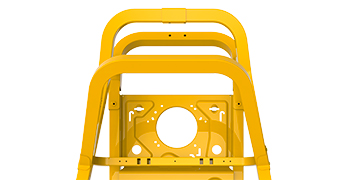 Our continuous square tubular frame was designed for enhanced strength and durability.
Redefining Comfort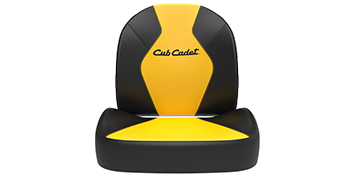 Settle in to a fully adjustable command center and experience next-level comfort designed for optimized speed and control from head to toe.
AeroForce Deck™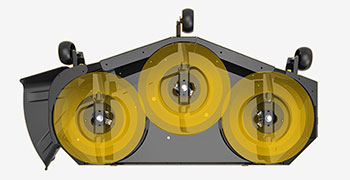 The Aeroforce™ cutting system results in finer clippings, fewer clumps, reduced stragglers and increased evenness. Fully welded and fabricated with a limited lifetime fabricated deck shell warranty.
Engine
Engine Brand

Kawasaki®

Engine Model

FR Series V-Twin OHV

Engine Displacement

726cc

Starter Type

Push button electric start with autchoke and SureStart Guarantee®

Fuel Tank Capacity

3.5 US gal. / 13.25 L

Cylinders/Material

2/cast-iron sleeve

Engine Start

Electric

Lubrication

Full-pressure with spin-on oil filter

Charging System

15 amp. regulated

Fuel Gauge

Standard (sight window in tank)

Battery Voltage

12V/heavy-duty 230 cold crank amp.
Battery
Battery

12V / 230 cold crank amps
Drive System
Transmission

Dual Hydro-Gear™ EZT-2200

Forward Speed

7 mph / 11.3 km/h

Reverse Speed

3.5 mph / 5.6 km/h
Cutting Deck
Deck Cutting Width

50-in

Deck Wash

Patented SmartJet™ high-pressure deck washing system

Deck Engagement (PTO)

Electronic fingertip engagement

Deck Construction

Fabricated

Blade(s)

3

Deck Lift

Foot operated lift with 15 position dial height adjust

Cutting Height Range

1.5" - 4.5"

Anti-Scalping

2 Front + 1 Nose
Chassis
Frame

2" x 2" Tubular Frame, Offset to Maximize Trim Edge and Cut Quality

Turning Radius

Zero

Front Tires

11" x 6" - 5" smooth

Rear Tires

Turf Master, 20" x 8" - 8"

Protection

Standard

Rear Tow Hitch

Standard
Controls
Cruise Control

No

Brakes

Integrated parking brake in lap bars

Steering Control

3-way adjustable lap bars (no tools required)

Mow in Reverse

RevTEK™ reverse mowing technology
Comfort
Seat Type

Premium High Back Adjustable Seat with Patented Suspension System

Armrests

No
Dimensions
Weight (approx.)

565 lbs.
Additional Specifications
Mulch Kit

Optional

Headlight(s)

Dual LED Headlights

Cup Holder

Standard

Model Number

17AIEACZ596
Warranty
Warranty

The Strongest Warranty in it's class 3-year / unlimited-hour warranty

Frame Warranty

Limited lifetime

Deck Shell Warranty

Limited Lifetime Fabricated Deck Shell
| Model | Manual | Form Number | |
| --- | --- | --- | --- |
| 17AIEACZ596 | MANL:OPER:ENG/FR:RZ19 Consolid | | |
| | MANL:OPER:ENG/FR:RZ19 Consolid | 769-19430 | Download |
| | MANL:OPER:ENG/FR:RZ19 Consolid | 769-19430A | Download |
| | MANL:OPER:ENG/FR:RZ19 Consolid | 769-19430B | Download |
| | SHEET:SUP:BILING:EPA:EVP:06301 | 769-15392 | Download |
| | SHEET:SUP:BILING:EPA:EVP:18-19 | 769-17171 | Download |
| | SHEET:SUP:BILING:EPA:EVP:18-19 | 769-23590 | Download |
| | SHEET:SUPP:WARR/PARTS:ENG/FR:C | 769-19431 | Download |
Attachments & Accessories
Product Reviews
Rated

5

out of

5
by
tr6ster
from
I Love It
I replaced my 20 year old Cub SLT 1554 and wish I could have done so years before. I was always a tractor guy. I never thought I would even be interested in a ZTR. Now there is no going back. I have cut my mowing time in half. It is comfortable. It is responsive. I tested other brands and couldn't find the features for the price that Cub Cadet offers. Well worth the money.
Date published: 2019-04-16
Rated

5

out of

5
by
Kenneth123
from
Much improved over previous generation ZTR mowers
First use was awesome. Seat is especially comfortable as is the foot deck mat. Speed was very fast, cutting height selection was so easy and so many grass height levels to choose from. I really like the LED headlights for the fall nights coming soon. This mower got much better traction than my other ZTR, no more left rear wheel spinning. Only things I would change would be to have an easy-adjust seat (kind of a hassle to take bolts out to adjust it) and the handles have too far of a throw to get to top speed. I might also add a USB port for cell phones too, just saying.
Date published: 2019-07-14
Rated

5

out of

5
by
Cub Cadet 128
from
Cub Cadet ZT1 50 K
I bought My 2019 Cub Cadet ZT1 50 , 01/13/2019, and I have work on Cub Cadets since 1967.I work for two Dealers of IH Cub Cadets. I took to my mower to my Lake House to mulch Leaves and Pine Straw. Ran very well in one foot of leaves and straw.Never slowed down. Ran it about two hours
Date published: 2019-01-23
Rated

3

out of

5
by
Rick A
from
Mows great, quality not so much.
I made this purchase based on comparing it to competitors. I have a Bermuda yard that I mow at 1.25 inches. The cut is fantastic. My problem is with the quality of the mower. It has many areas with VERY thin paint. The under side has areas with no paint at all, only primer. There are several metal to metal points, resulting in the paint being gone in only 4 hours of use. Buy a can of touch up paint and be prepared to use it a lot if you don't want rust. Also the deck jerks and jumps something fierce when you engage it. I engage it at idle speed and it still does it. It has to be a design issue. I bought the extended warranty so at least I'm covered for 6 years. Again, the cut is perfect. I just wish the quality was better to start out with.
Date published: 2019-05-19
Rated

5

out of

5
by
rabbama
from
The Big Yellow Machine
This is one of the best lawn mower we have ever owned, smooth ride, very comfortable seat, easy to use, love the turn zero. We have 2 1/2 acres of grass to cut and it took only an hour. I will enjoy cutting the grass now [This review was collected as part of a promotion.]
Date published: 2019-04-21
Rated

5

out of

5
by
Amo2cute
from
Zero Turn
We love this mower. Easy to start. Very simple to change the cutting height. The seat is comfortable and well made. The arms are simple to use. You turn them like you turn a shopping cart. It only took me a couple tries to get it. I have 2 acres and it took about 10-15 minutes to mow the whole lawn. [This review was collected as part of a promotion.]
Date published: 2019-04-04
Rated

5

out of

5
by
Twwagoner
from
Look no more for a great mower
This Cub Cadet mower is a beast. I absolutely love it and all of its features. Honestly, I haven't found one negative thing to say about it since I've been using it. This lower goes about 7mph forward and 3.5 in reverse. 7mph doesnt sound fast but when you're mowing, it's pretty quick. Instead of it taking me close to 3 hours to mow my land, its cut down to an hour or hour and a half. It cuts from 1in to 4.5in, and it's an level even cut. Not a high patch here and a low patch there, it's even! This thing even has a deck wash, high pressure water that cleans out grass and debris build-up under the deck. It's pretty awesome and very convenient. The seat is adjustable for short to taller people, it adjust under the seat and is comfortable. You want comfort when you're out in the sun and sitting for a while. Has headlights to be able to see and maneuver at night, which is a good add on since it gets hot here in NC and I prefer to mow once the sun goes down. Lastly I want to add the park break/emergency break. No reaching down or using your foot to press a break. Just close your lap bars and it stops in your tracks. Some people dont like that but I do. Handling is really good and controls work flawlessly. Not hard to maneuver at all. Needless to say, I love this mower! [This review was collected as part of a promotion.]
Date published: 2019-06-03
Rated

5

out of

5
by
CuttinUp
from
Great design
This is a well designed mower. Im one of those people that actually enjoys mowing and Im somewhat OCD about it. Im also OCD about my equipment. This is a solid piece of equipment designed for cutting grass. Not a lot of plastic parts to break. Easy access to everything including a removable floor plate which will make belt maintenance and debree removal a breeze. 23 hp Kaw Eng. ( a 24 or 25) would have put it over the top but the 23 does a good job. A gas guage would have been nice. The twin bagger is a great design. Large retractable shoot. Comes with front end weights. Bags well. But if I had other options I wouldnt have bought this bagger. The cloth bags are flemsy as well as the snap together cover. I dont see this thing surving one season. And removal is almost as big a pain as putting it on. I purchased two 5/16-18 Clamping Knobs to replace the 5/16 nuts to make removal a little faster and easier. Planning to order mulching kit. Hope its better quality than the bagger. Over all I'd still give the mower 5 stars.
Date published: 2019-03-04
Rated

5

out of

5
by
Turk
from
Well built
I've been looking for a zero turn like this for a while with no plastics and no Extra covers and flaps that you have to worry about breaking this is straightforward a good machine that is built to last and take care of the job
Date published: 2019-02-07
Rated

5

out of

5
by
Yard Bird
from
Everything I had hoped for
Wife and I purchased a new Cub Cadet Ultima ZT1 50 to replace an aging Husqvarna Z4818 that served us very well (566 hrs). We have both mowed our 2 acres with the mower and feel we can provide a good early review. Pros: Sturdy construction and good design - welded tubular steel frame is as solid as it looks. No flex at all; thus no metal fatigue. The deck is welded rather than stamped steel like the Husky. Although I would have liked a heavier gauge steel, it should be more than adequate for residential use. Because the frame is so strong, there is no need for a lot of other structural sheet metal that makes cleaning difficult and inhibits cooling of transmissions. Asymmetrical front wheel alignment may be unique and allows you to cut closer to obstacles. Paint quality seems excellent. Deck height adjustment provide small increments and very easy to set. Easy of handling - turning bars feel very good. Controls are very responsive and smooth. You soon forget you are driving the mower. You just look where you want to go and it seems to go there on its own. I particularly appreciate the large rear tires. Power - 23 hp Kawasaki engine is more than adequate. We let the native grasses in a large area of our yard mature and set seed in the spring at which time the grass is very thick and 30" high. The new mower made a pass at 4.5 (max deck height) and a second pass at 3. We cut at walking speed and full deck width with no bogging and excellent clearance of the cuttings. The engine didn't change its tune at all. Engine makes about the same noise and uses the same amount of gasoline as the B&S on the old Husky. Cons: Seat durability?: Seat is comfortable, but nothing special. It has softer foam padding and a pullover vinyl upholstery that may not be as durable as a molded seat. Headlights: They are a nice feature, but one popped out of its opening when bumped by a tree limb. Glad they are there though. Final thought: We bought from a local family owned mower shop. It was great to meet them, and I know where I can buy belts, blades, and service as needed. Big Box stores don't need the money and won't service the mower. Buy from your neighbors and at the same price.
Date published: 2019-05-11
Rated

5

out of

5
by
Tbaby
from
Great Machine
I bought this wonder machine Cub Cadet - ZT1 50 to help on my 3 acres and boy I tell you. I sure was super surprise at the way it moves, powerful punch, and guides. With this Cub Cadet - ZT1 50 it takes me around 1 hour now to mow my 3 acres. I recommend this Cub Cadet - ZT1 50 to everybody. It's easy to guide especially for a woman. [This review was collected as part of a promotion.]
Date published: 2019-05-24
Rated

5

out of

5
by
Deanna998
from
Greatest lawnmower of ALL TIME!
I enjoy mowing my lawn now. The seat of this is amazing and so comfortable. It is so easy to use. It's a powerful machine and I would recommend to anyone that has a big yard to mow this makes time go back with a breeze. The headlights really help when the sun is going down.The different levels of the mower really ensure that you can get your lawn looking awesome. I Highly recommend this mower it is absolutely the best of all time. [This review was collected as part of a promotion.]
Date published: 2019-05-13
Rated

5

out of

5
by
Buckweet
from
New mower
I bought this lawnmower a couple months ago as a up grade for my old lawn tractor have mowed with it three time so far and all I can say is wished I had done the upgrade soone
Date published: 2019-04-13
Rated

5

out of

5
by
brad
from
cut my yard time from 2hrs to 30min
I've been wanting one for a while and finally decided to get one and its great! I have 1 acre and after getting acclimated to the controls its a dream. This zero turn has the power and deck I was looking for and it has larger tires than competitors at the same price. The only thing I have noticed and I'm going to get it looked at is the front right wheel starts to squeak about 20 min into cutting but it doesn't effect anything. over all a great buy!
Date published: 2019-05-11
Rated

5

out of

5
by
happymower
from
Great Mower
This mower is great, we were able to get done in half the time as normal and it left the grass looking amazing. It is our first zero turn and very easy to use.
Date published: 2019-04-29
Rated

5

out of

5
by
Al Sand
from
Excellent mower
Have owed my ZT 1 50 for about 2 months now, and couldn't be any happier with the mower. 1st zero turn I've owed and love it!! Had to practice maneuvering it around before I cut the grass, which was not an issue because it handles so easily.
Date published: 2019-06-17
Rated

5

out of

5
by
Not applicable
from
Cub Cadet Ultima Zero Turn Terrific Mower
The Ultimate Zero Turn 50" mower is a truly excellent mower and does a significantly better job of creating a nice, level grass cutting. It is easy to start and very easy to adjust the cutting height with a foot pedal and dial. The deck design is especially good in that it has excellent discharge behavior and that translates to very good performance when using the bagger. In terms of needed improvements, I would list a couple: (a) Add extra springing to the seat, as the bumper cushions are barely adequate in making travel over roots or other bumps tolerable; and (b) Update the manuals for accessories to the new mower design, e.g. the bagger manual does not correctly reflect the chute adapter (specified but not actually needed) or the frame holes that are supposed to be pre-drilled (but aren't) for the front counter-weights when using the bagger.
Date published: 2019-07-07
Rated

5

out of

5
by
Kevin210
from
Great New ZT1 50
This is my first new zero turn mower. I am glad that I bought this a month ago and that I am happy that I did.Its the best mower that I ever bought.Mows like a dream.
Date published: 2019-05-28
Rated

5

out of

5
by
Thad A
from
Excellent Mower
Great cut with three blades and strong engine. Fabricated deck is excellent and stays clean. I did add the arm rest kit for more comfort.
Date published: 2019-08-03
Rated

4

out of

5
by
DannyMac
from
Great cut, comfort, and speed. Holds debris
I replaced a 17 y.o. lawn tractor. Zero turn is the way to go. It cuts MUCH faster, smoother, and completely. It gets under low bush and tree canopies. But the mower chassis and the welded deck have a LOT of places that catch and hide debris.You DO NOT want to hose the deck bearings when not turning and you can't do it with them turning while sitting on the seat.
Date published: 2019-09-23
Rated

3

out of

5
by
Anonymous
from
More to be desired!
Let's see... I have used this mower four times now and have put 11.6 hours on it. Okay let's start with looks.. it is hands down the best looking mower out there, besides the spartan mowers. Good power from the Kawasaki motor. Its pretty quiet. Its quick. Turns well. Seat is comfy... Now the bad.. the deck has a lot of vibration which is not something I like at all.. the head lights need a toggle switch. The gas tank needs a fill level indicator of some sort because you literally have to pull the seat over or open the gas cap to see the fuel level, which you can not do while on the mower. The oil changes are messy not because of the oil plug because they actually put a tube which makes that part pretty easy.. but the oil filter is a huge mess to change and not very well thought out. The choke lever is in the wrong location. Every time I go to pull the PTO I catch myself wanting to pull the choke and have to hunt for it.. and the blades are definitely not the best because you have to mow the same area twice.. Now over all.. It's an attractive mower that is worth the money. And I would buy it again.. I probably wouldn't recommend to a friend because of the bad things about this mower. But if its reliable then I would definitely recommend this.. but i only have used it 11.6 hours.. so time will tell.. [This review was collected as part of a promotion.]
Date published: 2020-06-03
Rated

5

out of

5
by
mowgo
from
long life
no problems after 10 years of use . wouldnt buy any other mower [This review was collected as part of a promotion.]
Date published: 2019-08-17
Rated

5

out of

5
by
Stoke22
from
Works well when you need it to
Purchased my ZT1 50 late April 2020 for a 1.3 acre yard. With roughly 30 hours on it, I'm very happy with the purchase. Kawasaki motor is powerful and I've yet to find something to bog it down. While I don't have a lot to compare to with regard to other zero turns, it does seem a touch clunky and unrefined, (deck connection points are noisy and certain parts required greasing with only 5-10 hours on it) but it does everything I've asked it to do and my lawn looks great. [This review was collected as part of a promotion.]
Date published: 2020-06-30
Rated

5

out of

5
by
TheHutch
from
Awesome machine!
I have owned cub cadet lawn tractors in the past, decided to upgrade to the ZT1-50 with the Kawasaki engine. This mower runs and mows great, I recommend Cub Cadet to anyone. the last Cub I owned, I ran it for 6 years and then passed it along to my son. high quality products. [This review was collected as part of a promotion.]
Date published: 2019-09-24
Rated

5

out of

5
by
Lalakro15
from
An amazing machine!
I have to honestly say that this Cub Cadet ZT1 50 has been the biggest blessing for my family. Thank youTryIt Sampling Bazaarvoice for allowing me to try this amazing mower for free! I am so impressed with my Cub Cadet I would never have another brand mower. Cub Cadet you now have a customer for life and also a spokesperson for your lawnmowers! [This review was collected as part of a promotion.]
Date published: 2019-05-13
Rated

5

out of

5
by
Anonymous
from
Love my zt1 50
Had my mower about 3months. Have about 3 1/2 acres of mowing. Lots of fences, trees, and obstacle to go around. Had a LGT 2654 great mower but this things blows it away. Cut my mowing time over 1/2. Far superior cut and I get closer to fences trees and turns like a dream. It cuts fast and much better than the lgt. Plenty of power and very agile with the 50inch deck. I'll only own a zero turn well worth the money. [This review was collected as part of a promotion.]
Date published: 2020-06-16
Rated

5

out of

5
by
Captain Dave
from
Great Mower
I bought this mower due to the great price and features. It's easy to start and drive. The only challenge is that I wish it wasn't so sensitive when moving the bars. It really turns without much movement which has been a challenge learning how to drive. However, with practice, I'm sure I'll get use to it. It has a lot of power, mows wonderfully, and looks awesome. [This review was collected as part of a promotion.]
Date published: 2020-06-17
Rated

3

out of

5
by
Cub in Ga
from
Mediocre
Purchased a month ago. Mediocre at best. First time cutting the deck vibrates something fierce. Leaves a lot of "stragglers" causing me to have to cut over parts of the lawn more than once. Otherwise a fairly good mower. Definitely not a grasshopper! [This review was collected as part of a promotion.]
Date published: 2020-06-04
Rated

5

out of

5
by
Fuzzy
from
Great machine for the price
I've had it for about a month and really like it. Much better than a larger much more expensive mower I sold. People around here call it the little yellow "tank"!! I wish it would go a little faster... say 10 mph? It is a simple, sturdy, and well engineered unit. Great job guys!
Date published: 2019-06-29
Rated

5

out of

5
by
jogorman
from
GREAT MOWER!
My wife and I bought this mower last month. It is our first zero turn. This thing is a beast! Cuts evenly on maintained grass and also knocks down 6 to 8 foot tall weeds. Couldn't ask for a better zero turn for the price. [This review was collected as part of a promotion.]
Date published: 2020-06-14
bvseo_sdk, dw_cartridge, 18.2.0, p_sdk_3.2.0
CLOUD, getReviews, 5ms
reviews, product