3X™ 30 HD TRAC
3X THREE-STAGE POWER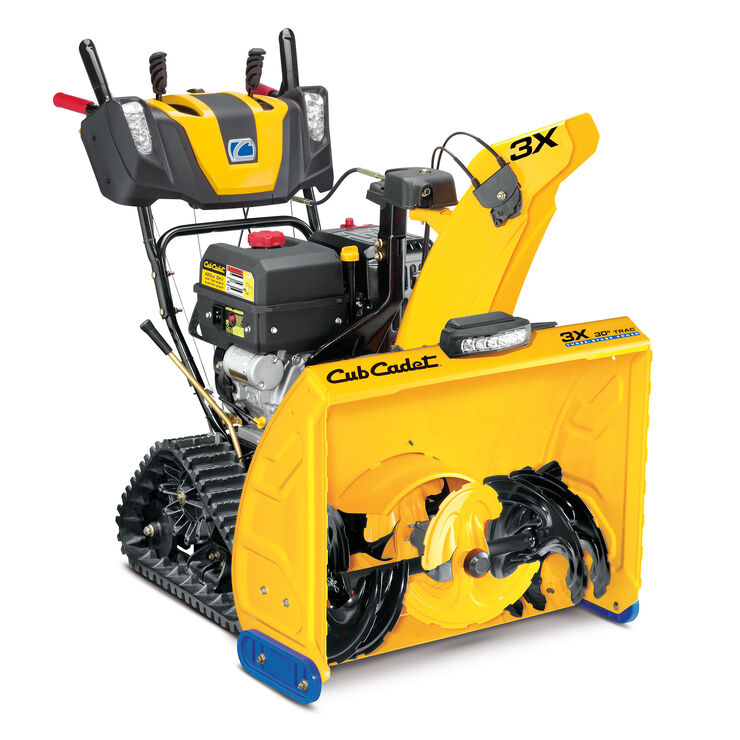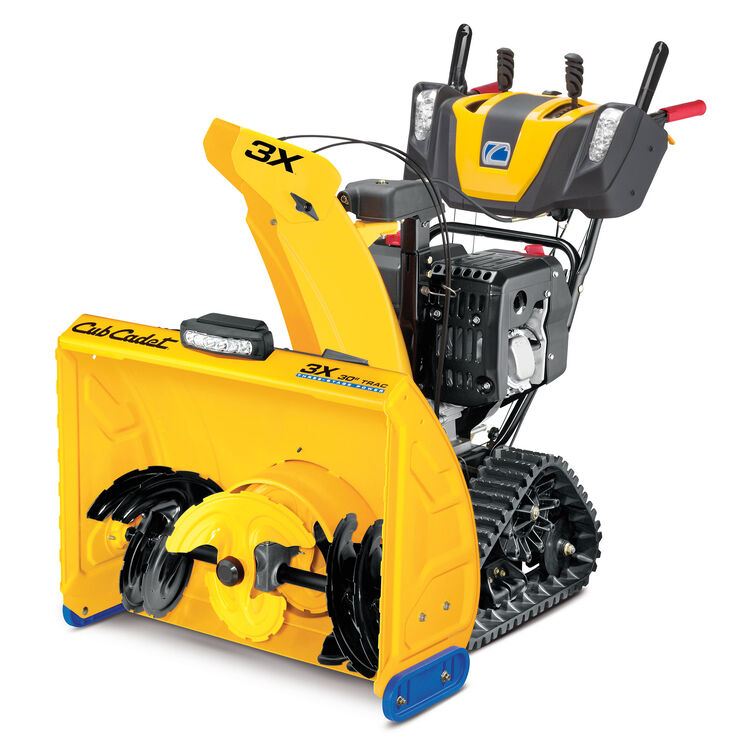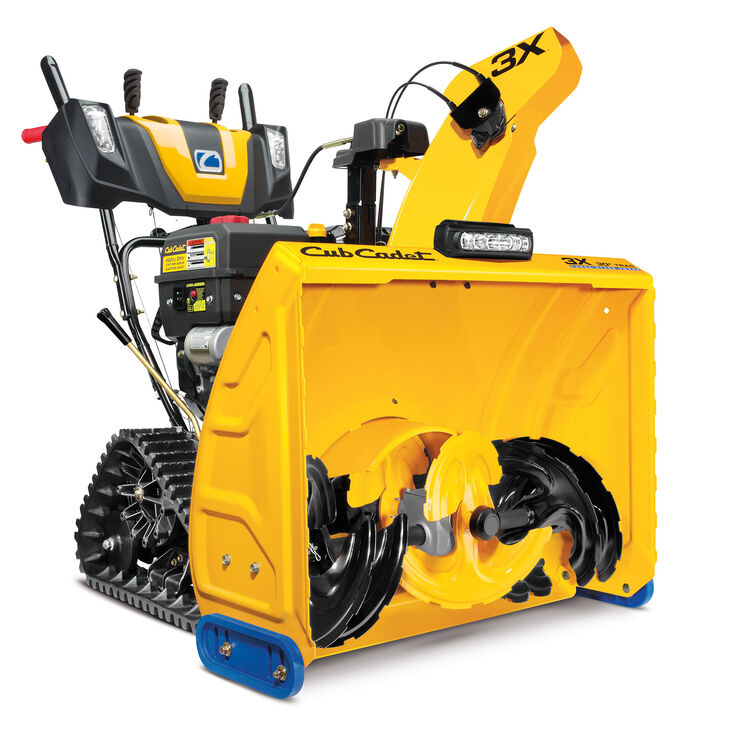 3X™ 30 HD TRAC
3X THREE-STAGE POWER
---
Superior Quality that Handles Winter's Worst
The award-winning 3X is the powerhouse of the X Series line. With a patented three-stage system, the 3X clears deep snowfall up to 50% faster than a traditional snow blower. That means you can easily and quickly remove 18 inches of snowfall at a comfortable pace. It will even bust through the wall of winter at the end of the driveway. When you have 3X strength, nothing is in your way.
Documents and Guides
420cc OHV Engine is powerful, dependable and equipped with push-button electric start
30 inch clearing width and 23 inch intake height
Track drive system creates 50 percent more ground contact for added stability and traction in heavy snow and ice
LED lightbar with Dual LED headlights for greater visibility in low-light conditions
---
---
Attachments & Accessories
3X™ 30 HD TRAC Features
Unbeatable 3-Stage Power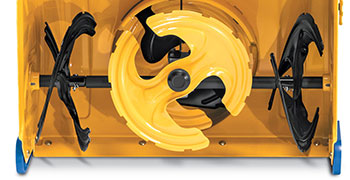 The induction accelerator pulls more snow, ice, and slush through the system like a turbocharger, which is ideal for busting through the wall of winter at the end of the driveway.
Heavy-duty Gearbox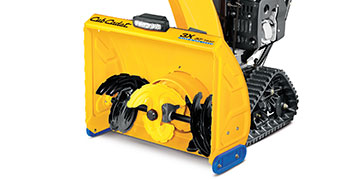 Cast aluminum auger gearbox protects auger gears for maximum durability and the increased intake height of 23'' allows you to take on the highest snow.
Track Drive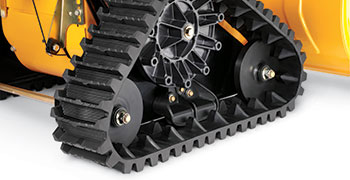 Adjusting track drive allows for three levels of operating depending on snow conditions and surface type, giving you peace of mind on slopes and inclines.
Built for the Long Haul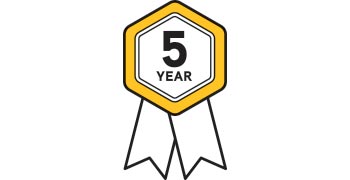 Get long-lasting durability with no maintenance requirements from the cast aluminum gearbox, backed by a 5-year limited gearbox warranty.
Power Steering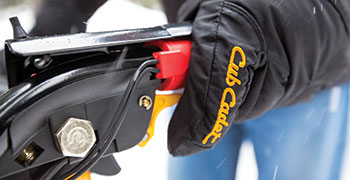 With just one finger, you can engage the power steering giving you unmatched control, effortless maneuverability and single-hand operation.
Push Button Electric Start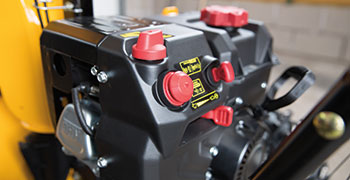 A large 4-cycle Cub Cadet engine gives you more power. And it all starts with the push of a button.
Cool Blue Skid Shoes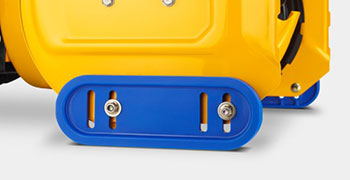 Make handling and maneuvering easy by gliding over surfaces. Won't rust or damage driveways, sidewalks, or garage floors.
Comfortable Handling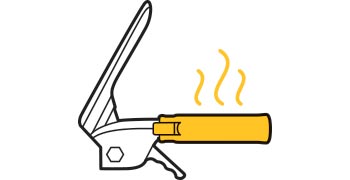 Heated hand grips ensure a comfortable command in even the coldest conditions.
Powerful Illumination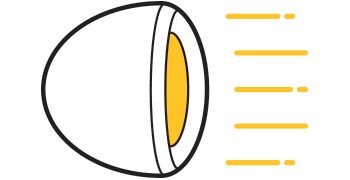 See clearly at dawn or dusk with dual LED headlights that shine brighter and farther than competitor models.
Work Longer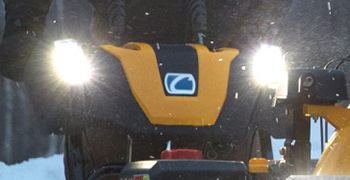 Work before dawn or after dark with dual LED headlights.
More Intake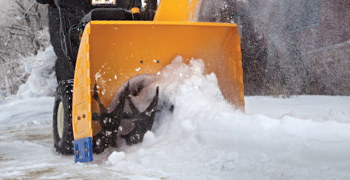 A 23-inch intake height allows you to clear snow more efficiently.
Break Through Snow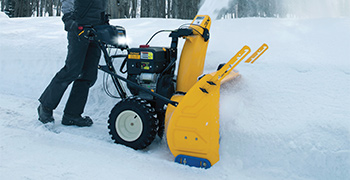 Drift cutters allow you to break through tightly packed snow.
Canadian Commitment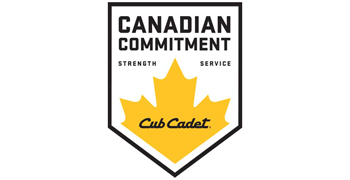 When you buy Cub Cadet you're backed by our Canadian Advantage, which includes outdoor power equipment that is engineered and tested in Canada, bilingual customer service support, and a nationwide network of 1,100 Service Dealers.
Engine
Engine Brand

Cub Cadet® OHV

Engine Displacement

420cc

Starter Type

Push Button Electric Start (110 volt)

Fuel Tank Capacity

5 quarts US / 4.7 L
Drive System
Drive System

Steerable drive system
Warranty
Auger Gearbox Warranty

5-year gearbox

Warranty

3-year residential

Commercial Warranty

1-year commercial
Controls
Handle Grip(s)

Heated Hand Grips

Single-Hand Operation

Standard / clutch lock

Tread

D-track design
Power and Performance
Clearing Width

30"

Intake Height

23"

Auger Gear Box

Heavy-duty cast aluminum

Number of Stages

3X Three Stage
Dimensions
Auger Diameter

12"

Impeller Diameter

12"
Additional Specifications
Headlight(s)

Dual in-dash LED + Light Bar on Housing

Shave Plate

Steel

Skid Shoes

Cool Blue™ rust resistant, non-marking, reversible

Drift Cutters

Heavy-duty slotted, tool-less

Oil Fill Tube

Extended

Auger Material

Heavy-duty serrated steel

Chute Material

5" heavy-duty steel

Model Number

31AH7EVZ596
Shave Plate Specifications
Disclaimer
Specifications Disclaimer

Specifications subject to change without notice and without incurring obligation. Products depicted on website and other advertisements are for demonstration purposes only. Actual products offered for sale may vary in design, required attachments, safety features and non-functional appearance from. See other general disclaimers at the bottom of our website.
| Model | Manual | Form Number | |
| --- | --- | --- | --- |
| 31AH7EVZ596 | MAN:OWNR: Comb 700_ENG_FRENCH_ | | |
| | MAN:OWNR: Comb 700_ENG_FRENCH_ | 769-12277 | Download |
| | MAN:OWNR:ENGINE 277,357_420 EN | 769-11675A | Download |
| | MAN:OWNR:ENGINE_357_420 ENG_FR | 769-15431 | Download |
| | MANL:OPER:BILING:31X:700:US_CA | 769-24890 | Download |
| | MANL:OPER:BILING:31X:7XX_CAN | 769-16890 | Download |
| | MANL:OPER:BILING:31X:7XX_CAN | 769-22283 | Download |
| | MANL:OPER:BILING:MTD ENG:357/4 | 769-25490 | Download |
| | SHEET:SUP:31X2X-3X:CUB:US_CA | 769-24534 | Download |
| | SHEET:SUP:BILING:EPA:CARB:EXH: | 769-15393 | Download |
| | SHEET:SUP:BILING:EPA:CARB:EXH: | 769-17172 | Download |
| | SHEET:SUP:BILING:EPA:CARB:EXH: | 769-23593 | Download |
| | SHEET:SUP:BILING:EPA:EVP:06301 | 769-15392 | Download |
| | SHEET:SUP:BILING:EPA:EVP:18-19 | 769-17171 | Download |
| | SHEET:SUP:BILING:EPA:EVP:18-19 | 769-23590 | Download |
| | SHEET:SUPP:WARR/PARTS:CUB TRAC | 769-16930 | Download |
| | SHEET:SUPP:WARR/PARTS:CUB TRAC | 769-22294 | Download |
Product Reviews
Rated

5

out of

5
by
backroadrider
from
Best Snowblower I Have Ever Owned!
I purchased Cub Cadet 30" 3X track-drive snow blower to replace a 19 year-old 32" track-drive Honda (HS1132). I have lived in the mountains of the western U.S. for most of my life; and currently live at 7,400' on the eastern slope of the Rockies where it is not unusual to get 2-3 feet of snow in a single storm. Needless to say, I have owned more than a dozen snow blowers over the years. Although my older machine had served me well for the past 19 years, it was finally starting to show signs of its age and I had become worried that a mechanical problem would leave me without a snow blower at an inopportune time. After reading reviews of modern snow blowers, I opted for the 30" 3XCub Cadet, and stuck with the track-drive because my nearly 200' driveway has a fairly steep slope near the end. Now that I have had the chance to use the Cub Cadet, I wish I made the switch sooner! Assembly - Assembly is straightforward and took maybe 20 minutes; and only that long because I read the manual carefully and double-checked every connection. Use- The 420cc engine (which started on the first pull) and 3-stage blower of the Cub Cadet seem to throw snow several feet farther than my older snow blower (which was no slouch); and the larger diameter chute of the Cub supports noticeably faster forward speeds. So far, the Cub has started on the first pull every time and I have not felt the need to use the electric starter. Turning the Cub is as simple as grabbing the steering lever on the side to which you want to turn and pulling upward just slightly on the handlebars. Even my wife can easily manage turning the Cub Cadet, something she could not do easily with our old machine. The weight of the Cub Cadet is also well balanced over the tracks so adjusting the height of the front auger requires just a little pressure on the handlebars while moving the lever - another improvement over our old snow blower. The controls are intuitive and nicely arranged on the control panel; and the chute controls work like a charm - it only takes a couple of easy cranks to swivel the chute 180 degrees horizontally, and the vertical adjustment is smooth and stays where you put it. I also like the hard plastic skid shoes which glide much better than metal skids over a cold driveway covered with cold, dry snow. The other nice touches are the heated handlebars and the LED lighting: I no longer need to stick heat packs in my gloves; and the LED lights illuminate my entire driveway! Bottom Line - This is a great snow blower! So far it has started easily and handled everything with ease without the need to "manhandle" it like I had gotten used to with my older machine. Highly recommended!
Date published: 2018-01-28
Rated

5

out of

5
by
BoPo in Pa
from
This thing is amazing!
[This review was collected as part of a promotion.] I bought the 3X30" TRAC model after doing alot of research and actually watching videos of the thing in action on YouTube. (Didn't know they sold Cub Cadets in Russia! They LUV them too) read a lot of reviews at different sites ( some good some bad), went back to YouTube and after watching a video of a guy in Maine use his Cub after a Blizzard was sold. I picked it up Oct and began prying for snow. Kept saying 2 foot, 2 foot.... On Dec 16th 2020 I got my wish. 2 foot snowfall overnight. Started snowing about 3 in the afternoon and continued all night. About 8:30pm I went out to start cleaning up ( Couldn't wait any longer) The snow was about a foot with a lot of drifting. It started on the first pull and I got started. The thing was amazing It was throwing the snow about 40-50 feet and it was like you couldn't feed it enough snow. I cleaned up between the cars at the house ( 6 , the boys had their friends over) where the snow had drifted up to the windows. The TRAC would keep going forward even when the snow was well over the scoop. Had to back it out of the tunnel it dug and let it fall and go forward again. I quit when I had the cars able to get out if they had to. Woke up at 6 and started again with about 18-24 inches on the ground and drifts higher then that. The thing never faltered. I had to quit about 10:30 to go to work. I came back from work and went back out to finish. Here's where this thing is worth every penny. The front of my house is on a 4 lane state highway. PEN-DOT comes through and leaves the snow pushed off of the highway all across the front of the house. This used to make my front driveway unusable. This time the pile of snow along the highway was about 5 foot high and tapered inward about 20 feet. I started making passes running along that Wall of Winter from one end to the other, taking a full 30 inches at a time. The 3X TRAC never faltered, never stalled, didn't hesitate at all. AMAZING! I finally have a way to clear the front of my house and be able to use my driveway again. In the reviews I read a lot of people complained about the shear pins breaking. I did break two during the three times I was blowing snow during my clean up. The first one broke when I hit a piece of broken/loose asphalt about 2 inches thick and 6 inches around. Exactly what should have happened. The second time I hit my PVC sewer clean out valve top ( dumb, I know). Again, exactly what should have happened. I did not break a shear pin while banging away on the wall of winter nor did I break any others at all. Can't say why all the others complained, I didn't see it happen to me. This snowblower is a PIG! It will eat just about any amount of snow you feed it. The power is clearly evident because there wasn't a time when it bogged or stalled even though I was really moving serious amounts of snow. the Third Stage is what makes this thing perform like it does. The controls are all organized in a logical manner and you can use them without looking. The hand warmers were outstanding, even with gloves on you can feel the warmth without it being too hot. Just right. The lights made working in the dark a breeze. They really light up you work area and far too, not just in front of the scoop. The tracked chassis with the ability to set the working height of the snow blower is genius. One thing I really appreciated was how when the snow got deep and packed the snowblower didn't start to crawl upward like you see in wheeled snow blowers . At no time did this machine begin to crawl up because the snow got denser. It maintained the "angle of attack" ( is that the correct description?) no matter how deep or packed the snow was. Especially in the wall of winter. Again amazing! The tracks on this snow blower are the best part. No more hitting the pile of snow and pushing, leaning, cursing, trying to help the tires find traction. At no time did I have to work at getting the thing to move forward in the direction I wanted. The turning clutches are also a fantastic addition. The thing turns easily and with gusto. There is only one thing I found frustrating. In deep snow if you start from scratch you really can't turn around so you have to back up to begin another cut. That's the same as all other snowblowers. This snow was close to 24" deep so no choice but to back up. The frustration comes from how slow reverse is. R1 is so slow I can't imagine when you would need to go that slow. R2 is better but I kept finding myself frustrated because it was taking waaayyyyy too long to get back to where I started. It's really slow. Now I was in a hurry in the morning because I knew I had to quit to go to work so every reverse scenario was agonizing. I began to clear areas at the end of every run just so I could turn around and move forward in the opposite direction to keep making progress. That works too. This is my first Cub Cadet product and so far I'm sold. The quality is top notch, the functionality and performance are amazing, and I would recommend this piece of equipment to anybody. Buy it, you won't be disappointed!
Date published: 2020-12-19
Rated

2

out of

5
by
untsy
from
Broke after one hour, can't get a replacement part
I bought a 3X 30 HD track in October. Used it 1 hour in December and the drive cog stripped. I have had a replacement cog on order with the dealer over 6 weeks and they still can't tell me when Cub Cadet will have it to ship. I spent over $3000 on a snow blower that broke after an hour that the manufacturer can't supply replacement parts for. So far I am very disappointed with Cub Cadet and their customer service. I would like to return it and get another brand.
Date published: 2021-02-01
Rated

2

out of

5
by
jsdan1
from
Not Super Impressed, not good for wet snow at all
Purchased this snow blower last spring after moving into a home with a longer driveway and with an expectation of more snow. I was excited to use the 30" trac on our first snowfall this winter and struggled almost the whole time. Snow kept getting backed up in the auger and I spent most of the time pushing snow rather than throwing it. When it was working, it only threw the snow a few feet, mostly landing back on the driveway I was trying to clear. Hopefully this works better in future snowfalls since it is too late to return. Trac system worked well on my steep driveway, only getting stopped once the pile that accumulated got too big. Turning on the other hand was a struggle and the triggers did not seem to do much to assist in turning.
Date published: 2020-10-26
Rated

4

out of

5
by
SDRC
from
reverse issues...
[This review was collected as part of a promotion.] the only problem ive had was the machine came from the factory,,then from my dealership with barely any 1st or 2nd reverse....the 1st gear doesnt move at all,,and the 2nd is so slow its near useless...ive read that this is a common problem and will require shift rod adjustments...ive yet to attempt it...not sure why a bulliten for dealers is not sent out to address this problem that again,,seems to be happening on all of them
Date published: 2021-02-11
Rated

5

out of

5
by
Anonymous
from
Quick, efficient, fun!
[This review was collected as part of a promotion.] I bought the 3x30" Track Drive Snow Blower as our snow plower unexpectedly interrupted his service. No chance to find a replacer in December in Ohio!!! I how had the opportunity to use the CC Snow Blower on our hilly gravel 500' driveway, including with >1 foot snow... What to say? Efficient, quick, and even fun!!!
Date published: 2021-01-03
Rated

4

out of

5
by
Dennis J
from
3x 30 cub cadet 2020
Great but misses on a couple of things. Reverse speed R1 is useless the blower does not even move. So only R2 works and thats at a crawl. Older style crank wheel for chute rotation..the good news it's dependable it throws snow a great distance tracks are very good on hilly driveways. Overall a good tracked reliable snowblower.
Date published: 2021-01-04
Rated

2

out of

5
by
OhNoSnow
from
Think twice before buying the 3X models.
I bought the 30x3x Track Drive Cub Cadet snow blower last month. We've had four snow falls since then where I had a chance to use this machine. When we had 8" of heavy snow, it worked fairly well, but not as great as I had hoped. But it moved the snow and didn't plug up. The next three snowfalls were around 4" of dry snow. The 3X feature really struggled to get the snow off of the ground and out the chute. The snow just didn't feed into the augers so that the machine could get a hold of it and throw it. Lot of power, TONS of power, but the design just doesn't allow for the augers and impellers to process the snow. Yes, the shear pins are all intact and undamaged. So, if you get a LOT of snow, this might be your best choice. But if you get less than 8" of snow, then the two stage is a better choice. I really like the Trac system. Slower than the wheeled type but less work to walk behind while clearing. Great design, solid construction, but the 3X is not an advantage for out type of snow. Eastern Washington State.
Date published: 2021-02-16
Rated

5

out of

5
by
Angelc
from
Waiting for snow
[This review was collected as part of a promotion.] I gotta give it a 5 star we have not gotten to use ours yet because we haven't had snow since getting it but knowing how well other friends work we know we will love it
Date published: 2021-01-16
Rated

4

out of

5
by
MAG Sr
from
Cub Cadet is quality
[This review was collected as part of a promotion.] A great machine with plenty of power, easy to operate and with all the bells and whistles.
Date published: 2021-02-06
Rated

5

out of

5
by
Epsim
from
Thumbs up
[This review was collected as part of a promotion.] Built well. Works very well. Easy to use. Vefy happy wigh purchase.
Date published: 2021-01-23
Rated

5

out of

5
by
brian v
from
sturdy unit cub cadet make a solid unit
[This review was collected as part of a promotion.] works great solid unit with great controls and servicability
Date published: 2020-12-03
Rated

4

out of

5
by
Evelyn Se
from
It's a great investment
[This review was collected as part of a promotion.] Built nicely I love the fact that it keeps my hands warm
Date published: 2021-01-15
Rated

2

out of

5
by
Flybyglass
from
Not the Best
Shut tilt control plastic and breaks off cable stays in cold weather. Reverse 1 is so slow barely moves.
Date published: 2021-01-30
Rated

1

out of

5
by
terry
from
Drive wheel issues
After one hour of useage steel insert has spun inside of plastic drive wheel
Date published: 2020-02-08
Rated

1

out of

5
by
NorthCoaster_part2
from
Snow Blowing along the North Coast - 3rd yr review
This is an update to my review from about three years ago (Nov 2017). In that time I have probably used this machine 2-3 times in the first two years and twice(2) this year for a total use of not more than 8-10 snow removal uses. While the blowing of snow is very good, the maneuverability of the unit is lack luster at best and the traction, that the tracks provide, do sometimes slip on packed snow occationally. As stated in the original review, this machine with tracs is good if you are just doing a long driveway (or run) but if you have a "turn around" apron then clearing this is "difficult" and down right "maddening". Turning this trac beast 180 degrees is very difficult using the steering levers and the two backup (reverse) gears are so slow it is laughable. Reverse gear #1 is all but useless and gear #2 is not much better. Anyway, today, which was the second use this year and probably about the 8th or 9th use over the past three years, the left track stopped moving and I found that the TRAC DRIVE WHEEL, which is made out of plastic, had cracked (disintegrated? pieces here and there on the driveway) at the sprocket LIKE A FEW OTHER REVIEWS HERE STATED. Of course the 3 year warranty ended last month (typical) and I tried to stop by the dealer today and see about the TRACK DRIVE WHEEL part, and ask if there is a replacement procedure (not shown in the owners manual nor a belt adjustment procedure either) but they were closed. I will stop by again during the week with the following two questions: 1) can this be converted to wheels, and if not, 2) what is the replace procedure for the TRACK DRIVE WHEEL (sprocket) once parts of obtained. This seems to be a flaw on this model (3x 30 trac) and I would not suggest getting it unless you ONLY have a long straight narrow drive. But, as always, YMMV. Good Luck.
Date published: 2020-12-26
bvseo_sdk, dw_cartridge, 18.2.0, p_sdk_3.2.0
CLOUD, getReviews, 36ms
reviews, product