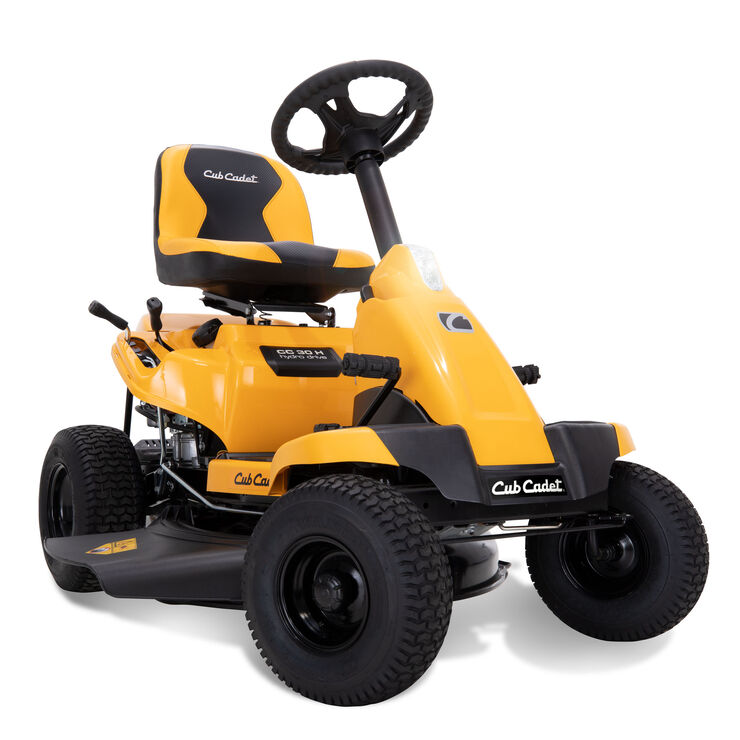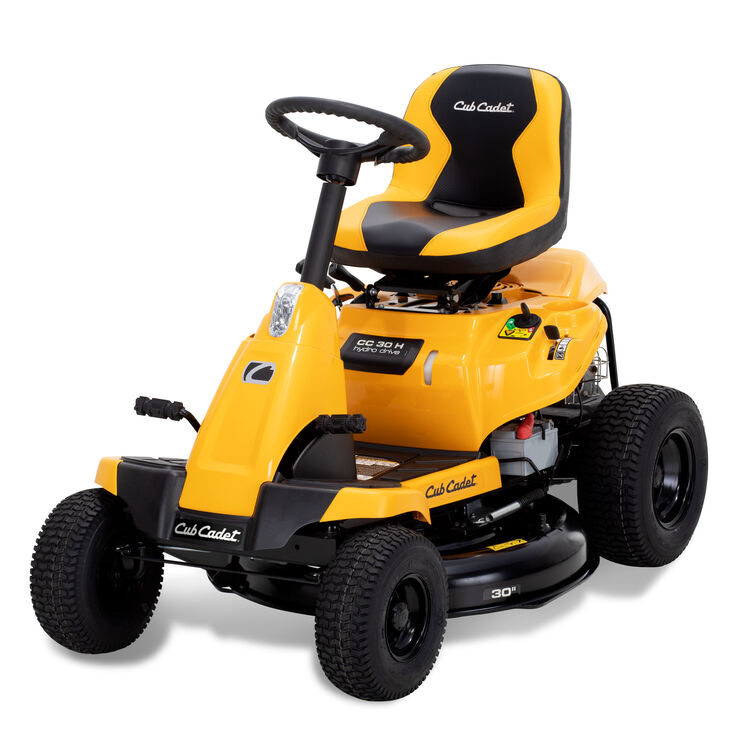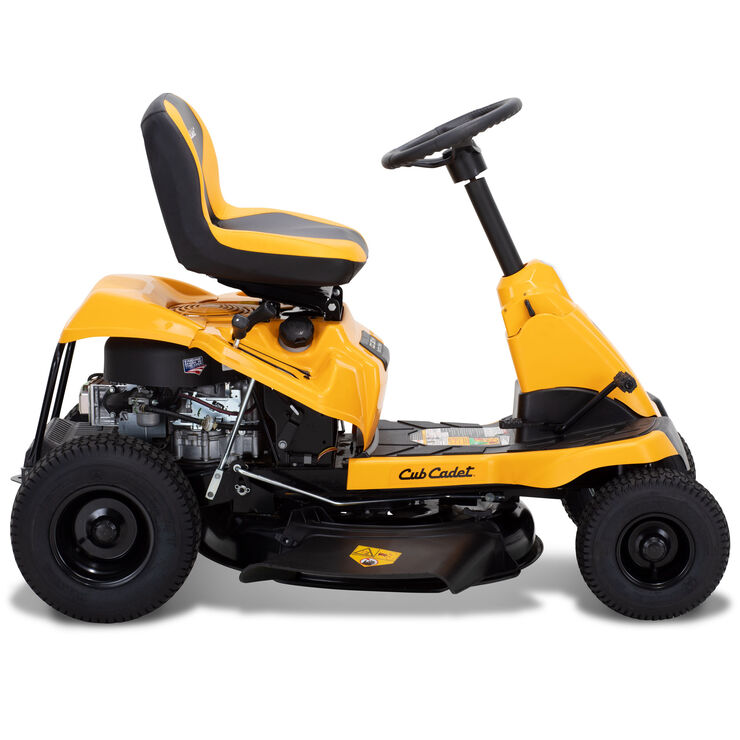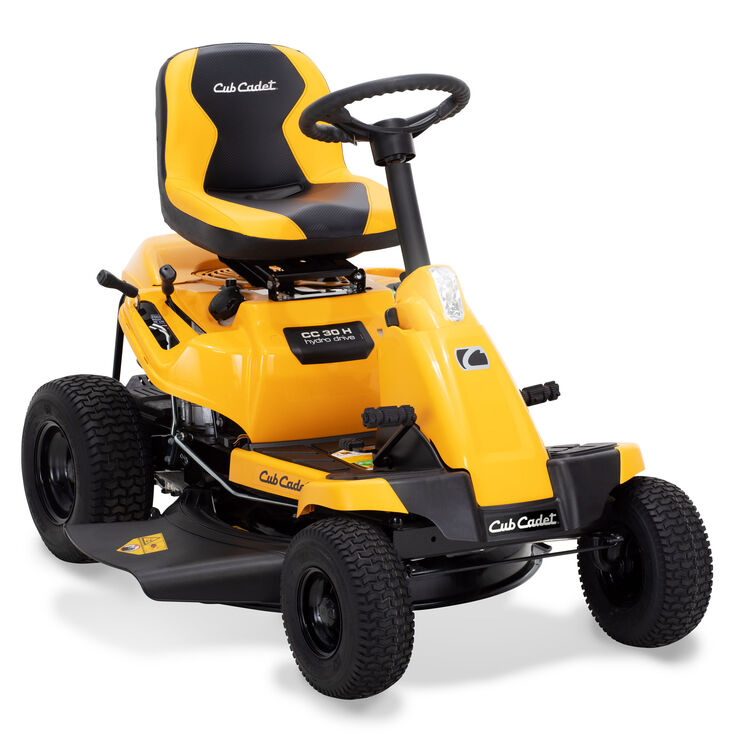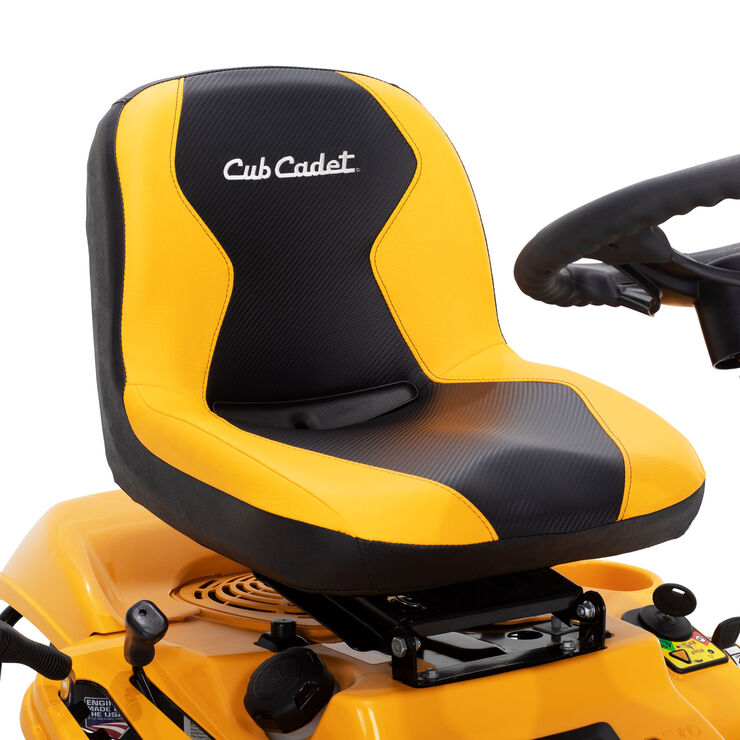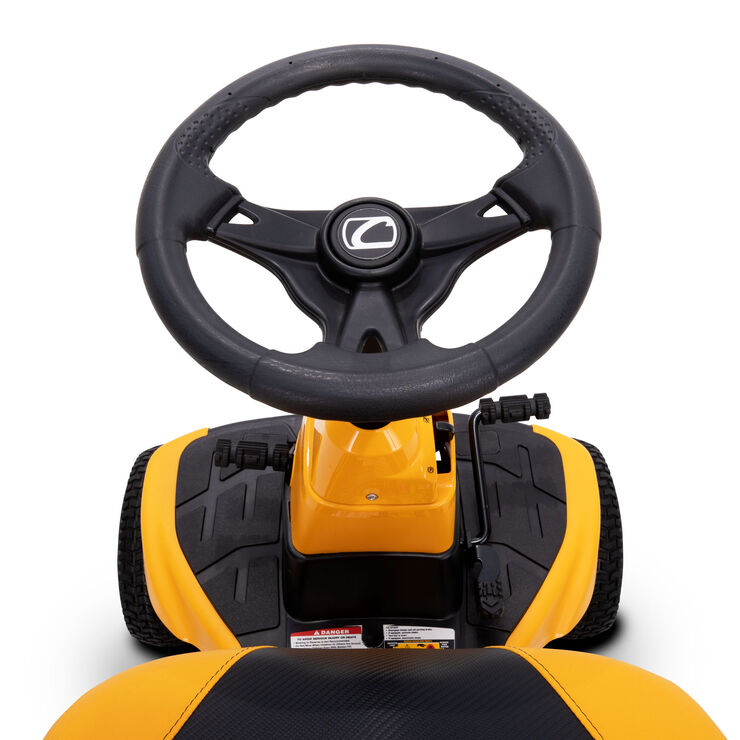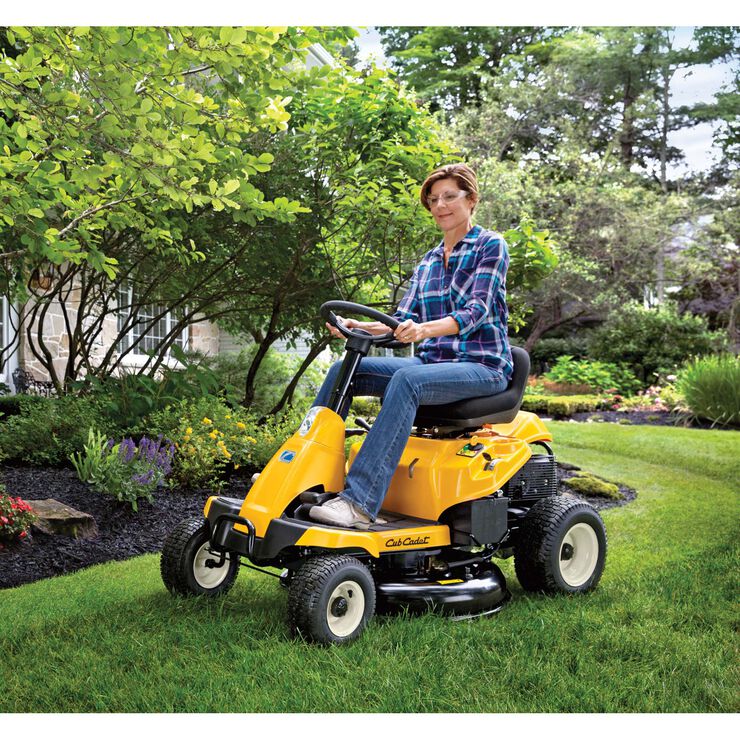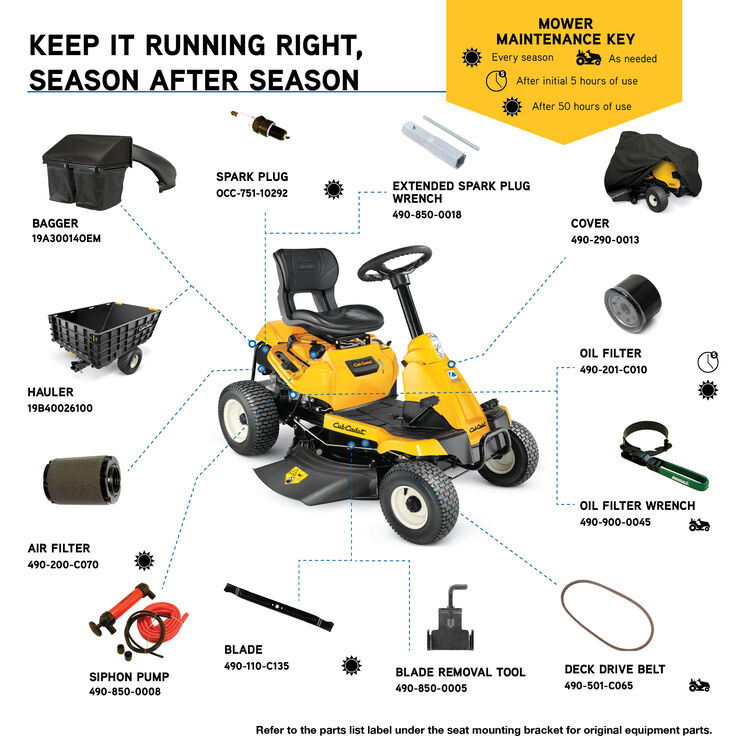 ---
A 10.5 HP/344cc Briggs & Stratton engine delivers high-performance power to tackle your yard
Tuff Torq foot controlled hydrostatic transmission, no shifting - just push the pedal and go
LED headlight enhanced visibility
Step-thru frame design provides easier on and off access by providing more leg room
Ideal size for smaller or gated yards and will fit through most gates with the 30-in cutting deck
Telescoping steering wheel accommodates any size operator
3-year limited residential warranty for peace of mind
---
You're shopping available inventory from
---
---
Attachments & Accessories
Engine
Engine Brand

Briggs & Stratton®

Engine Model Number

21R707-0152

Engine Displacement

344cc

Engine Output

10.5HP

Starter Type

Electric

Fuel Tank Capacity

1.3 gal. US (4.92 L)

Cylinders

Single

Engine Start

Ignition Key

Engine Oil Capacity

1.5 qts. US (1.42 L)

Lubrication

Fully pressurized

Charging System

12 amp regulated

Fuel Gauge

No

Governor

Mechanical

Choke

Choke-a-matic

Oil Filter

No

Fuel Delivery

Carburetor
Battery
Battery

210 CCA

Battery Type

AGM (Absorbent Glass Mat)

Battery Voltage

12V
Drive System
Transmission

Hydro, Foot (Hydro-Gear T2HP)

Forward Speed

4 MPH / 6.4 KMH

Reverse Speed

2 MPH / 3.2 KMH

Rear Axle

3/4" w/dual PM steel drive hubs

Drive System

Hydrostatic

Transmission Control

Foot Pedal

Transmission Housing

Cast aluminum

Rear Differential Lock

No
Cutting Deck
Deck Cutting Width

30 in

Deck Wash

Yes

Deck Material

14-gauge steel

Deck Engagement (PTO)

Manual

Deck Construction

Stamped

Blade(s)

1

Deck Lift

Manual

Cutting Height Range

1.5" - 4"

Anti-Scalping

N/A

Deck Positions

5
Warranty
Warranty

3-year limited

Commercial Warranty

No
Chassis
Frame

Robotically welded

Front Axle

Steel

Turning Radius

18"

Bumper

Steel Tube

Rear Tow Hitch

Yes

Corrosion Protection

Yes

Front Pivot Bar

Steel
Controls
Cruise Control

No

Brakes

Disc
Comfort
Seat Type

15" High-back

Armrests

No

Seat Adjustment

Knob

Floor Mats

Intergral
Wheels
Bearing Type

Poly Bushing

Rear Tires

16" x 6.5"- 8"

Front Tires

13" x 5" -6"

Tire Tread

Turf Saver
Additional Specifications
Mulch Kit

Included

Headlight(s)

LED

Cup Holder

Yes

Operator Presence System

Yes

Model Number

13AC21JD596
Disclaimers
Specifications

Specifications subject to change without notice and without incurring obligation. Products depicted on website and other advertisements are for demonstration purposes only. Actual products offered for sale may vary in design, required attachments, safety features and non-functional appearance from. See other general disclaimers at the bottom of our website.
Product Reviews
Rated

5

out of

5
by
JayDawg
from
Convenient Size, Great Power
I just got the Cub Cadet CC 30 Rider with the rear engine. I love it! For it's size, it's got great power and the engine is not too loud. I had to cut some really tall and thick grass and not once did the mower bog down. The size of the mower is convenient for fitting it in the back of my Chevy Colorado pickup truck. Of course, I would love to ride one of the big Enduro tractors, but I do have some tight spots to drive around, so the CC 30 is perfect! Smooth running and powerful. And, with the engine in the rear, I don't have exhaust blowing in my face!
Date published: 2018-08-27
Rated

5

out of

5
by
Joseph1918
from
Love this little Mower!
Been using my mower for a month now. The lawn has never looked so good! I've even received comments from neighbors on how good it looks. This mower doesn't leave ruts or tracks across the lawn like my push mower. Installed the bagger attachment and both work great. The reverse safety feature allows me to continue to mow while backing up. Should have purchased this system years ago!
Date published: 2019-04-27
Rated

5

out of

5
by
The CC Rider
from
So far so good!!!!
Example: I bougI live in Central Pennsylvania where unfortunately have been under a lot of rain/heat the past month. I had put off making this purchase for about a year now, however my push mower broke right in the middle of high grass and high temperatures. This mower came yesterday and was all put together just had to uncrate it, add some gas and off I went. My grass in some areas was all but knee high, damp and my lawn is just shy of a ½ acre with one small hill. Although there was a time or two the mower did bog a little (which would be expected in these conditions) it did a great job. I ran over the lawn twice in the time it would take me to push mow it. I do think I will upgrade to the Bagger though in the future. Hopefully it will continue to run great, at this point defiantly a Cub Cadet fan!!!!!ht this a month ago and am so happy that I did...
Date published: 2018-08-15
Rated

5

out of

5
by
Yardnerd
from
The Little Mower That Will Not Quit.
I purchased this little mower after I decided that my Pro Series 54 inch was getting a bit tired. I am so pleased with this mower I decided to purchase another Cub Cadet (Cub Cadet LT 42 in. 547cc Fuel Injected Engine Gas Hydrostatic Lawn Tractor with Cub Connect Bluetooth ). To ease the work on the H Rider. I would recommend this product to anyone who is looking for a great quality piece.
Date published: 2018-11-05
Rated

5

out of

5
by
sm442
from
Nice little hassle free machine
Good features, great turning radius. It is a great machine for small-ish and relatively flat yards. It will stuggle on even slightly steep places. Here are the problems that you will come about - the front tires are 'inside' the deck width - so the grasses get flat then doesnot really cut. so you will need to overlap by quite a bit. It will struggle on slopes (even on slight ones - possibly due to lack of weight which in turn makes it a good product on soft/sandy areas). However, it is pretty easy to operate, does what it does pretty well. you will not be dissapointed.
Date published: 2018-09-12
Rated

5

out of

5
by
boss man
from
saving wear and tear on my body
My legs are starting to go on me and it is becoming increasingly hard to mow with my self propelled walk behind mower. It was 97 degrees yesterday and it only took me 15 minutes to do my back yard (as opposed to an hour). Great job, worth the money!
Date published: 2018-07-02
Rated

5

out of

5
by
Skip
from
Great Rider
This Rider was #1 in Consumer Reports for Riders - far above any of the others listd - Yes it is more expensive - but you get what you pay for. I have had it for two seasons now - runs like a charm - cuts great - never had a problem.
Date published: 2019-03-09
Rated

5

out of

5
by
RetiredCoastie
from
Great Little Mower
Bought this mower for my Mother-in-Law. She loves how easy it is to start and mow with. Traditionally it took me about an hour and a half to mow with my self propelled mower. Now it takes half of that with only a fraction of the effort! Looking forward to my second mowing season, as soon as the snow stops!
Date published: 2018-04-07
Rated

5

out of

5
by
RAMPAGE
from
the mow in reverse is perfect
the perfect little rider i went from PONY 42'' cut to this 30'' in cut and i get done in a faster time because this mower cuts in reverse and the troy bilt pony did not what a difference and i can whip it around flowers trees, whatever is in the yard with the hydro stat drive it makes it a lot easier, but i cant complain about the troy bilt it worked flawlessly for 8 years. and still works just wanted a new different rider.
Date published: 2018-06-14
Rated

5

out of

5
by
maggy
from
nice mower
it is eay to use, compact enough to get anywhere you need to go. tight turning radius for cutting around trees, takes up very little space in my shed.
Date published: 2019-01-17
Rated

5

out of

5
by
mtpinky007
from
Don't overlook this little dude!
I've had this Cub Cadet riding mower for close to a year now and I must admit that I didn't know if I would truly like it. This riding mower has proved me wrong! I absolutely love this thing! I also own a Cub Cadet self propelled walk behind mower that I've owned for years and love it too! If you mow your yard, you better know your yard! I mean knowing about every dip, slope, chug hole...EVERYTHING! Respect this mower and read up on it, know it's limitations and follow operating instructions and procedures! Above all of what I've stated about this machine, set your expectations accordingly and you will not be disappointed. I promise!
Date published: 2020-07-15
Rated

4

out of

5
by
Ritchie P
from
Well made rider
I've had this rider about a month ago. I think it's well made with Cub Cadet quality. It runs well and allows me to mow forward and in reverse. It covers a lot of ground. My only two suggestions are 1) it needs some anti-scalp wheels on the mowing deck so it doesn't cut too short on rolling lawns, and 2) the front wheels mash down the grass so the mower doesn't mow it as close. These two items cause less than perfect mowing.
Date published: 2019-07-06
Rated

4

out of

5
by
ABruceS
from
Great turning radius
I have been using my CC30H for just 3 times and love it. It starts right up, steers very well and is very comfortable mowing.
Date published: 2018-07-30
Rated

5

out of

5
by
Anonymous
from
Perfect little mower
[This review was collected as part of a promotion.] Just finished my first mow. My back yard is rather tight in places. I have about 5' between my fence and my landscaping. This mower worked beautifully turning around in that small space. The cut is perfect.
Date published: 2021-04-22
Rated

3

out of

5
by
LawnRanger
from
Too Light Weight
I have had the mower for about two months (six cuttings). I am disappointed in its inability to operate without spinning one of its back wheels when cutting diagonally across a gentle slope in my yard. The tires have very little tread depth and almost work as if slick. This mower would be great if you had a completely level lot. Also, when using the cleaning port at the end of a cut, water pools in the "valley" of the deck top. There should be a small drain hole or two to prevent this pooling.
Date published: 2019-07-11
Rated

4

out of

5
by
AlSO
from
Not Bad
Seems to be a well built machine. I bought it because I don't have a lot of space for a 42 in cut mower. It is made for a flat lawn and I found that to be true. I have a few small hills and it doesn't like it. If you have a VERY flat lawn then this could be for you. The deck wash hose connection on the deck has a design defect in the quick disconnect. Leaks all over the top of the deck. I contacted service and they sent me a complete new connect mechanism and it still leaks. It needs an O ring in the male end and there is none. I won't use that feature. With my small hills I don't know that I would buy it if I knew it didn't like them. There is a wire like ring at the back of the machine that disconnects the drive train to enable to push the mower by hand. Seems kind of flimsy to me. I would think they could have designed a better way. All in all not a bad machine. Seems to burn a lot of gas but I'm use to my push mower. I would only recommend it if you have a VERY flat lawn.
Date published: 2018-07-08
Rated

5

out of

5
by
Donald Vo
from
Great little Machine
Bought my mower about a month ago. I have used it now 5 times. Works great for a small yard that has some tight areas. I also am very pleased with the quality of the cut! Lawn looks great! I used to walk behind a self propelled unit for over an hour, and took two breaks. Now I get done in less than an hour, and I sit down with a COLD ONE and admire my lawn!!
Date published: 2019-05-28
Rated

5

out of

5
by
Anonymous
from
Great compact mower!
[This review was collected as part of a promotion.] Great riding mower! It was a very professional delivery and if I had to do it again tomorrow, I wouldn't change a thing. The mower works and cuts great! The only thing is, I'm a big guy and wish the seat sat back further but hey, it still cuts, works and drives great. I would definitely recommend this mower to anyone looking for a compact riding mower. The hydro drive and being able to mow in reverse is what finalized the sale for me.
Date published: 2021-04-18
Rated

5

out of

5
by
Michael
from
Very comfortable
I bought this Cub Cadet CC 30 H in June to replace my 30 year old Lawn-Boy RE8E. The seat is great on my back, the automatic transmission is great. It is quiet and cuts nicely and turns on a tight radius. Can't think of anything negative !
Date published: 2018-08-02
Rated

5

out of

5
by
TwoLeftThumbs
from
GREAT First Riding Mower!
This is my first riding mower. Until my CC30 H was delivered, I had never even used a riding mower before. I purchased it from an independent Cub Cadet dealer and the mower was delivered to our home and it was fully set up at the dealer's shop, was delivered with a full tank of gas and the tech who assembled and set up my CC30 H explained everything I needed to know. I've had the mower exactly 2 months and have used it 8 times to mow our 1/4 acre property (front and back). Thus far, it has performed flawlessly. The cut is quite acceptable considering that I'm now cutting the grass at a faster pace than with the traditional push ("Personal Pace") mower. There have been no mechanical issues and cleanup is easy with a leaf blower and the hose attachment on the deck. I purchased the grass catcher / bagger with the mower and read as many reviews and watched as many videos available on numerous websites as well as having read the Owners Manual and other official manuals for this riding mower so as to be as well-informed about what owning and operating a riding mower may require. I also purchased this mower due to its very manageable size and, most importantly, it fit through our 42" gate between the back and front yards, which meant no fence / gate alterations. Overall, I'm very, very happy with my purchase of the Cub Cadet CC30 H riding mower and would immediately replace it with the same model were anything to happen to it.
Date published: 2019-06-16
Rated

4

out of

5
by
Roy43
from
good mower
Good mower with no manufacture oil drain spigot to change engine oil messy.
Date published: 2019-03-20
Rated

4

out of

5
by
Norman108
from
Very Satisfied !
I bought this mower in May 2018, I have a .33 acre Lot mostly flat, and this mower is Perfect ! I can get up close to shrubbery and other obstacles with ease, The mow in reverse feature is fantastic for getting around obstacles as well. I can mow my yard in an hour, If I were pushing it with a 20" push mower it would take at least 2 1/2 hours.
Date published: 2018-07-26
Rated

3

out of

5
by
Dudester
from
Nice tiny mower but couple of issues
I've had this for 5 years now. When I make turns, it seems to make an uneven cut. ( not the end of the world) oil changing is the worst! Oil all over the place. It's almost comical to do. Finally, I've had to clean the carburetor twice now in the years I've owned it. I always store it empty (installed a fuel line shut off) but I've still had to remove the carburetor and soak it In carburetor cleaner. I even run super unleaded, but it's still an issue. The mower itself runs tight circles and handles well. I have the bagger option. I would rate this a 3.5 out of five because of the issues I've had. (I've become very familiar with removing the carburetor….
Date published: 2022-05-17
Rated

5

out of

5
by
KennyB
from
Needs an anti scalp feature!
Love this mower, just the right size, but it needs anti scalp wheels or skids or something.
Date published: 2019-07-08
Rated

5

out of

5
by
EdMan63
from
Perfect for my yard.
I moved into a new home a couple of years ago and purchased a CC XT1 riding mower during the first year. I'm on close to 1/2 acre so I was right in between a full rider and a push lawn mower. We have since added landscaping that has further eroded the amount of grass to be cut while also making things a little less maneuverable. In short the XT1 was a bit overkill and also took up a little more room in the garage than I like. Enter the 30 H and all my problems have been solved. Its quieter, compact and does a great job of cutting. A little under powered especially on any type of slope but a great mower nonetheless. The right tool for the job is a good feeling.
Date published: 2019-06-26
Rated

4

out of

5
by
Big Easy
from
Comfortable good so far
[This review was collected as part of a promotion.] I bought this 2 weeks ago so far so good first Rider. Only disappointment and it's not a deal breaker but it has no oil filter which is when you look online every single one I found or looked at YouTube and otherwise have an oil filter. Curious why they drop the oil filter must be in the most recent ones they built. Even the spec sheet on this page says it has an oil filter.
Date published: 2021-05-30
Rated

5

out of

5
by
Gator
from
Great riding lawn mower
I love this hydrostatic transmission mower, don't have to mess around switching gear.
Date published: 2018-07-28
Rated

5

out of

5
by
Bryan
from
More A-plus features than nearest competitor.
I took delivery on this tractor on 06/07/18 and I'm on my 4 lawn cutting and it's amazing and flaw less, a great value!
Date published: 2018-07-17
Rated

5

out of

5
by
Pswitz
from
Good purchase compared to my previous mower
Happy i made this purchase,cuts and handles great. Good on gas consumption
Date published: 2018-08-12
Rated

4

out of

5
by
Tan Man
from
Great Mower For Wisconsin
Does a great job for 1/4 acre and a grass cul de sac. Love the tight turning radius, mow at night, good power, great cut, hydrostatic saves so much time. Grass bagger to mulch kit, and back takes maybe 10 minutes if that-very easy switch out. J hook on back of bagger is a hazard to catch on fence or object. Oil change pet cock location is a design failure. Needs a straight pipe threaded out enough past motor to change oil to make user friendly. Super happy with purchase. A great, great riding mower. Use a walk behind most of the time, but great to have when needed or change of pace for hot days and mid week grind. This was a great purchase for the money. Thanks Cub Cadet!
Date published: 2020-04-12
bvseo_sdk, dw_cartridge, 18.2.0, p_sdk_3.2.0
CLOUD, getReviews, 9ms
reviews, product